Judge Dredd is famous for showing no emotion and upholding justice, but what happens when the citizens of Mega-City One want to cut loose, let their hair down and really, ahem, lay down the law?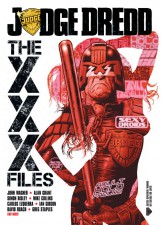 In this brand new collection, Judge Dredd: The XXX Files (launching first in the US and Canada), Dredd discovers that the sin-seekers of the Big Meg are more inventive, funny and downright sexier than he could have imagined!
Ol' Stoney-Face sure has his challenge laid bare (pun intended) in this collection of stories pulled from 2000 AD, the Judge Dredd Megazine and some specials. From state-of-the-art pleasure-bots to the hugely popular sex championships, for enough credits Mega-City One's citizens can indulge their wildest erotic desires.
However, some people can't help themselves and break the law when looking for lust in all the wrong places! The future then turns out to be just as predictable as the present – but with more sex-bots.
This collection of lascivious law-breaking tales is actually a great read, combining satire, straight-up humour, crime and morality tales under the XXX umbrella. It features a who's who of great 2000 AD artists, including Ian Gibson, Greg Staples, Simon Bisley, Paul Marshall, John Burns and Cliff Robinson.
And to top it off, with the writers being John Wagner, Alan Grant, Robbie Morrison, Gordon Rennie and Al Ewing, you just know you are in for a special treat here (once more, pun intended). I'll tackle the most important ones, and leave out the rather bland one-offs.
Most of the volume consists of rather funny concepts played straight, like Wagner and Gibson's amusing Love Story three-parter, in which a woman falls in love with Judge Dredd and goes to pretty extreme measures in order to keep viewing her 'lover'.
By the same team there are also some more light-hearted romps like Bum Rap – a literally revealing tale about a new fashion craze; Sex Beast, featuring the dark side of deodorant; and Holding On, in which Dredd gets some unexpected help when he tries to hold on to a skimmer about to drop off a hover bridge.
Played straight for laughs and falling within the realm of satire is the excellently illustrated The Great Arsoli, which is a hilarious Simon Bisley/Alan Grant romp showing what happens when the Judges come across a magician who does not have a magic hat but a magic… well, just take a second look at the title.
Attack of the Sex-Crazed Love Dolls is just that – a nice one-off, only notable for the Greg Staples art, but worth it to see Dredd struggling with a whole heap of crazed sex-bots. Carlos Ezquerra shows up for The Girlfriend, which is a forgettable tale of human/sex-robot love (and is coloured quite abysmally, I must say).
Harry Sheemer, Mon Amour, written by Al Ewing, is a funny tale of a vixen-done-wrong who takes her deceased boyfriend to the taxidermist. Andrew Curry puts in a great art job, with  dynamic and slightly cartoony art reminiscent of Tom Fowler.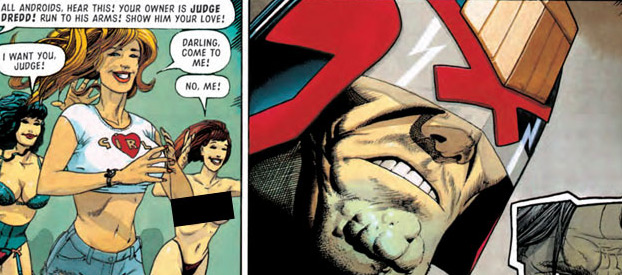 Crime of Passion and The Performer, by John Wagner & Cliff Robinson and Gordon Rennie & Paul Marshal respectively, are both great Olympic spoofs, featuring the World Sex Championships in Mega-City 1.
Crime of Passion is about the Big Meg's top performers having to deliver the performance of a lifetime while their child is being held hostage. It looks at the act of sex (in front of an audience of thousands) as an Olympic act – something to be trained for just like any other discipline.
The story is filled to the brim with sexual innuendo, using an impressive array of erotic lingo as the live commentators describe the performances. Pretty hilarious, and Cliff Robinson just draws his socks off (pun intended, ha ha).
The Performer is the follow-up, as the male 'athlete' looks for a replacement when he is diagnosed with impotence. After an exhausting search, a mutant shows up whose rather… interesting adaptation will make him the next superstar in the sex Olympics.
On the serious side – and a real treat for me personally – is Sleaze, painted by John Burns (of Nikolai Dante fame, among others), in which Dredd enters the seedier side of the sex industry and has to deal with the moral implications this has for the Judges themselves.
Stone Killer is a slasher story with a sci-fi twist, but is great nonetheless, while Burns also paints Cheating Drokkers – a great spoof on the ever-popular reality show, featuring plenty of the patented Burns good girl art.
Though played for laughs, Cliff Robinson puts in another appearance in Driving Desire, where there's a nice juxtaposition between sexuality and the Judges' vow of celibacy. Sex, VI and Vidslugs is then a more serious look at the exploitation of mutants as fetish objects.
Taking all the stories presented into consideration, Judge Dredd: The XXX Files turns out to be an excellent themed collection featuring a majority of great stories with plenty of titillation, carnal humour and erotic crimes. Combined with some astonishing artists, these tales will not leave you naked in the cold!
Judge Dredd: The XXX Files by John Wagner, Alan Grant, John Burns, Simon Bisley, Ian Gibson, Cliff Robinson & others is published by 2000 AD & Simon and Schuster. It is a full-colour softcover counting 224 pages and retails for €24.99.