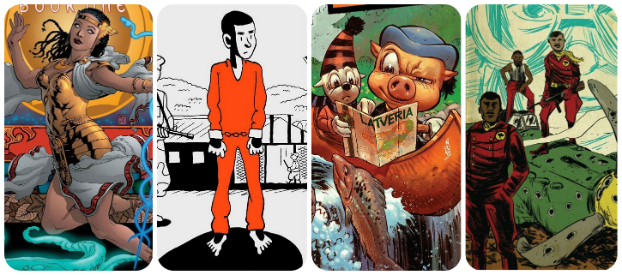 It's nearly Wednesday, and you know what that means: a fresh load of comics and graphic novels! With so many publications hitting your local comics store, comics event or digital storefront, the BF team are here to lead you through the woods with our weekly staff picks. Satisfaction guaranteed!
Comic of the Week
Guantánamo Kid: The True Story of Mohammed El-Gharani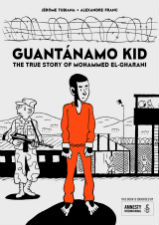 Endorsed by Amnesty International, Guantánamo Kid: The True Story of Mohammed El-Gharani comes to us via comics biography specialists SelfMadeHero. It's written by Jérôme Tubiana with art by Alexandre Franc, the latter of whom we were very lucky to have as a guest artist last year in a special edition of our Gosh! Comics and Broken Frontier Drink and Draw (in association with the French Institute).
An account of the true story of Mohammed El-Gharani, a 14-year-old detainee at the notorious Guantánamo Bay, this book brings the plight of one of the youngest inmates of the detention centre to the page. Hopefully it will give a whole new audience the opportunity to experience his heartrending story and the horrific abuses inflicted on him over seven years before he was eventually set free by US Judge Richard Leon.
Guantánamo Kid was written in collaboration with El-Gharani. Essential reading this week as a reminder of the ever disturbing times we live in.
Jérôme Tubiana (W), Alexandre Franc (A) • SelfMadeHero, £14.99
– Andy Oliver
Promethea 20th Anniversary Deluxe Edition Vol. 1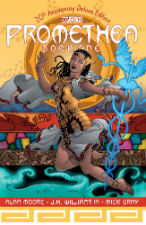 Twenty years on, one of Alan Moore's most divisive and didactic works comes up for reappraisal in this deluxe anniversary edition. The tale of Sophie Bangs, a student in a futuristic New York whose academic investigations drag her into the dangerous world of myth and magic, starts off as a fairly run-of-the-mill urban fantasy. However, Moore and his endlessly creative collaborator JH Williams III soon go off-piste into an enormously ambitious examination of mysticism, symbolism, magickal thinking and the human condition.
This volume still leaves us waiting for the tantalising prospect of a landscape edition with each of Williams' stunning double spreads presented in full; my experience of DC's deluxe format suggests that some of the magic might get lost down the gutter. However, the goodies included here provide a welcome bonus: character sketches, variant covers and other bonus material, including Moore's complete script for #3.
Alan Moore (W), JH Williams III, Mick Gray et al (A), Todd Klein (L) • Image Comics, $16.99
– Tom Murphy
Hicotea: A Nightlights Story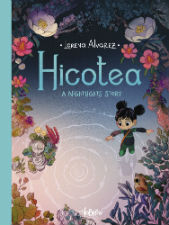 Lorena Alvarez's all-ages sequel to her much-loved Nightlights album from a couple of years back doesn't disappoint as we take another trip into the fantasy-infused world of likeable schoolgirl Sandy.
This time around a field trip to the local wetlands finds Sandy encountering the magical turtle Hicotea whose shell houses a dimensionally transcendental museum of natural treasures, and face a supernatural threat to the environment. It's another engaging romp and a truly beautiful piece of illustration. Alvarez's use of colour is simply spellbinding.
You can read a full review of Hicotea here at Broken Frontier.
Lorena Alvarez (W/A) •  Nobrow Press, £14.99/$18.95
– Andy Oliver
Ronin Island #1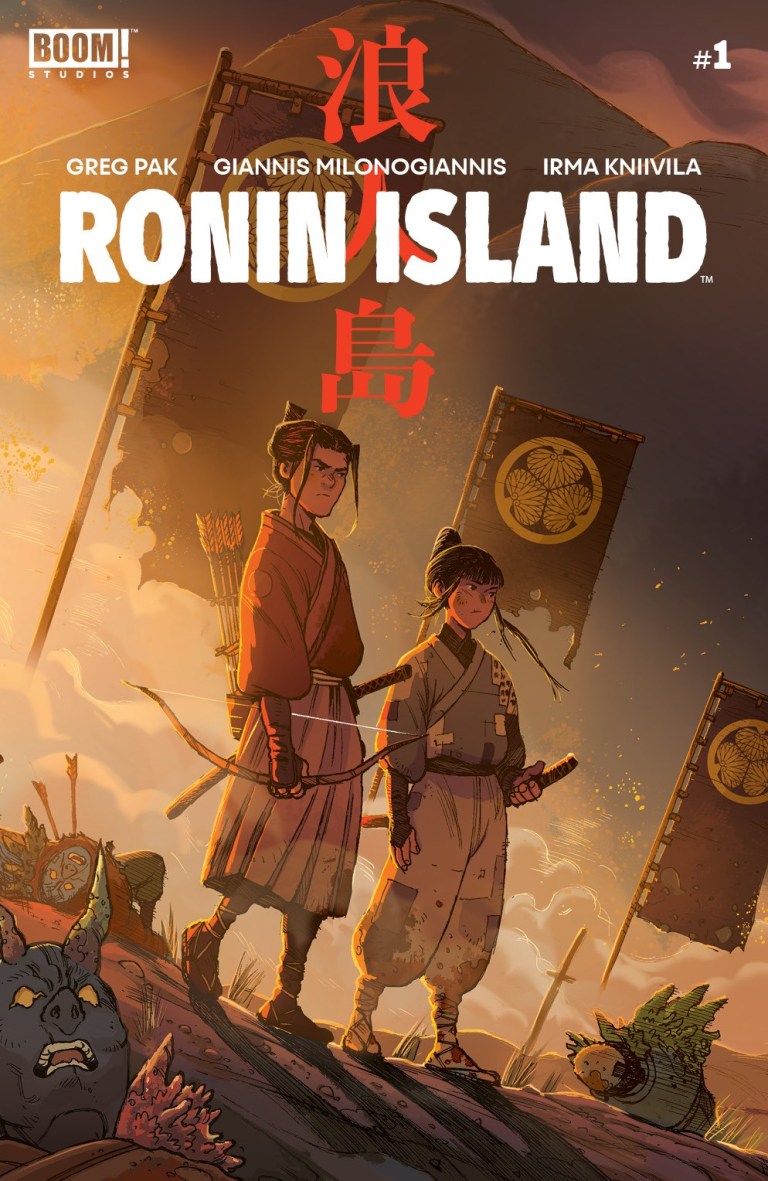 When you hear that a story has been set in post-apocalyptic Japan, Korea, and China, you're probably considering the post-World War II era and its myriad (and awesome) cautionary tales of nuclear-age monsters. But writer Greg Pak (Batman/Superman, Mech Cadet Yu) and artist Giannis Milonogiannis (Prophet) had something a little different in mind for their new collaboration from BOOM! Studios and have set Ronin Island in a post-disaster 19th century Japan.
A mysterious attack has knocked out the major cities of Japan, Korea, and China. In the aftermath, survivors make their way to a hidden island and begin to build a new society. But it won't be easy to overcome cultural differences. The now-orphaned Hana is the daughter of Korean peasants, while Kenichi is the son of a great samurai leader, and they have little in common besides their mutual distrust. They'll soon learn to work and fight together, however. An army invades the island and informs them that a new Shogun requires the island to "pay fealty in exchange for protection from a new enemy… a mutated horde that threatens to wipe out all humanity."
Knowing Pak's penchant for forging solid working relationships between his characters once they set aside their differences, the Shogun and the mutated horde are in for a feudal world of hurt once Hana and Kenichi set their minds and swords on saving the world.
Greg Pak (W), Giannis Milonogiannis (A) • BOOM! Studios, $3.99
– Karen O'Brien
Ziggy Pig – Silly Seal Comics #1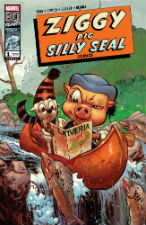 These Marvel 80th anniversary one-shots re-imagining classic comics titles of yester-decade have been incredible fun so far and also a welcome reminder of how needed accessible complete-in-one comics are in a monthly mess of cynical crossovers and impenetrable continuity.
This week's offering is so obscure that even I hadn't heard of the various 1940s series it was based on (though the characters have made a couple of post-millennium appearances) and found myself investigating further via the ever excellent Grand Comics Database. With romance, sci-fi, horror and westerns already covered in this run this time we revisit the "funny animals" genre, and a Ziggy Pig and Silly Seal for whom the intervening years since they were first published have dealt them very different cards.
It's a neat touch to see these forgotten characters back in print again, however briefly. Although, of course, given this is Marvel there's every chance they'll be on at least one of the 37 Avengers teams within the month…
Frank Tieri (W), Jacob Chabot (A) • Marvel Comics, $3.99
– Andy Oliver
Detective Comics: 80 Years of Batman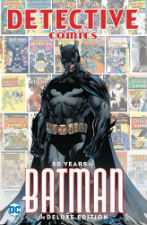 Batman's history is about to be made accessible in a way that only thoughtfully collected editions can accomplish, and Bat-fans should not pass up this affordable opportunity.
Perhaps the best thing about Detective Comics: 80 Years of Batman is that it will reprint some of Batman's most iconic adventures. Let's face it, I can't afford a copy of Detective Comics #38, but with this volume I'll finally get to read the first appearance of Robin. It will also include the first appearances of Two-Face (Detective Comics #66), Bat-Mite (Detective Comics #267), and so many others. It will also include other crime-fighters that graced Detective's pages, like Slam Bradley, Air Wave, the Boy Commandos, the Martian Manhunter and Manhunter Paul Kirk.
Other not-to-be missed Bat-goodies are also featured, including a new Batman tale written by Levitz and illustrated by Denys Cowan and Bill Sienkiewicz. There are essays on Batman from Cory Doctorow, Neil Gaiman, Glen David Gold, Dennis O'Neil, and others who have all expressed how Batman has affected their work and the greater culture.
If this title is half as interesting as Action Comics: 80 Years of Superman, you should probably be first in line when your local comics shop opens on Wednesday.
Paul Levitz (E), Various (W, A)  • DC Comics, $29.99
– Karen O'Brien
Black Hammer '45 #1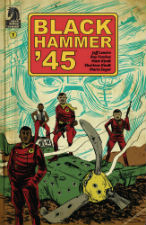 The almost obligatory mention now for a #1 issue of a new book set in the Black Hammer universe. This time Ray Fawkes joins Jeff Lemire on the writing duties with Matt and Sharlene Kindt on the visuals as we journey back to the Golden Age of comics and a story with clear Blackhawk influences.
Meet the elite air force team the Black Hammer Squadron in a tale that promises occult threats, Nazis and a mysterious antagonist known as the Ghost Hunter. Those who have a fondness for super-heroes but have long since tired of Marvel/DC's endless recycling of event stories and jeopardy-free drama should check out the Black Hammer books. The most intelligent and entertaining super-hero comics on the shelves by a mile. And just look at that "distressed"-style Kindt cover!
Jeff Lemire and Ray Fawkes (W), Matt and Sharlene Kindt (A), Marie Enger (L) • Dark Horse Comics, $3.99
– Andy Oliver