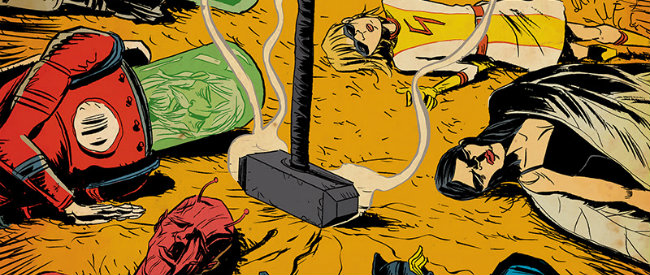 Strange, unconventional, and ultimately engrossing, Lemire and Ormston delve into the nature of sacrifice and loss, in this well-crafted, if cynical, superhero mystery set in "Anytown", USA.
In comic books, when faced with vast, uncompromising and all-encompassing evil, it often falls to the superhero to make the ultimate sacrifice (if only until the next "rebirth").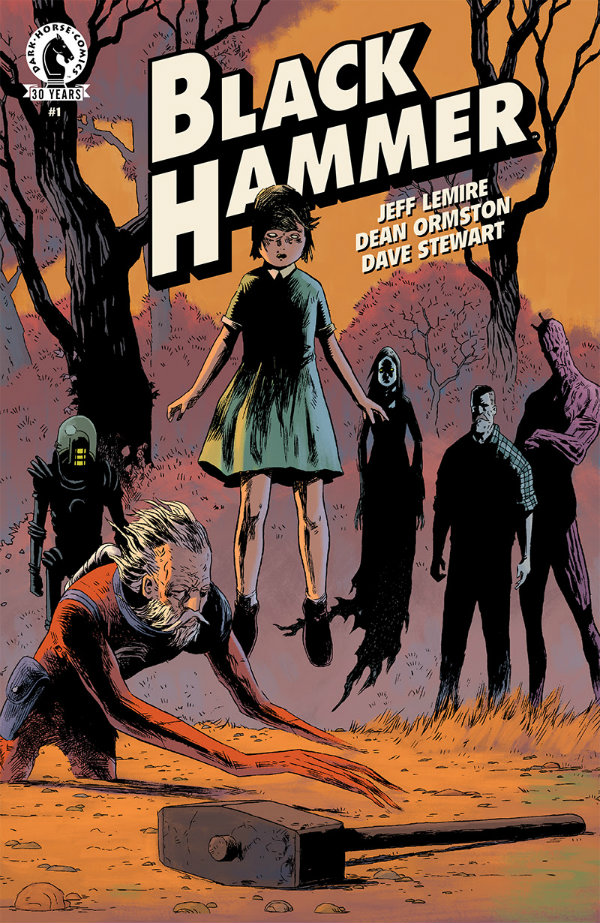 Such is the case in Jeff Lemire (Descender, Old Man Logan) and Dean Ormston's Black Hammer, their creator-owned tribute to old-time superheroes. When the Golden Age heroes of Spiral City seemingly lay down their lives to defeat the menace of the Anti-God, they become little more than an anomalous blip in its history, less than "urban legends".
Believed to be dead for the past decade, in actual fact, most of the mystery men and women of Spiral City survived the epic battle thanks to the true sacrifice of their colleague, the so-called "hero of the streets", Black Hammer.
Now residing in a rural community far-removed from their glory days in distant Spiral City, Abraham Slam, Golden Gail, Colonel Weird (and his robotic sidekick Talky Walky), the Barbalien, and Madame Dragonfly struggle to adjust to their anonymous, mundane lives without their masks.
This first issue is more than a simple tale of relocation. The change of traditional superhero setting – from city to small town – feels more like dislocation, as Abraham and his "super-friends" discover their greatest challenge isn't another cosmic-sized evil or megalomaniacal evil genius but their inability to cope as normal folk. Not only do they bicker and bitch amongst themselves but the locals consider them curiosities, at best – some, including the standard redneck sheriff have somewhat harsher opinions.
Dean Ormston's (Bodies) pared-down yet striking artwork captures the odd feeling of juxtaposition seeping throughout the book with a disturbing homeliness that borders on the grotesque. There's a feeling of pervading disquiet, an undeniable tension wrought in both Ormston's rendering of his quirky cast and Lemire's supreme ability to choose just the right moments to explore.
The writer's thorough understanding of all facets of the creative process from script to finished art informs a remarkable facility with the form. Each of the characters we meet fill familiar roles but every one of them is realized with a very definite twang, like a guitar string bent nearly to breaking.
A rare, truly original twist on several of the popular American superhero types, Lemire and Ormston's tightly-wound little thriller doesn't so much deconstruct as it pleasantly dislocates both deeply-mined subject matter and its critical readers. Highly recommended.
Jeff Lemire (W), Dean Ormston (A) • Dark Horse Comics, $3.99