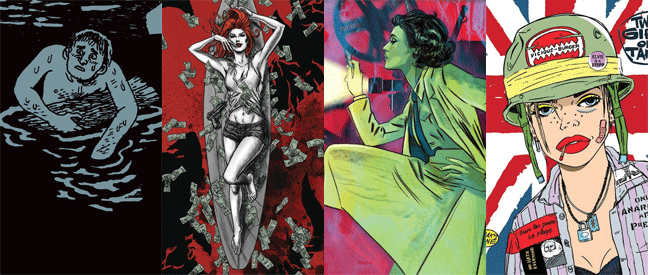 It's nearly Wednesday, and you know what that means: a fresh load of comics and graphic novels! With so many publications hitting your local comics store or digital storefront, the BF staff is here to lead you through the woods with our weekly staff picks. Satisfaction guaranteed!
Comic of the Week
Disquiet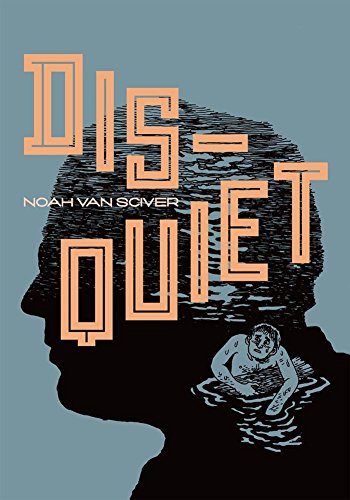 Haruki Murakami describes his short stories as "soft shadows I have set out in the world, faint footprints I have left." This new collection of short work by Broken Frontier Anthology contributor Noah Van Sciver has a similarly ephemeral feel, tracing the artistic journey of one of the most respected modern voices of the underground.
Disquiet compiles 'The Death of Elijah Lovejoy', 'The Wizard Who Laughed', and 'Punks V. Lizards', along with nine more short tales.Van Sciver wanders through various genres and modes in the pieces collected here, ranging from darkly comedic fables to an insightful evocation of an early 19th-century abolitionist.
There is much to marvel at in the author's moody imaginings and sharply rendered visual style. But, as with the work of contemporaries (and fellow Retrofit Comics cartoonists) such as Box Brown and Yumi Sakugawa, the most impressive quality of these short pieces may be how much of ourselves they reflect within their brevity.
Noah Van Sciver (W/A) • Fantagraphics, $19.99
– Paul Mirek
Future Quest #1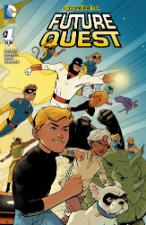 Comics fans are often quick to prejudge new takes on beloved properties but when DC recently announced their radical re-imaginings of childhood favourites in their upcoming Scooby Apocalypse, Wacky Raceland and The Flintstones series of comics the art of eyebrow-raising took on a whole new dimension.
Traditionalists can take solace, however, in the line's Future Quest book that brings back '60s Hanna-Barbera action heroes like Jonny Quest, Space Ghost, Birdman, the Herculoids and company in a galaxy-spanning adventure.
Written by Jeff Parker with gorgeous visuals by Evan "Doc" Shaner and character designs by the late Darwyn Cooke, Future Quest looks set to be one of the major sleeper hits of 2016.
Jeff Parker (W), Evan "Doc" Shaner (A) • DC Comics, $3.99
– Andy Oliver
Chum #1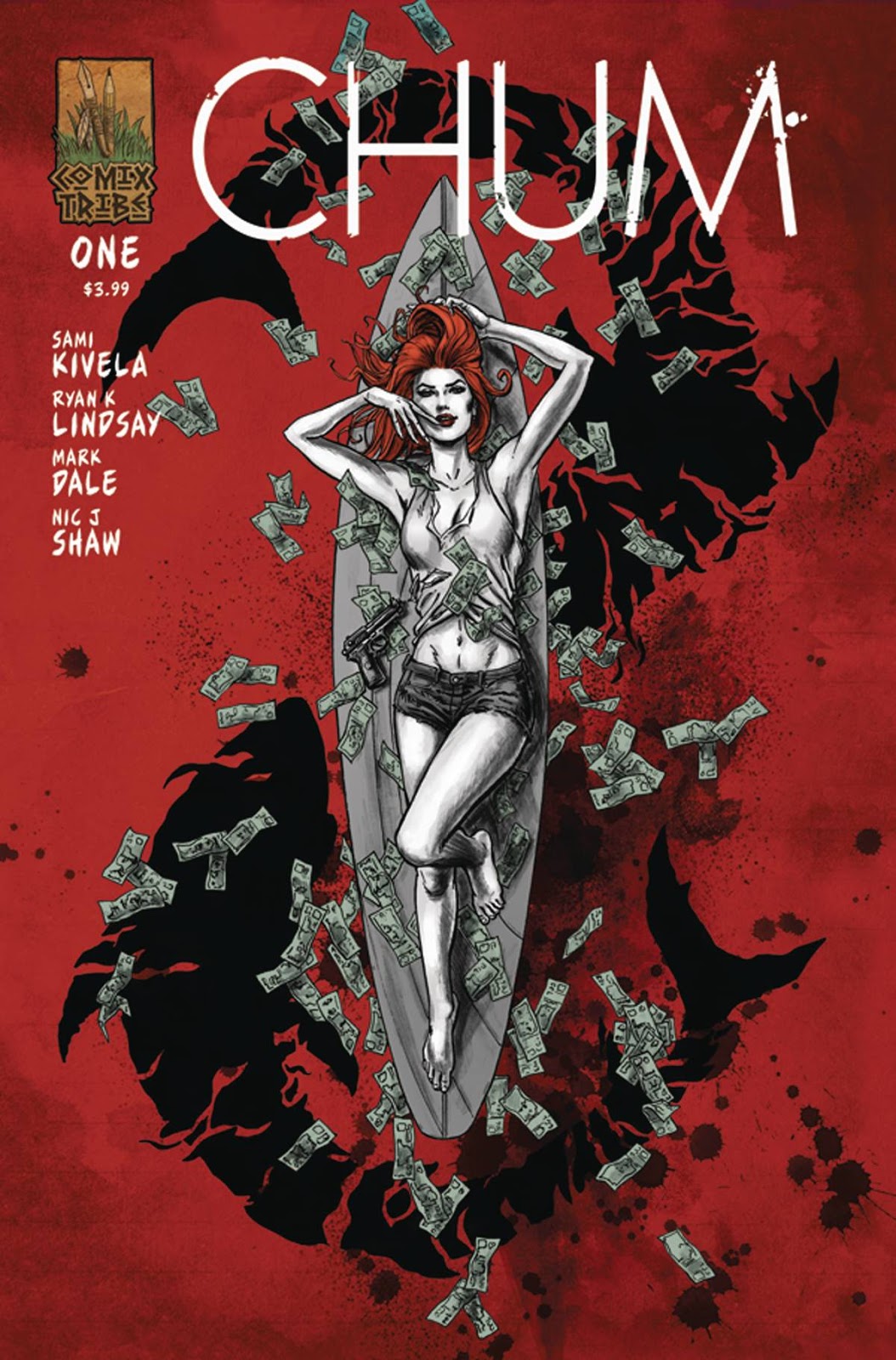 "Kingsford Island — there was too much sand, not enough to do, and strangely enough no dark beer…" So it is in the tropical environs that serve as the setting for Chum, the new "surf noir" mini-series from ComixTribe. But, avast! – Kingsford Island is no laid-back paradise for flipflop-wearing Parrot Heads. There's a storm brewing, there's blood in the water, and the sharks are circling.
Ryan K Lindsay and Sami Kivela, the creators behind Deer Editor, team up again to bring readers an original, genre-blending story centered on Summer, a seductive redhead who tends bar at the local surfer dive. She's that "perfect wave you'd wait all day for," and there are quite a few fellas on her dance card – the flunky cop/soon-to-be-ex-husband and the island's reefer-baron, to name a couple.
But Summer has her own agenda: she's looking to sail away and make a fresh start. When the cards of fate deal her a potentially winning hand in the form of a bag full of cash and a surfer-tough named Gus, she sees her chance to catch the trade winds to new horizons. Finding out how far she's willing to go to make her escape is the reason why you'll fall for this series hook, line, and sinker!
Ryan K Lindsay (W), Sami Kivela (A) • ComixTribe, $3.99
– Matthew Box
Mae #1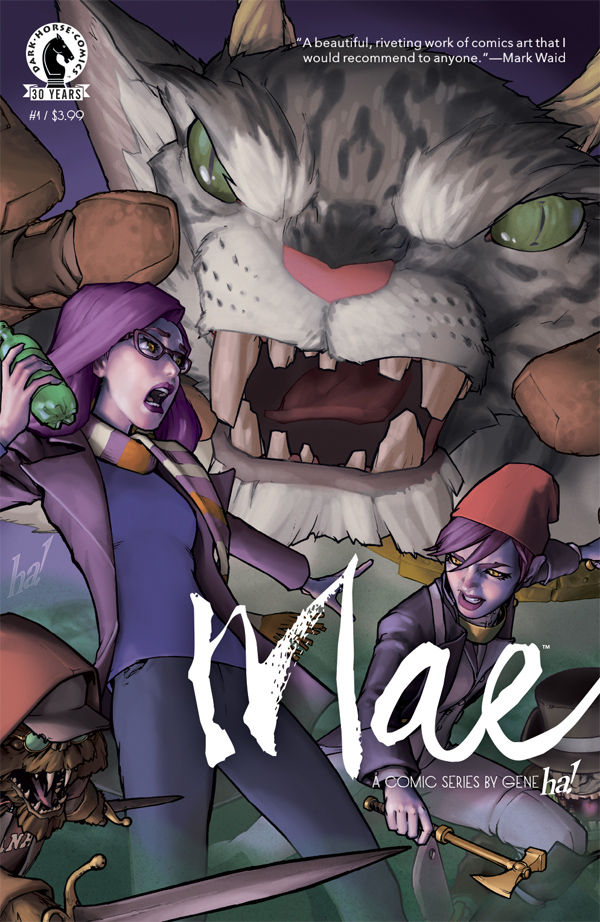 When Mae's sister went missing eight years ago, it wasn't hard to understand why she'd want to leave the small Indiana town where they were raised. But Mae never would have imaged that Abbie had left through a portal into another dimension, where she would become that world's greatest hero, defeating monsters, evil scientists and power-crazed nobles.
In fact, even when Abby suddenly returns to town, it's hard to believe that all her fantastical tales are true – until, that is, the creatures from the other world start crossing into ours!
From multiple Eisner-winning artist Gene Ha (Top Ten), Mae was originally funded through Kickstarter, where the first two chapters were published in an exclusive hardcover. Now those chapters, plus more, will begin this brand new series from Dark Horse Comics.
Gene Ha (W/A) • Dark Horse Comics, $3.99
– Tyler Chin-Tanner

Archangel #1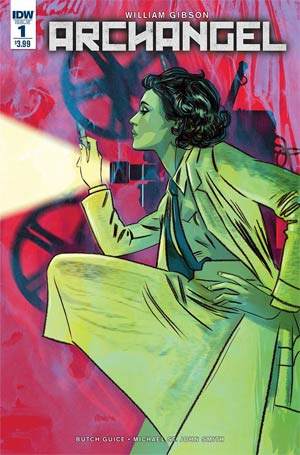 Iconic writer and futurist William Gibson (Neuromancer), one of the founders of science fiction's cyberpunk movement, teams up with legendary comics artist Butch Guice (Bloodshot Reborn) for a time travel story that could only spring from the mind of one of today's most resonant and divisive cultural prophets.
Alternating between timelines set during the dying days of World War Two and a 2016 that's drastically different from the one we could have ended up with, Archangel chronicles the emergence of a new present thanks to the machinations of a fatalistic US government and its use of a colossal, reality-altering engine called the Splitter.
Although originally conceived as a screenplay starring Michael St. John Smith (The Dead Zone), judging from the previews, there can be no doubt that Archangel is a perfect fit for comics. Gibson and Guice combine for a suspenseful, atmospheric romp through an alternate history on their way to creating a new direction for the human race.
William Gibson (W), Butch Guice (A) • IDW Publishing, $4.99
– Jason Wilkins
Don't Come in Here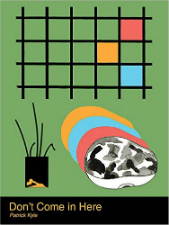 Patrick Kyle has produced longer-form work in the past – like the gloriously eccentric Distance Mover – but Don't Come in Here is his first offering written specifically for presentation as a graphic novel. Following the trials of an unidentified tenant in a strange apartment of apparently infinite rooms and a shifting sense of reality, it promises to be a hauntingly surreal and disquietingly claustrophobic experience.
Kyle is one of those creators who has fully earned the oft-tossed around description of being a genuinely distinctive voice in his field. It's hardly surprising then to see his latest book coming to us once again from Koyama Press, one of the most vitally important publishing outfits to have emerged on the contemporary indie comics scene in recent memory.
Patrick Kyle (W/A) • Koyama Press, $15.00
– Andy Oliver
Tank Girl: Two Girls, One Tank #1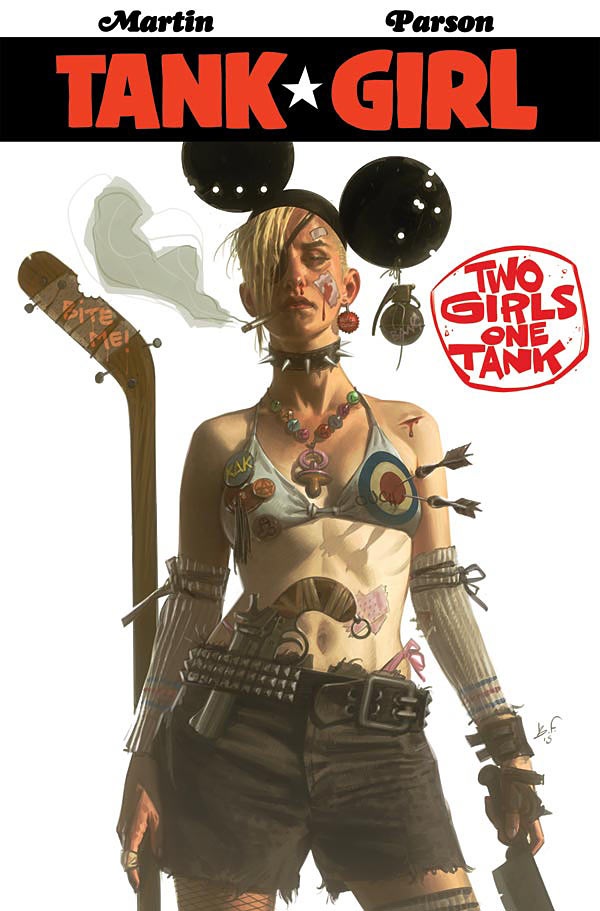 Is the world big enough for two Tank Girls? Probably not. But series creator Alan Martin is sending Tank Girl and her intrepid companions on a riotous cross-country trek sure to be riddled with mayhem, property destruction, and gut-punching anyway. Tank Girl has come a long way from her humble beginning as a pin-up in the British fanzine Atomtan.
Artist Brett Parson (New Romancer) provides the art for the three-issue series, which features another woman in possession of Tank Girl's tank. How the heck did this happen? Who knows, but hold on to your privates, Private. It's time to lace up your combat boots, rip your T-shirt (in mostly appropriate places), and strap on the weapons belt that makes your ass look great in those too-tight jeans, because Tank Girl is on the move and you don't want to miss the irreverent world of hurt she is about to deliver.
Alan Martin (W), Brett Parson (A) • Titan Comics, $3.99
– Karen O'Brien
Unfollow, Vol 1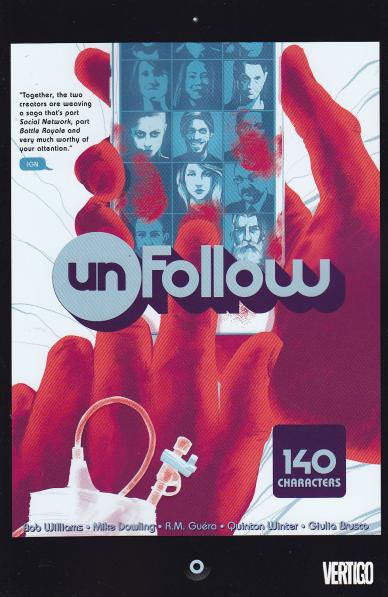 Created by Rob Williams (2000 AD, The Royals) and Michael Dowling (2000 AD, Death Sentence), Unfollow combines a compelling concept with biting social commentary to produce a captivating story told from multiple, interwoven perspectives.
A terminally ill billionaire selects 140 users at random from the social network he created to share his fortune. Each time the number of people is reduced, the remaining money is redistributed among the remaining survivors.
Greed, opportunism and pure callousness take hold and blood is spilled by the bucketload in this tense thriller. A diverse cast of characters including a journalist, a best-selling author and a retired special forces soldier are pitted against each other in a tale that blends a toxic cocktail of self-interest, self-obsession and social media.
Rob Williams (W), Michael Dowling (A) • DC/Vertigo, $14.99
– Joe Marczynski 
Pope Francis Goes to the Dentist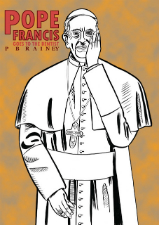 The current UK small press scene's resurgence over the last few years owes so much to creators of the ilk of Paul B. Rainey. They set the standard for self-publishing, proving that small press comics are a viable route to wider recognition. Rainey's epic There's No Time Like the Present series was collected and published last year by Escape Books and this brilliantly witty writer/artist's work has been seen recently in as diverse locations as Viz, ACES Weekly and ILYA's The Mammoth Book of Cult Comics.
Pope Francis Goes to the Dentist is his latest compilation of humour strips and includes the titular lead's misadventures in oral hygiene, the hilariously observed exploits of '14 Year Old Stand-Up Comedian' and unrecognised Gallic cephalopod artist Monsieur Octopus. A wonderful collection of running jokes and bizarre gags, the comic is available to order online here.
Paul B. Rainey (W/A) • Self-published, £2.60
– Andy Oliver