It's almost Wednesday, and you know what that means: a fresh load of comics and graphic novels! With so many publications hitting your local comics store or digital storefront, the BF staff is here to lead you through the woods with our weekly staff picks. Satisfaction guaranteed.
Comic of the Week
Shoplifter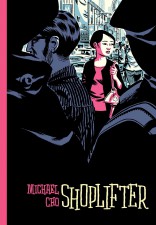 It's excellent timing on Pantheon/Jonathan Cape's end to publish both the new Charles Burns and Michael Cho's Shoplifter on the same day. People who pick up Burns' Sugar Skull (see below) looking for more from the publisher will like what they find in Cho's long-form graphic novel debut.
Just like Burns, Michael Cho is the kind of artist that will make the comics art form gain recognition beyond the established circles. As an illustrator for major outlets as The New York Times and ESPN, Cho has the reach to do exactly that and the themes he explores in Shoplifter — the criticism of consumer culture, isolated life in the big city and young adult growing pains — sure help because they're so universally recognisable.
Cho's storytelling technique has been compared to such luminaries David Mazucchelli, Adrian Tomine and Darwyn Cooke. A few years from now, he will be named among those greats; if you pick up Shoplifter, you can say you were there from the start.
Michael Cho (W/A) • Pantheon/Jonathan Cape, $19.95
– Frederik Hautain
Sugar Skull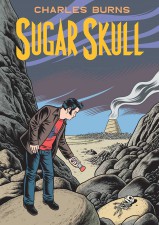 The star publication at SPX 2014, where its indie and altcomics-loving attendees were lucky to get an early copy, Sugar Skull is the endcap of Charles Burns's trilogy that started in 2010 with X'ed Out and continued in 2012 with The Hive. The trilogy is the artist's homage to the Tintin stories he loved growing up and the punk music he was so fond of as an adolescent.
As Burns has shown not only in those two books but also in his seminal Black Hole, he's a master at incorporating the surreal and the otherworldly into everyday settings, creating a unique sense of unease for readers as they try to understand what's going on on the pages before them… but like life itself, they never really get a firm answer.
The road traveled in X'ed Out and The Hive is sure to reach its rewarding conclusion now. Make sure you (re-)read those two books before diving into Sugar Skull. Only then will you fully enjoy feeling alienated as only Burns can.
Charles Burns (W/A) Pantheon/Jonathan Cape, $23
– Frederik Hautain
Loverboys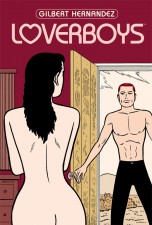 Another week, another book from Gilbert Hernandez. Just a few days after the publication of Bumperhead, his engrossing and subtly strange tale of 1970s adolescence from Drawn and Quarterly, he's now got another hardcover out. More than 30 years into his career, Beto still crackles with a creative energy that puts most of his younger counterparts to shame.
In Loverboys, which could be his most Palomar-like book for a little while, Beto takes us to the small town of Lagrimas ('Tears'), where local lothario Rocky juggles relationships with his boss and his former teacher – affairs that send ripples through the close-knit community. Meanwhile, Rocky's young sister and her two best friends come up with an unlikely plot to blow up the town.
Mixing his unflinching view of relationships with his trademark narrative playfulness, Beto has produced another treat for his fans.
Gilbert Hernandez (W/A) • Dark Horse Comics, $19.99
– Tom Murphy
Brides of Helheim #1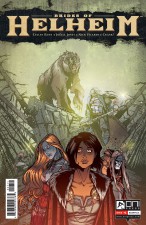 When we last saw Rikard, the star of Cullen Bunn's hyper-violent Viking Age Frankenstein saga, he was in pretty bad shape. Having defeated the warring witches, Bera and Groa and saved his people from destruction, Rikard gave his life in the final brutal conflict.
Years have passed since that legendary battle and the undead draugr wanders the world restlessly, unable to enter fabled Valhalla. A new challenge awaits the patchwork warrior as he embarks on a quest to vanquish the demonic Mórðvíg, in an epic battle only fitting for the one who carries the eldritch power of Helheim within him.
Once again featuring the eye-popping artwork of Joelle Jones, Brides of Helheim looks to take up where the last series left off – with lots of blood, guts, and stitches. Don't forget your thimble!
Cullen Bunn (W), Joelle Jones (A) • Oni Press, $3.99

– Jason Wilkins
Blackhand Comics HC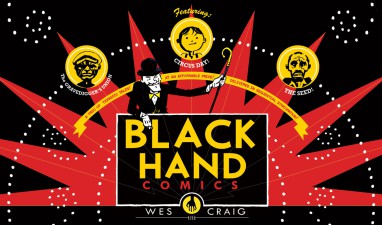 Fans of Wes Craig and the kind of kinetic artwork and strong sense of design he brings to the hit series Deadly Class will be in for a real treat with this new hardcover.
Collecting three tales from his online comic, Blackhand Comics explores the fringes of society, the weird, and the macabre with stories that include Gravediggers' Union about the men who make sure the dead stay buried, Circus Day which spins a yarn about a brother and sister who get more than they bargained for when they sneak into the freak show, and The Seed, a tale of temptation and dark forces.
Wes Craig talks more about this collection as well as the new story arc in Deadly Class during his interview here on Broken Frontier.
Wesley Craig (W, A) • Image Comics, $19.99

– Tyler Chin-Tanner

Skandalon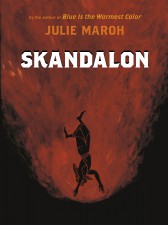 Whenever a lazy film writer pastes in the phrase 'comic book movie', you can generally bet your life that they don't mean it as a complement. So it came as very little surprise that when bittersweet lesbian romantic drama La Vie D' Adèle (Blue is the Warmest Color) won the Palme d'Or at the 2013 Cannes Film Festival, very little of the highbrow coverage bothered to mention that it was adapted from a best-selling and highly decorated graphic novel by French writer/artist Julie Maroh.
Maroh's follow-up, Skandalon, promises to be a very different but equally provocative piece of work, billed by its publisher as "a fiery, intense story about the recklessness of fame". It tells the tale of Tazane, an iconic but flawed rock star whose increasingly errant behaviour invokes the dark side of public adulation and relentless media attention. This looks like a timely examination of celebrity and our build-them-up, knock-them-down attitude towards it.
Julie Maroh (W/A) • Arsenal Pulp Press, $21.95
– Tom Murphy
Men Of Wrath #1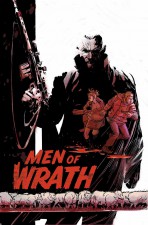 Having worked together before on Wolverine, Ultimate Comics Captain America and most recently Thor: God of Thunder, Jason Aaron and Ron Garney were chomping at the chance to start their creator-owned adventure. It's also Garney's first non-superhero book since god knows when.
The result is Men Of Wrath, a five-issue mini released under Marvel's Icon imprint, about an old professional hitman and the killers in his family that preceded him. That's why the title says 'Men' plural, not 'Man'.
Genealogy is a recurring trope in Aaron's work as readers of his Scalped epic or Southern Bastards know. Man can't escape where he's from, whether it's the rez, the South or here, Alabama. The series explores how every man in the Rath family dating back several generations has been doing their fair share of killing. Ira, the last one alive, happens to be the worst of all.
Jason Aaron (W), Ron Garney (A) • Marvel Comics/Icon, $3.50
– Frederik Hautain
Tempo Lush Tales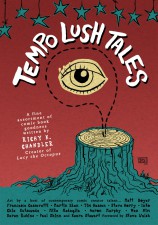 Richy K. Chandler has long been a favourite creator in Broken Frontier's 'Small Pressganged' column so the news that in early October he would have not just one, not two, not even three, but four new comics launching was quadruply welcome. Tempo Lush Tales is an anthology that sees a whole host of acclaimed UK-based small press artists bringing life to Chandler's cross-genre short stories including Matt Boyer, Francesca Cassavetti, Martin Eden, Tim Hassan, Steve Horry, Inko, Chie Kutsuwada, Mike Medaglia, Aaron Murphy, Van Nim, Karen Rubins, Paul Shinn and Keara Stewart.
Also being published at the same time through the Tempo Lush imprint are the latest volume of witty newspaper strip-style comic Lucy the Octopus (another 'Small Pressganged' recommendation!), the second issue of fantasy school series Rosie and Jacinda (with work from Zarina Liew, Francesca Dare and Myriad First Graphic Novel Competition winner Jade Sarson) and pre-school picture book/comic Bang! Crash! Whizz! which Chandler collaborated on with yet another oft featured 'Small Pressganged' subject Sally-Anne Hickman.
Those in the London area on Friday night (October 3rd) are reminded that top comics shop Gosh! will be hosting the launch party for the titles with many of the artists on hand to sign copies!
Anthology – various creators • Tempo Lush, £7.00
– Andy Oliver
Masterplasty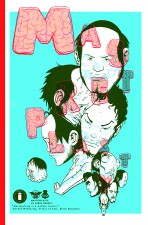 Billed as a cult sensation of online comics, James Harvey's razor-sharp social satire of the business of beauty finally comes to print this week, thanks to the savvy funny book folks at Image Comics. Smart, painfully cynical, and beautifully illustrated, Masterplasty chronicles the unfortunate rise and eventual fall of a college student obsessed with improving his mediocre appearance to the detriment of his physical and emotional well-being.
Postulating a revolutionary procedure that sets the discipline of cosmetic surgery on its ear, Harvey's one-shot tale challenges our definitions of inner and outer beauty with wonderful exaggeration and a melodramatic flair all-to-fitting for today's celebrity-obsessed "me" generation. Grotesque, compelling, and utterly original, this much-anticipated print debut definitely lives up to the hype.
James Harvey (W/ A) • Image Comics, $3.99

– Jason Wilkins
Detective Comics #35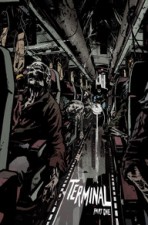 Issue #35 kicks off the first chapter of Terminal, a special two-part story by the guest creative team of writer Ben Percy (The Wilding) and guest artist John Paul Leon (Static, Earth X). Bruce Wayne is making a rare appearance at Gotham Airport.
When a plane full of dead passengers arrives, it's a mystery worthy of Batman's talents, but Bruce may be on his own for this one if he is going to protect his secret identity.
Ben Percy (W), John Paul Leon (A) • DC Comics, $3.99
– Karen O'Brien