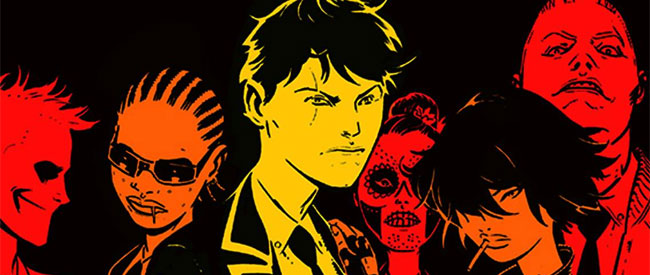 Wes Craig began his comic career as a work-for-hire artist for both Marvel and DC, drawing titles such as Guardians of the Galaxy and Batman. But when he made the move over to Image Comics to work on Deadly Class, it wasn't his first foray into the world of creator-owned comics.
Just before hooking up with writer Rick Remender to co-create the tale of teen trainee assassins, Wes started his own website called Blackhand Comics, where he wrote and drew his own short stories of mystery and the macabre.
When Deadly Class took a short break after releasing its first six monthly issues, Wes made good use of the extra time, not only gaining some lead time on future issues of the series, but also creating new content for Blackhand Comics.
Now, with the new story arc of Deadly Class beginning today and the first print collection of Blackhand Comics out on October 1 (also from Image Comics), Wes takes some time to talk with us about his career and how he's balancing his workload between both his co-owned comic series and his own independent project.
You started Blackhand Comics just before getting the gig on Deadly Class. Why did you decide to take the leap from work-for-hire in mainstream comics to creator-owned?
Well, I've been working for DC and Marvel for ten years on and off, but I've been doing creator-owned work too – it's just that none of it's been published until now.
I used to send pitches to Image before I got into comics professionally. I created a mini-series for Wildstorm a few years back that went into limbo when DC shut Wildstorm down. I wrote and drew a pitch for Vertigo a few years ago, but they felt it was a little too similar to something they had already published. Obviously I don't think it was, but on the surface I could see what they meant.
Aside from that, the opportunity to work with Remender was a big draw for me. I've been a fan of his work for a long time. Long story short: making original creator-owned comics is where my heart is, so I'm really happy with where I'm at right now.
For anybody wondering about that Wildstorm book: it might come out one day, but if it doesn't I'm okay with that. They paid me for it, so I look at it like I was learning to write on the job.
How did you end up working with Rick on Deadly Class? Did you know him beforehand?
No I didn't. I'd met him at a convention a few years back but that was it. I was working with Lee Loughridge and at the time he and Remender were neighbors. Rick was over at Lee's one night and that's when he saw my stuff. He called me up and told me about Deadly Class, and I was in, simple as that.
The first six issues of Deadly Class came out monthly, which I think really helped to build the momentum for that new series. Did you have some of the issues done in advance in order to keep up with that schedule?
Yeah, but not enough! Haha. I wish I had more done. The first two issues were around 30 pages each, so that took some time. We're running at a good speed right now, though.
You've taken a short break after completing the first arc of Deadly Class, with the first issue of the new arc (#7) out in September. Will that arc be monthly as well? And did you spend that time off getting issues done in advance, or did you have some time to work on Blackhand Comics and other personal projects?
Yeah, like you said, between arcs we have the trade paperback come out. I'm drawing pages that whole time to get ahead. I work on Blackhand on weekends and if there's a gap between issues when I'm waiting to get the next script.
I wish Deadly Class was on the shelves every single month, but we have to take a small break each arc to catch back up. That's the only way we can do it right now. Thank you for your patience, readers. You are both kind and sexy.
A lot of artists are concerned about leaving behind the financial stability of work-for-hire in order to do their own thing. How has it been for you now that you're doing both a co-creator book with Rick Remender and your own project with Blackhand Comics?
There's financial stability if you're an in-demand artist. But if those companies only hire you to do the occasional story then it's anything BUT a stable paycheck. It's a great job, but that's the one trade-off you make: you're always hunting down the next job. You never know where your next gig is coming from.
Working with Image, I know for the next two, three years or so what I'll be doing. Having said that, Deadly Class sells pretty well, so for others who don't sell as well, it's a tougher go.
As for Blackhand, I'm doing what I can to get the word out, but I don't know if it'll make any money. That not important, though – I just want it to be out there. Even if it loses money I'd still keep doing them. It's a sickness.
Blackhand Comics represents the first project where you've written your own script. How does that affect your approach to drawing and laying out the pages from a script? Do you write out a full script for yourself first or do you use a more abbreviated process?
It changes a bit, but generally I write it out kind of like a short story. Then I break that up into pages and panels and text.
Usually I don't give myself a set number of pages, but for the one I'm working on right now I've given myself 50 pages (give or take), so I've broken that up into basic points that have to happen on each page, then I take the story I've written and edit and cut it down to fit.
Your artwork in both Deadly Class and Blackhand Comics has a really strong sense of design, and you play around with page layouts quite a bit. Are you calling upon training you've received in other fields, or is it something you've developed along the way while making comics?
I went to school for illustration and for graphic design. I love design and I think our ability to use design in interesting ways in comics is one of our strong points. I don't think it gets used enough.
Now that you've written some short stories for Blackhand Comics, do you have any plans to write any longer-form comics?
Like I said, the story I'm working on right now is about 50 pages, and I'm going to do more in the same world, around the same length. But I don't think I'll do a full graphic novel until I'm done with Deadly Class. If I'm going to do something like that, I need to be able to concentrate on it completely.
The loose plan for now is to do Deadly Class for a few years, keep doing short stories in between (maybe a Blackhand book once a year), then when Deadly Class is done I 'd like to take time off and do a graphic novel, then me and Rick will start on our next project together.
These things keep changing, but that's the idea right now.
The first arc of Deadly Class ended with a pretty wild ride through Las Vegas. Do you have any plans to match this level of intensity in the next arc, and what can you tell us about these new issues?
The first issue catches us up a bit. Some time has passed since issue #6 and there are some serious threats on the horizon, so we see some of what's lying ahead for the kids. In issue #8 we look back to Marcus's story in the orphanage. We've been teasing that one for a while and we're finally going to pay it off.
And from there, yeah, the rollercoaster plunges straight down into hell…
If you'd like to see more of Wes Craig's work, you can check out his tumblr or read Blackhand Comics online. The new story arc of Deadly Class kicks off with issue #7 on September 17 and the Blackhand Comics hardcover comes out on October 1, both from Image Comics.