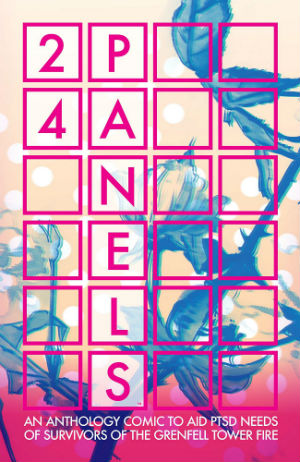 Whenever approaching a review of a project like 24 Panels there's an understandable temptation to suspend a critical eye; to focus on promotion and publicity first and foremost. In short, to put the cause before the review.
That's not even remotely an issue with this benefit anthology effort in support of the survivors of the Grenfell Tower fire in West London, where 72 people lost their lives in 2017. Edited by Kieron Gillen, Steve Thompson and Rhona Martin, 24 Panels features 24 stories that run no longer in panel length than that titular figure; the recurring numerical motif acting to represent and reflect Grenfell's 24 floors.
We picked 24 Panels as our 'Comic of the Week' at Broken Frontier last week so there will doubtless be some reiteration here of points made then about the importance and communicative potency of this project. One of the very first things that strikes the reader is the curatorial effort the editorial team has gone to in selecting contributors from across all areas of comics publishing and practice in the UK and beyond. From major serial comics creators to popular genre book artists, through to up-and-coming indie names, established self-publishers and newer small pressers, there's representation from across the medium in these pages.
That's entirely fitting in a book that not only has the wider idea of community at its very heart but one that embodies comics community at its very finest. In these pages you'll find work by bastions of the small press scene here like Sean Azzopardi, Rachael Smith, Lizz Lunney and Sarah Gordon – people who we've been covering at BF for many years. But you'll also see the likes of Alan Moore, Melinda Gebbie, Al Ewing, Doug Braithwaite, Dilraj Mann, Ram V, Alex De Campi, Paul Cornell and many more.
What 24 Panels acknowledges so ably is that the longer-term, personal ramifications of an event like Grenfell on those who survive it are ongoing and easily lost sight of. It's indelibly underlined in Gillen and Azzopardi's stark graphic intro to the project's aims that is unforgettably eloquent in its structural simplicity. It's a lead-in to stories of community, well-being, recovery, mindfulness and activism that are are touching, thought-provoking, poignant and even celebratory.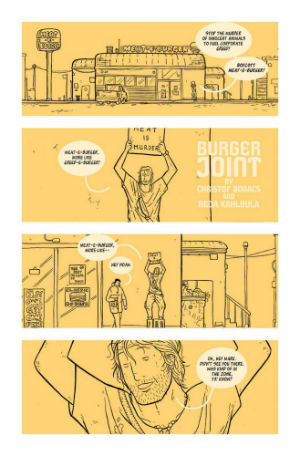 Each short's message is beautifully conveyed, from Christof Bogacs and Reda Kahloula's 'Burger Joint' that reminds us that striving to make the world a better place can be approached in tiny increments, and in Paul Cornell and Rachael Smith's expressive meditation on the relaxing simple pleasures inherent in the community of cricket. These small but precious moments are never better expressed than in Trevor Boyd and Bev Johnson's atmospherically coloured 'Fruit Punch' wherein a tale of school prom disappointment becomes a life-affirming celebration of kindness and our responsibilities to each other.
That's something also touched upon in Liam Donnelly's 'Kinship' where a fractious flat-sharing situation is turned on its head, reminding us that close friendship is not a prerequisite for basic support and humanity. 'They Say' is perhaps a natural expansion of many of the themes of the book. Alex De Campi giving us a child's eye view of a block of flats and its inhabitants through central character Sana. Ro Stein and Ted Brandt's visuals create pages out of the building's very structure with every apartment being a panel unto itself. It's one of those examples of the form that makes use of the unique visual language of comics that we like to talk about so much here at Broken Frontier, with Triona Tree Farrell's colours playing a vital part in the resonant rhythm of the piece.
That playfulness with exploiting the form is echoed in Ewing and Braithwaite's brilliant meta account of people slowly coming together, as the barriers of the very page itself are broken down. From Dilraj Mann, who favours quiet but touching visual metaphor, to Ram V and Pablo Clark's affecting dystopian fiction, 24 Panels is rich in its diverse uses of comics' empathetic communicative nature.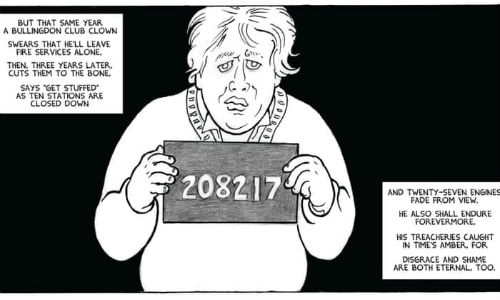 Above – Panel from Alan Moore, Melinda Gebbie and Hassan Otsmane-Elhaou's 'If Einstein's Right'
We bang on a lot about comics community here at BF not just from the perspective that we (obviously) feel it is a valuable thing but because, despite the impression that social media can sometimes give, at its finest this is a largely supportive and nurturing scene. Whatever you can do to support 24 Panels – whether you buy, stock or spread the word about the book – it all helps in raising money for those who survived the Grenfell fire. As I said at Broken Frontier last week "powerful" is perhaps a much overused word in comics commentary but it's assuredly the most fitting of adjectives for this vitally important book.
Contributors include Kieron Gillen, Sean Azzopardi, Hassan Otsmane-Elhaou, Gen Ainslow, Drew Wills, Rob Jones, Leigh Alexander, Tom Humberstone, Christof Bogacs, Reda Kahloula, Trevor Boyd, Bev Johnson, Alex de Campi, Ro Stein, Ted Brandt, Triona Tree Farrell, Paul Cornell, Rachael Smith, Liam Donnelley, Al Ewing, Doug Braithwaite, Mike Garley, Alex Moore, Mike Stack, Antony Johnston, Robin Hoelzemann, Pippa Mather, Lizz Lunney, Sara Kenney, Caspar Wijngaard, Dilraj Mann, Alan Moore, Melinda Gebbie, Emmet O'Cuana, Jeferson Sadzinski, Cardinal Rae, Laurie Penny, Gavin Mitchell, Erika Price, Joanne Starer, Lynne Yoshii, Comicraft, Daniel Santos, Debora Santos, Toben Racicoat, Paul Swain, Gwen Kortsen, Angela Wraight, Ram V, Pablo Clark, Deshan Tennekoon, Linki Brand, Dan Watters, Sarah Gordon, Tula Lotay (cover, top image above), Steve Thompson and Rhona Martin.
Image Comics • $16.99
Review by Andy Oliver