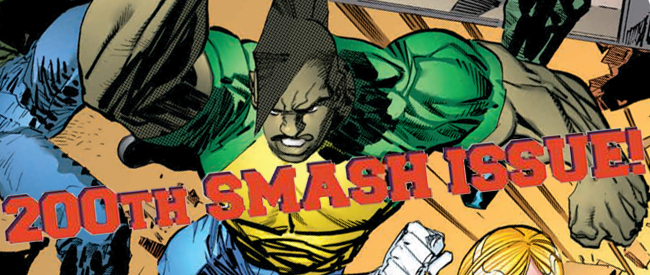 "Savage Dragon started as a miniseries and I did a new #1 with the advent of the ongoing title and I've always regretted doing that. The thought of starting over actually repulses me." – Erik Larsen
In terms of the most impressive runs in the history of comics, Erik Larsen has certainly carved out his place among the best. His creator-owned title, Savage Dragon, is the longest running American full-color comic to feature a single writer/artist.
Needless to say, Larsen has taken his character through a number of twists and turns over the 20-plus years that he's been working on Savage Dragon, but perhaps the most significant change happened just this past February with issue #193. Malcolm Dragon, the son of the original Dragon, took his father's place as the hero and main character of the book.
Now, with the 200th issue on the stands, Erik Larsen spoke with Broken Frontier about the longevity of the title, what it was like passing the torch from father to son, and what we can expect from the future of Savage Dragon.
BROKEN FRONTIER: With all the reboots these days, it's rare to see any series reach 200 issues, let alone a creator-owned comic written and drawn by one person. What motivated you to stick with this one character and the series for so long?
ERIK LARSEN: The bigger question for me is why do other people leave books after such a short while? Often the answer is that they get bored and there are other, more exciting books to work on. That hasn't been the case with me on Savage Dragon. Plus, the nature of the book, set in real-time, has made it a fascinating book to work on as characters change over time and grow into and out of certain roles.
Were you ever tempted to relaunch Savage Dragon with a new #1 or switch to a spinoff series just for the added marketing boost or to give yourself a fresh start?
Not really, no. The book started as a miniseries and I did a new #1 with the advent of the ongoing title and I've always regretted doing that. The thought of starting over actually repulses me. And for what? When Spider-Man starts over with issue #1 are we to suppose none of the other issues matter? They don't count? Is none of that continuity to be addressed? None of those characters to be used? Of course not! It's a false start.
Erik Larsen's first-issue covers for the Savage Dragon miniseries (left) and ongoing series (right).
It's not a new beginning, really, it's a continuation of what came before, so why not be honest about that instead of deceptive and manipulative? Plus, as cool as it is to get that little bump from a number one — it's cooler still to celebrate an actual accomplishment — reaching a goal like an issue 100 or 200 or 500.
Action Comics was closing in on issue 1000 — what an awesome achievement, one thousand issues of an ongoing title — but that was tossed out the window for a new #1. How special. How novel. How unusual. How many books have reached #1000? How many have reached #1? Pretty much every book on the shelves. There's nothing special about #1. So, no, I'm not even remotely tempted.
Back in 1992 when the first issue of Savage Dragon came out, it was part of the launch of Image Comics, the publishing company in which you're a founding member. What does it mean to you to see Image still going strong after all these years and Savage Dragon still part of its diverse lineup?
It's pretty great. I'm happy to be here after all these years. I'm glad to have had the support I've had. I think the new Image is fantastic but the one small thing I miss, really, is the shared playground. I miss having characters share a world and crossover and whatnot.
I can totally understand the desire to create your own world and build your own playground, but there are times when I step outside and see the dozens of sandboxes in the neighbors' yards and wish we could all get together and play.
Now that Malcolm Dragon is the star of the book, are you doing anything in particular in order to have him stand apart from his father? Any attempts to shift the tone or direction of the book in order to create this differentiation?
The book has been in a constant state of flux since it began. That hasn't changed. Right now, Malcolm is 18-years old. The adventures an 18-year old have and those a 50-year old have are very different adventures. But Malcolm is growing up. He's becoming an adult. He graduates from high school in the spring. He just had his girlfriend move in with him. Things change.
In issue #200, the original Savage Dragon gets out of prison (at least temporarily). He hasn't played much of a role in the story since the new direction began in issue #193. Will he be more involved from this point forward or will he return to a supporting role?
It's Malcolm's book at this point. There will be occasional stories that focus on Papa Dragon, but it's no longer his story. He won't ever return as the star of the book on an ongoing basis. Again, the nature of it being set in real time plays a part here. Dragon is in his 50s and he won't be getting any younger. This isn't Superman or Batman where the characters are set in amber.
It's been an interesting process. It took me a little while to warm up to Malcolm. At this point I like writing him more than I do his father. I still like old man Dragon, but there's a freshness and fun to Malcolm that I enjoy the hell out of — and #200 is kind of a turning point for him, which makes it that much more fun to work on. He enters a new phase of his life.
Looking back, is there anything you've learned from your initial 200-issue run that will influence your approach to the series creatively or on the business end going forward?
The only regret, really, was to blow up the world and have a few characters go to an alternate Earth. I can't imagine making a move like that again and it's one I regret to some extent. It makes things a bit less clean. I won't do anything like that again.
Any chance a third generation of Dragon will take over the helm in another 20 years or so? If so, this will require some advanced planning since the character will need time to grow up during the series. Have you thought about how you might approach this yet?
Absolutely. It's the nature of the book. If there wasn't another generation around in another 20 years, I'd be remiss.
Savage Dragon #200 is on sale now from Image Comics. It's a 100-page super spectacular with bonus stories by comic greats including Herb Trimpe, Chris Burnham, Nikos Koutsis and many more.