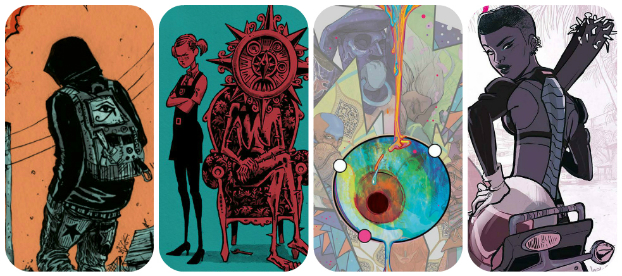 It's nearly Wednesday, and you know what that means: a fresh load of comics and graphic novels! With so many publications hitting your local comics store or digital storefront, the BF staff is here to lead you through the woods with our weekly staff picks. Satisfaction guaranteed!
Comic of the Week
The Can Opener's Daughter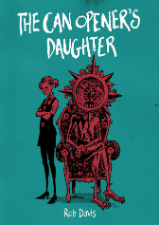 Back in 2014 readers were captivated by the brilliantly bizarre internal logic of the reality of Rob Davis's British Comic Award-winning The Motherless Oven. In a world where children built their machine parents, the sky rained knives and everyone knew the date of their deathdays, we followed school boy Scarper Lee's attempts to take control of his destiny in a bleakly comedic coming-of-age story.
The second part of that trilogy is published by SelfMadeHero this week and centres on Scarper's friend from the first instalment, the enigmatic Vera Pike – the daughter of the Weather Clock and that titular can opener. It promises to answer some of the many questions from that opening entry while posing others still…
No hyperbole! The Can Opener's Daughter is one of the most eagerly awaited books of 2016 from a truly inventive and imaginative comics mind. If you're in London this Thursday December 8th you can attend the launch party at London's Gosh! Comics between 7pm and 9pm when Rob Davis will be signing.
Rob Davis (W/A) • SelfMadeHero, £12.99
– Andy Oliver 
Island #13

Last summer saw the launch of an ambitious project from Image Comics – their magazine-format series called Island. Curated by creators Brandon Graham and Emma Rios, each monthly issue serves as an anthology featuring the work of writers and artists from around the world. And, so far, every issue has ranged from great to outstanding!
Island #13 hits shelves this week, proving that the series is still going strong regardless of the obvious challenges that such a project entails. In addition to contributions from Graham and Rios, this month's Island also features a story written and drawn by Graham's Prophet cohort Fil Barlow.
If you have yet to explore the unique worlds between the pages of this exciting anthology, now's the time to get on board. There's really no bad place to start with this thought-provoking series, and you're likely to end up wanting to own them all.
Brandon Graham (W/A), Emma Rios (W/A), Fil Barlow (W/A) • Image Comics, $7.99
– Matthew Box
Motor Crush #1

After leaving their mark on Gotham City with the critically acclaimed Batgirl, the team of Cameron Stewart, Brenden Fletcher, and Babs Tarr returns with a new female-led adventure set in a high-speed sci-fi future. In a world where motorcycle racing is the sport of choice, Domino Swift is on the hunt for the fabled "machine narcotic" called Crush.
This team has already demonstrated its penchant for creative action and compelling characters, and Fletcher's work on Black Canary and Gotham Academy also highlights an impressive storytelling range. It should be a treat to see what these talented collaborators can do when let loose in their first creator-owned series.
Brenden Fletcher, Cameron Stewart & Babs Tarr (W), Cameron Stewart & Babs Tarr (A) • $3.99, Image Comics 
– Paul Mirek
Ditko Unleashed

IDW Publishing's record for producing sophisticated, beautiful museum catalogues collecting the works of comics' greatest masters is without peer in the industry. Past catalogues include celebrations of John Buscema, Russ Heath, and Wally Wood. This latest publication explores the work of one of the medium's most dynamic imaginations, the co-creator of Spider-Man and Doctor Strange, Steve Ditko.
Produced to accompany an exhibit of Ditko's work in Palma de Mallorca, Spain, the catalogue features an extensive sampling of Ditko's art from throughout his entire career. A celebration of Ditko's fierce intellect and far-reaching influence, the catalogue features numerous examples of his work for Marvel, DC, Charlton, and Warren. A bit on the pricier end of the holiday gift-giving spectrum but a definite winner for the connoisseur of fine comics in your life.
Steve Ditko (A) • IDW Publishing, $59.99
 – Jason Wilkins
Über: Invasion #1

America was lucky that, during the horrors of WWII, the headline "GERMANY INVADES AMERICA!" never graced the top of a newspaper in bold black letters. Through some miraculous twists of fate and some very hard fighting, the Allies managed to stanch the onslaught of Axis might and stop it in its tracks.
However, the history books get re-written (again) in the latest Uber series from Avatar Press – Über: Invasion – from prolific creator of quality comics Kieron Gillen. Continuing the saga which began with the main series launch back in 2013, Über: Invasion sees the arrival on American soil of Nazi übermenschen (scientifically enhanced superhuman soldiers with energy-warping psychic powers) who intend to wreak havoc upon the ill-prepared American military. It remains to be seen whether the Yanks will be able to outman-Über the German horde before it's too late!
Daniel Gete's grisly illustrations perfectly compliment Gillen's darkly clever storytelling. (There's also the added resonance of the fact that this new series gets released on the 75th anniversary of the infamous Japanese bombing of the US naval base at Pearl Harbor – certainly an invasion of sorts. Coincidence..? I think not!) You should definitely let this comic invade your collection.
Kieron Gillen (W), Daniel Bete (A) • Avatar Press, $3.99
– Matthew Box
Ody-C Cycle One HC

The holiday season is upon us and with it the annual barrage of high-end gift editions of the past year's hottest titles. This week, Image Comics offers up a gorgeous hardcover edition of Matt Fraction and Christian Ward's critically acclaimed sci-fi saga Ody-C. Praised for its innovative visual storytelling and lyrical narrative, Fraction and Ward's retelling of the classic Homeric epic of Odysseus is a mind-bending, cosmic journey that somehow transports us inside ourselves as well as beyond the stars.
Fraction's gender-swapped female protagonists are as refreshing as they are enthralling. Ward's trippy art sucks the reader into a rich, fully realized far-future setting that feels more alien than it does familiar. An innovative, engrossing read that succeeds in pushing the boundaries of the medium without descending into pretension, Ody-C is a saga well-deserving of such a fine collected edition.
Matt Fraction (W), Christian Ward (A) • Image Comics, $49.99
– Jason Wilkins
Dirty Rotten Comics #9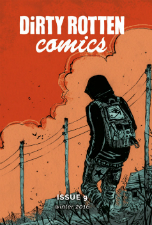 Back for its end-of-year extravaganza, Throwaway Press's flagship publication Dirty Rotten Comics gives us another sparkling collection of new and established indie comics practitioners in a bumper anthology that is always one of our favourite (thrice-yearly) treats here at Broken Frontier.
This time around within the confines of an atmospheric Jey Levang cover are short tales from creators like Julian Hanshaw, Matthew Dooley, Jenny Robins, Alex Hahn and Douglas Noble alongside some notable names that may be entirely new to you including Kevin Pickles and Natalie Bishop. Watch out in particular for two contributions from Peony Gent and Olivia Waller. You can pre-order a copy of DRC #9 online here and see an exclusive Broken Frontier preview here.
Anthology – Various creators • Throwaway Press, £4.00
– Andy Oliver