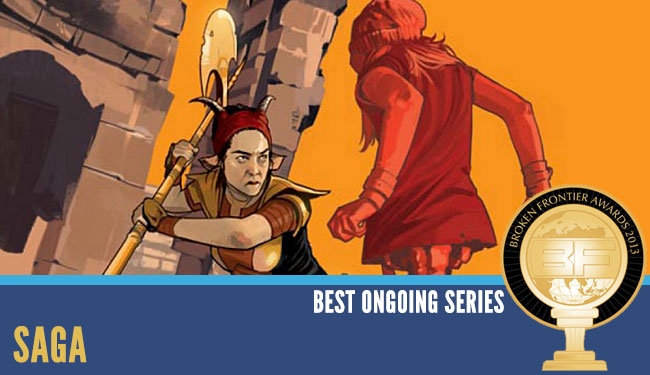 With a singular combination of originality, boldness, and flawlessness in execution, Saga fulfills the promise of its genre in more ways than one.
Plenty of independent comics have come and gone since 2012, but among those that keep plugging away, and deservedly so, is Saga. The passion project of writer Brian K. Vaughan, the series tells the story of two starcrossed lovers, Alana and Marko, caught on opposing sides of an interstellar war. Since its 2012 debut, Saga has made its significance felt in a big way, bringing first-class space opera to a medium too often lacking in quality science fiction.
On the strength of Vaughan's innovative scripting and imaginative storytelling alone, the comic would have already blown most of its competition for this award out of the water, but this book's creative firepower doesn't stop there. Equally responsible for its success is artist Fiona Staples, who has succeeded not only in lending striking visuals to Vaughan's narrative, but in crafting a host of fleshed-out worlds every bit as real and richly detailed as those of the greatest sci-fi franchises. With her work on this series, Staples has made herself half of one of the best creative teams working in comics today, and more than earned her place as a standout creator in her own right.
Saga is one title that lost none of its momentum as it kicked off its second year. Weathering some controversy earlier in 2013 – a brief depiction of gay sex got issue #12 of the series excluded from the digital platform Comixology – Saga maintained respectable sales numbers and continued to receive positive reviews from the comics press. Perfectly blending high adventure and high-concept science fiction with a fiercely unique, often irreverent India comics vice, Saga has managed to cultivate the kind of broad-based appeal and diverse audience that books outside the Big Two more often than not fail to gather.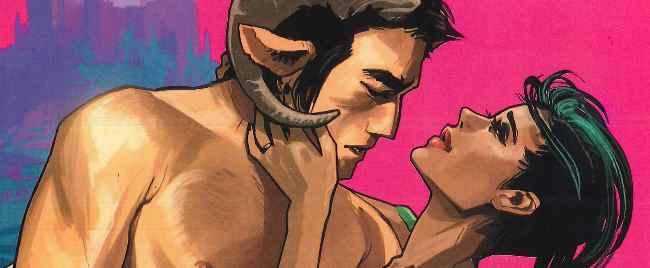 Despite its newness and uniqueness, or maybe because of it, Saga also represents a triumph of sorts for the sensibilities of old-school science fiction. Building on a foundation laid in large part by Star Wars, this comic takes the genre to new heights. Bolstered by a uniquely brilliant collaboration of its two creators, it takes the tropes of space opera in invigorating new directions possible in no other medium than comics.
In short, Vaughan's and Staples' starbound fantasy stands as a living refutation of those who claim that great sci-fi comics are a thing of the past. Saga's creative team has successfully made their book not only the finest example of creator-owned work on the shelves right now, but one of the very best comics of 2013. And if Saga can maintain its momentum, it will surely be a title to watch in 2014 as well.