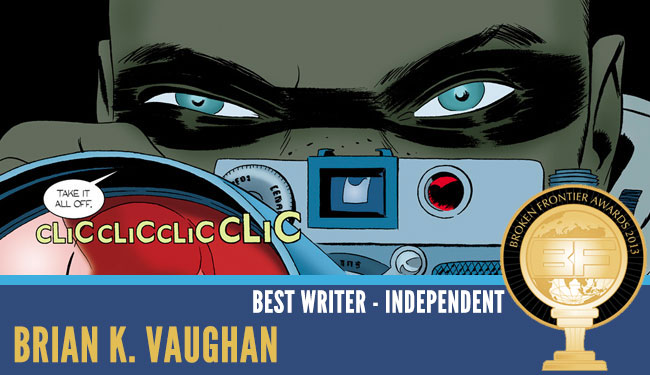 With Saga not letting up in its second year and by adding The Private Eye to his repertoire, Brian K. Vaughan is showing the world he continues to be a brilliant and clever virtuoso of comics storytelling.
With monumental hits like Y: The Last Man, Runaways, and Ex Machina, under his belt, Vaughan was a titan of creativity well before his current blockbusters—Saga and The Private Eye—really took off running. With his, and their successes, Vaughan has become a pioneer in the comics industry, cutting a path and changing the way fans and creators alike look at comics. While he didn't invent creator owned comics, Vaughan has embraced it in a way not many others have and achieved a high level of success in doing so.
Earlier this year I wrote about how Saga is this generation's game changing comic. Much like the way Gwen Stacy's death is considered by some to be the spark that marked the beginning of the Bronze Age of Comics, Bryan K. Vaughan's Saga's imaginative, bold, and oddly relatable stories might possibly be the spark that drives this generation of comics creators to disregard the outdated and arbitrary set of censorships that guide the popular comics today and reach for the stars instead.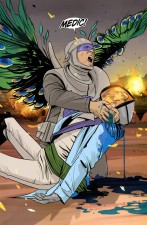 As if one hit a year wasn't enough, Vaughan teamed up with Marcos Martin to create a different animal all together. A digital-only, DRM-free, full-length comic book, which isn't that revolutionary in and of itself considering comedians like Louis CK and Aziz Ansari have been doing it for a couple of years, but when you take into account the "name your own price" pricing model you wouldn't expect Vaughan and Martin to do that well, but they showed naysayers that the majority of the audience is willing and eager to pay for the content.
What is it that sets Vaughan's writing apart? First, he makes the appeal of his characters less about what they are than who they are. It doesn't matter if his protagonists are lions, mutant kids, the last man on Earth, or funky aliens with six arms or wings and magic, Vaughan's characters think and feel with all the complexity of real people. They're messy and flawed and so, so interesting. It also doesn't hurt that they're also very inventive concepts.
Secondly, Vaughan is a master of his craft. In a 2007 interview, Vaughan talks about his dedication to the three act plot structure on which western storytelling is built upon. His stories have a beginning, a middle, and an end (for the most part) which gives the audience the sense that whatever we're reading is building towards something of importance. In a market saturated with comics that publishers build into franchises and that seem to want to run forever, Vaughan is not afraid to put a universe to bed once the characters' stories have run out. An obvious but weirdly brilliant idea.
Finally, and I've said this before in other articles, but Vaughan loves comics. With things like Saga and Ex Machina, he's not writing for the movie deal. He crafts the story to exist primarily on the page, which makes the reading experience much more seamless, enjoyable, and exciting.
For his work on Saga and The Private Eye, and for being a master storyteller and a pioneer in creativity and comics business, Brian K. Vaughan is this year's independent writer of the year. All hail the king!