Joe Keatinge's story – along with artwork from Khary Randolph and Dave McCaig – balances the action, intrigue, and danger of modern storytelling with a sense of wonder and fantasy that feels reminiscent of the Golden Age of comics.
When a dying alien crash lands on Earth, its powerful exo-suit bonds with high school student Zack Thompson. The suit gives him incredible powers, including strength, energy blasts, flight, and invulnerability – but at a cost: he can never fully remove the suit. He dons the name Tech Jacket, using his powers to become the Earth's "galactic guardian".
That is the basic pitch of the original Tech Jacket series. Created by Robert Kirkman (The Walking Dead), Tech Jacket followed the cosmic exploits of the teenage superhero, and now, 12 years after the character made his debut, he returns in a brand new printed solo comic (he had a four-issue digital-only series earlier this year as well).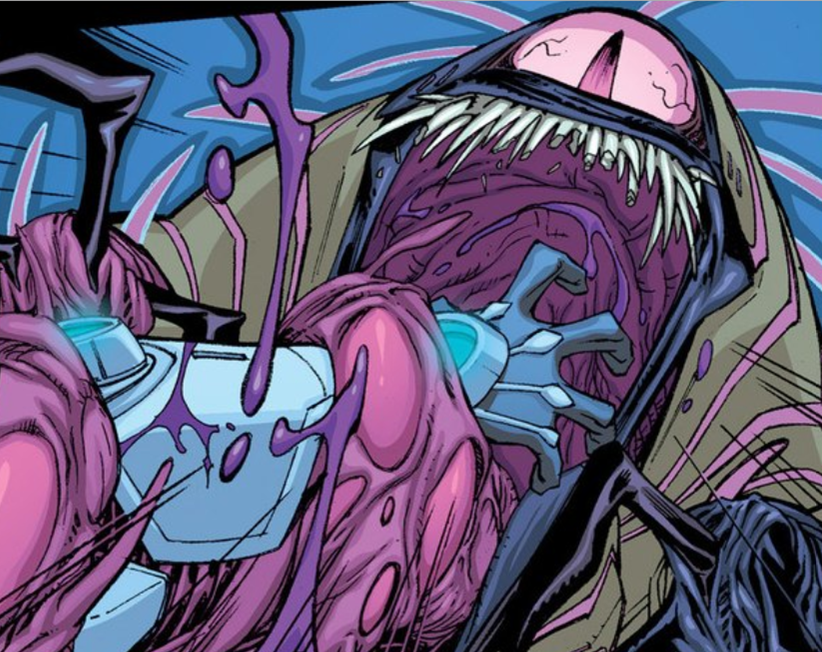 It starts off as a day like any other. Tech Jacket once again defeats an angry alien in Earth's vicinity, returning home with his father for a peaceful evening of celebration before his Geldarian girlfriend (one of the race that created the Tech Jacket) comes to visit the next day.
When morning arrives, however, Zack and his father receive reports of a massive alien ship sighted near Mercury, coinciding with a garbled emergency transmission from the Geldarians in which their entire world has come under attack. Zack's princess girlfriend is presumed dead.
Connecting the circumstantial dots, Zack teleports to Mercury to confront the alien ship. Meanwhile, planet-side, sinister forces monitor Tech Jacket, and their initial schemes to destroy him turn to a plan to control him and have him lead an army of conspicuously Tech-Jackety armoured soldiers.
The issue is full of action already, but what my synopsis has utterly failed to capture is how much fun this book is. Amid the backdrop of death, deception, and interstellar warfare, Tech Jacket is, at its core, the ultimate child's fantasy – gaining incredible powers and being a superhero.
In fact, there are some thematic similarities between the characters of Tech Jacket and the old Fawcett-era Captain Marvel (now known as Shazam in the DC Universe). Where Billy Batson gained his powers via magic, Zach gains his scientifically, but to much the same result. Their transformations allow them to break free of the dependence of childhood and to unleash both the power of their imagination and their desire to make the world a better place.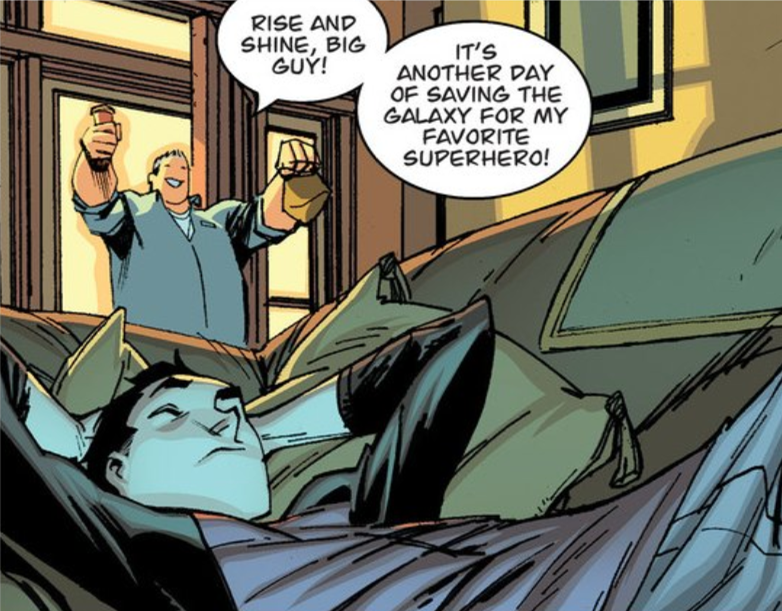 Another structural similarity lies in the dynamic between Zack and his father. He is effectively a sidekick to Tech Jacket, manning the space station headquarters and acting as both eyes and ears for the hero, though he remains recognizably parental.
In knowing and assisting his son's mission, he strengthens their bond, as opposed to the usual strain that stems from a secret identity. Even though Zack can fight alien menaces, he is not yet an adult, and so it falls to his father to keep him well-adjusted and to give him perspective.
It's a touching relationship, made all the stronger by Joe Keatinge's excellent dialogue. He has given Zack and his father distinct characterization through their speech, both as individuals and as a team. Their dynamic is fun, caring, and incredibly strong, solidifying the relationship as a cornerstone of the book.
The artwork, as expected, keeps up with the writing. Dave McCaig's colouring in particular is worth a mention. From the grey-blue tones of the space station to the vivid hues of the alien threats, the visuals establish a vibrancy that can adapt to the different levels of realism in the book. The one-eyed, long-tongued alien requires no greater suspension of disbelief than does the station's computer systems – or, indeed, the Tech Jacket itself.
What I love about Tech Jacket #1 is that it isn't afraid to have fun, nor is it afraid to have weight. This is not a story without stakes; the Geldarians have been viciously attacked, there is a massive, threatening ship all too near the Earth, and there is a shadowy organization with a terrifying robot army. There is literally danger around every corner, and yet the book still takes time for a father and son to share a morning donut, to fret about money and to joke about how boring school is.
It's a balance that is all too rare in modern comics, making Tech Jacket feel like an homage to the Golden Age, when the wonder and fantasy of superheroism were just as important as saving the day.
Joe Keatinge (W), Khary Randolph (A), Dave McCaig (C) • Image Comics, $2.99. July 2, 2014.