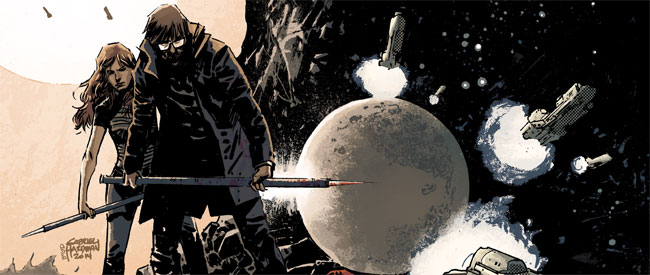 In a far-future setting defined more by grit than gleam, Gabriel Hardman, Corinna Bechko and Jordan Boyd launch their atmospheric political thriller with a slow burn.
I once went to a night club on the moon. It wasn't very good, though. THERE WAS NO ATMOSPHERE!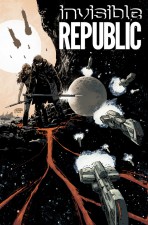 Anyway, that groaner sprung to mind because the first issue of Invisible Republic, a political sci-fi yarn from Gabriel Hardman, co-writer Corinna Bechko and colourist Jordan Boyd, is set on a moon but has atmosphere to burn. Indeed, it's a richly textured and perfectly measured opener that promises good things to come.
Set on the failing colony moon of Avalon in the 29th century, Invisible Republic introduces us to Croger Babb, a down-at-heel reporter who faces a wall of silence and resentment from the locals as he asks them about the recent collapse of the 'Malory regime'.
However, things change when he stumbles across an old manuscript – as does the focus of the story, which flashes back to narrate the events related. Written some years earlier by a woman called Maia Reveron, it tells the tale of a camping trip with her cousin, Arthur McBride, which leads to a violent confrontation and a nice concluding revelation for the reader back in Babb's day.
Comics set in this kind of environment generally sink or swim on how skilfully they handle their exposition. Here, Hardman and Bechko take a nice hands-off approach. Sure, there are a few convenient news reports playing in the background here and there, but generally they let the gritty visuals do most of the heavy lifting.
Depicting a grimy environment a million miles away from high-tech sci-fi gleam, Hardman's noirish art is brilliantly highlighted by Boyd's colouring; the latter's subdued, even drab palette is all about atmosphere rather than pyrotechnics. It vividly evokes a marginal society in the crisis of a power vacuum following the removal of a dictator – a theme that isn't laboured but has obvious contemporary resonance.
Hardman's storytelling is rock-solid throughout; you feel in very safe hands, the way you do with artists like Michael Lark and Sean Phillips. Quite a few pages of the 'flashback' are taken up with a fight scene, and while I normally tend to thumb to the end of such sequences to get to the outcome and the consequences, this was visceral, exciting and crystal clear in its choreography.
The final-page revelation casts the flashback in a whole new light, while still leaving the story free to go in any number of directions. One possible thematic flavour is indicated by Bechko's brief back-matter essay on the patriarchal purging of female power from the Mongol empire following the death of Genghis Khan.
At first glance the piece doesn't appear to have much to do with the comic that preceded it, but taken alongside the fact that no-one in Babb's Avalon even recognises the name Maia Reveron, it hints at an intriguing gender politics angle.
From The Fuse and Copperhead to Drifter and Roche Limit, there seem to have been a lot of these off-world/orbital series of late. However, its slow-burn approach and enormously satisfying visual realisation put Invisible Republic up there with the best of them. If you're reading Lazarus, you should give this a try.
Gabriel Hardman (W/A), Corinna Bechko (W), Jordan Boyd (C) • Image Comics, $2.99, March 18, 2015.