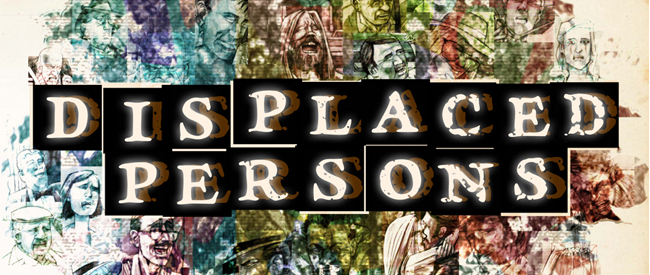 Fifteen years in the making, Derek McCulloch's latest OGN explores the stories that connect families with heart, craft, and just a dash of time travel.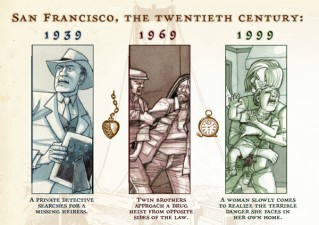 San Francisco has always been a happening place. From its days during the Gold Rush as an outpost for miners through its turbulent adolescence as a revolutionary hotspot during the late Sixties to its current status as the cultural and financial center of northern California, the City-by-the-Bay can lay claim to one of the most colorful histories of any American city.
Derek McCulloch taps into this rich vein of tradition and reinvention in his latest offering from Image Comics. Displaced Persons is a sweeping multi-generational saga that chronicles the tangled web of tragedy and hope that alternately ensnares and liberates the members of one extended San Franciscan family throughout the 20th century.
This is a complex, richly realized work that highlights McCulloch's mastery of the craft in a variety of different ways. His command of plot, pacing, and characterization at times achieve true genius in this textured masterpiece. Fusing elements of detective fiction, true crime thrillers, and a wonderful bit of magic realism in the unobtrusive yet somehow anchoring form of unexplained time travel, McCulloch straddles the lines between genres with grace and confidence.
Relying primarily on a trio of wonderfully layered protagonists to trace the history of the Price/Abramowitz Clan, McCulloch grounds the plot in their motivations and secret agendas. He shows incredible restraint, choosing the book's major emotional beats with that indescribable combination of intuition and insight that marks a true master of graphic storytelling.
Even as his cast grows and develops into real people who become increasingly invested in their own stories, so too does McCulloch remind the audience of the labyrinthine plotlines haunting their own families. Like the very real characters in Displaced Persons, we all struggle daily with the choices we make and the unfortunate consequences our decisions often reap.
We all have those moments of regret. We've all lost someone to tragedy. Maybe some of us have even been the cause of such immense and insidious hurt.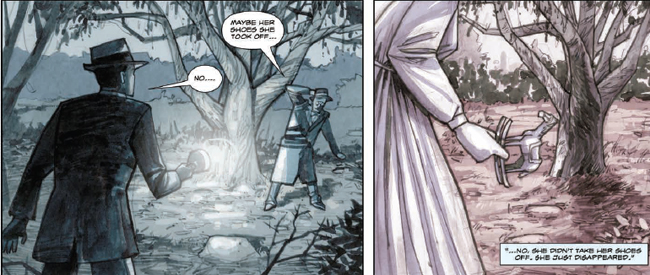 Displaced Persons is so much more than just a dark, melancholy period mystery, though. McCulloch's chronicle of betrayal and murder contains more than its fair share of sunshine, humor, and ultimately hope. Just as we're about give up on naïve Danny Abramowitz or his daughter Lily for that matter, McCulloch reveals another facet of their personalities that allows us to understand them better and see some of their hidden strengths and virtues.
Absolutely integral to McCulloch's vison coming to life in such a fully realized fashion, is the stunning artwork provided by his ultra-talented collaborator Anthony Peruzzo. A triple-threat artist, who drew, colored, and lettered Displaced Persons, Peruzzo's visuals bring a depth of emotion and realism to the meticulously researched and highly structured plot. Each character lives and breathes with distinction, allowing the audience to truly immerse themselves in the stories playing out in the book.
What's more, thanks to Peruzzo's lushly detailed pages, San Francisco itself comes alive and joins the cast as a character in own right, branding its inhabitants with its unique history and cultural vibe as surely as they themselves leave their mark on the constantly evolving city. It's a symbiotic relationship on a macro level, at times a direct interplay between people and place, at others a more subtle, underlying sense of tone, color, and cadence.
At the end of the day, there is no such thing as coincidence. Everything and everyone is connected. It takes a special place and a singular graphic novel to remind us of that. San Francisco is just that kind of town, I guess. Displaced Persons is just that kind of book.
Derek McCulloch (W), Anthony Peruzzo (A) • Image Comics, $17.99.