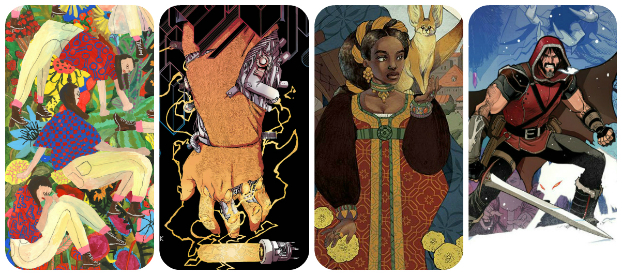 It's nearly Wednesday, and you know what that means: a fresh load of comics and graphic novels! With so many publications hitting your local comics store, comics events or digital storefront, the BF team are here to lead you through the woods with our weekly staff picks. Satisfaction guaranteed!
Comic of the Week
Paradiso #1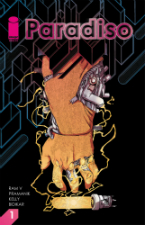 Set in a dystopian future centuries after the "Midnight Event" changed the world forever, Paradiso follows the exploits of Jack Kryznan on his quest to gain access to the sentient city of the book's title. In his childhood days Kryznan gained possession of a mysterious artefact from the local "Tinkerman" that has the power to bring the world's dormant tech back to life. But Jack's presence in Paradiso has been noticed and malevolent cyborg forces are moving against him…
With a top-notch creative team of rising star creators, an intriguing premise and action-packed flowing visuals, this new Image series is one to jump in on from the very beginning. You can read a full advance review at Broken Frontier here.
Ram V (W), Devmalya Pramanik (A), Dearbhla Kelly (C/D), Alex Sollazzo (C), Aditya Bidikar (L), Christian Ward (Variant CA) • Image Comics, $3.99
– Andy Oliver
Klaus and the Crisis in Xmasville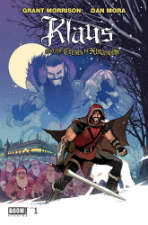 An extra-dimensional Christmas with an evil Santa awaits Klaus in his newest adventure from the award-winning creative team of writer Grant Morrison and artist Dan Mora. In what promises to be a cautionary tale of commercialization and Christmas, Morrison derived this year's Klaus special from the history of soda pop marketing and its adoption of Santa as a spokesperson.
An evil Santa founded an equally evil soda (we call it "pop" here in Chicago) corporation that uses Christmas and Santa as a marketing ploy to build its fortune. The Pola Cola Corp and its army of zombie-like Santas are at the mercy of the evil Santa, and Klaus is in for a fight.
Following the beautiful mini-series that introduced Klaus, the creative team released a Holiday Special in 2016 and carries on that (what I hope will be an annual) tradition in 2017 with Klaus and the Crisis in Xmasville. Sure to push all your buttons regarding the commercialization of Christmas while illustrating the importance of preserving a "true" meaning of the season of giving, I'm expecting to be captivated Morrison's action-packed story and enthralled by Mora's gorgeous art.
Grant Morrison (W), Dan Mora (A) • BOOM! Studios, $7.99
– Karen O'Brien
How to Be Alive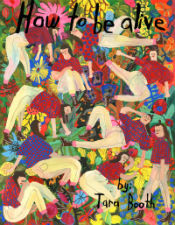 Comics that challenges our definitions of what the form is are always worth due consideration and Tara Booth's How to Be Alive – the latest Retrofit subscription comic to hit shop shelves this week – is a fascinating exercise in considering how we interact with the comics page to form our own narratives and take our own meaning from depicted events.
A collection of Booth's gouache paintings, this compilation of one-page strips is full of busy, colourful visual accounts of the smaller moments of life. More alt comics goodness from a champion of truly indie comics fare.
Tara Booth (W/A) • Retrofit Comics, $8.00
– Andy Oliver
Sleepless #1
Keep your eyes open for the debut issue of this new fantasy, romance series from Sarah Vaughn (Alex & Ada, Eternal Empire) and Leila Del Duca (Shutter, Afar).
The royal family of Harbeny are guarded by the Sleepless, knights who forgo any sleep in order to keep the kingdom safe. And after the death of the king, no one is in more need of this ceaseless watch than his illegitimate daughter, Lady Poppy.
Cyrenic must keep Poppy safe from the dangers that lurk around every corner, and there will be no rest until they've discovered why someone wants this side of the royal bloodline eliminated.
Sarah Vaughn (W), Leila Del Duca (A), Alissa Sallah (C) • Image Comics, $3.99
– Tyler Chin-Tanner
Love and Rockets Vol.4 #3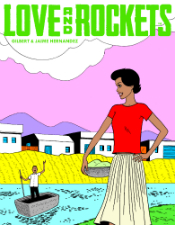 The oversized, magazine-style return of Los Bros Hernandez continues. The Jamie half  brings us back again to the aging punks of Locas, as ex-flames Maggie and Hopey continue to dash after their lost youth by returning to their old tricks — getting drunk in Hoppers — whilst the much-put-upon Ray cools his heels back at home. It's a credit to Jamie that he's resisted the urge to have his characters properly "settle down," far too conventional (not to mention heteronormative) a development for his fiercely untraditional cast.
Things are, of course, even more unusual in the family dynasty drama of Gilbert's new ongoing Palomar yarn, full of doppelgangers and smut films and sexual dysfunction. The spectre of time haunts Pipo as she considers attending a funeral, and reminisces about past romances. Be careful not to take it for granted: it's a real treat to be getting new Love and Rockets stories on the (semi) regular again.
Gilbert Hernandez, Jaime Hernandez (W/A) • Fantagraphics Books, $4.99
– Tom Baker
Be Your Own Backing Band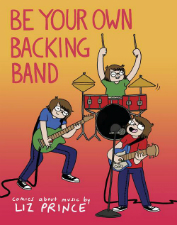 A new compilation of work from Ignatz-winning cartoonist Liz Prince is always worth your time and this week sees Be Your Own Backing Band – collecting comics from now gone music website If You Make It and punk zine Razorcake – hitting stores just in time for Christmas for fans of the Tomboy and Will You Still Love Me if I Wet the Bed? artist.
These strips mix the humorous and the self-deprecating with Prince's signature autobiographical flourish and have an appealing zine/comics crossover vibe. Dare we say it? Another cool seasonal gift idea for that non-comics buying chum in need of some engaging sequential art in their life…
Liz Prince (W/A)  • Silver Sprocket Comics, $10.00
– Andy Oliver
Black Bolt Vol. 1: Hard Time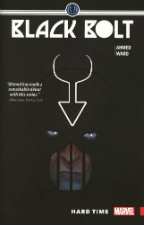 Marvel's attempts to make the Inhumans happen are exhausting, but don't let that put you off  from picking up this the alien royal family monarch's solo adventures. Christian Ward's gorgeous cosmic art, last seen in his Matt Fraction collab ODY-C — the clear heir of Kirby's New Gods phase, without simply being a stylistic copy; with elements of Moebius and Frazer Irving thrown in for good measure — is going to be the first thing that hits you when picking up this volume, but don't sleep on Saladin Ahmed's plotting.
The House of Ideas have made a habit of plundering the literary arts for new writing talent recently, to varying degrees of success. Ahmed feels like the first who has instantly got the differences between prose and comics writing (ie stop covering up all the pretty pictures with your dang words), and he's clearly having fun playing with the Marvel toybox. In Hard Time, Black Bolt finds himself imprisoned by a sadistic jailer, his powers muzzled, and has to team up with the other inmates — including the Absorbing Man himself, Crusher Creel — to escape. Great fun.
Saladin Ahmed (W), Christian Ward (A) • Marvel Comics, $17.99
– Tom Baker