James Tynion IV and Eryk Donovan ring in the end times in this smart, scary thriller that explores the dark power of ideas.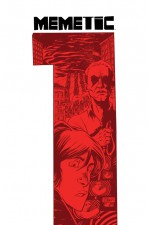 Ideas are a dime a dozen in the digital age. It seems everyone has one. Some of them are good. A few of them are great. Even fewer go viral, spreading among the teeming masses like an unrelenting brushfire, seemingly sweeping away all that has gone before. I mean, does anyone really remember anything before the coming of Grumpy Cat?
Still riding the tidal wave of critical acclaim for his work on The Woods, James Tynion IV teams up with up-and-coming talent Eryk Donovan for a huge, sweeping apocalyptic epic that is more insightful and timely than any plague of zombies.
Revolving around the concept of a weaponized meme – or idea – Memetic explores our modern society's fascination – obsession, even – with the latest trends in everything from popular culture to ideology.
When an instantly iconic image of what becomes known as the "Good Times Sloth" sets the Internet ablaze, crashing websites and servers while amassing hundreds of millions of views in a few scant hours, it seems like just another instance of viral marketing or hacktivism.
The image's real purpose only becomes apparent twelve hours later, when people around the world, from the president of the United States to the lowliest punk, start to murder their families and neighbors in protracted, bloody fits of rage.
Only a few fortunate souls – mostly with medical conditions that shield them from the Good Times Sloth's insidious influence – stand apart from the rest of humanity, now a seething mass of homicidal maniacs with a penchant for gouging out their victims' eyes with their bare hands.
Cashing in on our growing reliance upon viral marketing and our rampant addiction to social media to validate our seemingly dreary lives, Memetic is one of the scariest stories you'll read this year. Throughout this opening act, Tynion goes to great lengths to remind us how utterly beholden we are to our digital identities and how potentially dangerous that could be in the increasingly fractioned and radicalized "real" world we live in currently.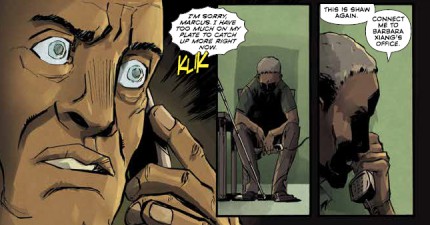 This is especially evident in the writer's use of Tweets, texts, and other social media platforms, but is particularly underscored in the form of Marcus Shaw, a blind former head of intelligence in the U.S. military. Unable to keep up with the whirlwind of information inundating our senses, Marcus shines a spotlight on our obsession with digital media and our downward spiral into shallowness and trivial concerns.
Already enjoying a far wider worldview than most, thanks to his clandestine work for the military, Marcus is one of the few people left in the world capable of identifying and truly comprehending the danger not just to those of us willingly entrenched before our computer screens each day, but also to the whole of humanity.
Like Marcus, college student Aaron Sumner is physically incapable of experiencing the full effects of the Good Times Sloth. It is through Aaron that the audience witnesses humanity's downfall, as he battles his way through the chaotic streets in search of safety from the murderous masses while pining for his estranged boyfriend.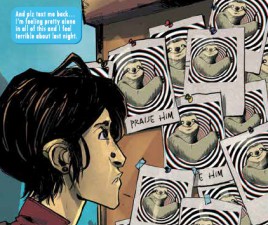 Although relatively clearheaded, it is Aaron's sense of urgency and perpetual state of fear that hammer home the overwhelming sense of abandonment and futility underlying the overt acts of horrific violence decimating our species at every level of society.
Unable to trust our main sources of information and stimulus, one has to wonder how much of humanity's downward spiral can be chocked up to widespread fear and panic rather than the Good Times Sloth.
Eryk Donovan's loose, cartoony style somehow compliments Tynion's tightly plotted and character-driven script. From the design of the creepy-cute Sloth to his ability to infuse each character, whether major or minor, with a distinct personality, Donovan's ability to tell a story with an economy of brushstrokes lends Memetic a solid emotional framework based in down-and-dirty reality.
Atmospheric, moody, and disturbingly visceral when necessary, Donovan's artistic contribution to the world-building in Memetic cannot be overstated.
Original, relevant, and keenly insightful, Memetic helps to solidify Tynion and Donovan's standing as creators to watch, while giving all of us something to chew on the next time we hit the "Share" button.
James Tynion IV (W), Eryk Donovan (A) • BOOM! Studios, $4.99.