Press Release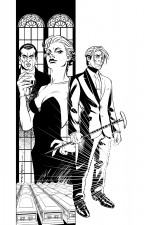 Award-winning publisher BOOM! Studios is excited to announce the creation of the PEN & INK program, a new, limited line of publications designed to spotlight some of the comic book industry's best creators and their work on BOOM! titles. The first book in the series will be DAY MEN: PEN & INK #1, which will focus on the first two issues with art from acclaimed artist Brian Stelfreeze (Wednesday Comics, Batman: Shadow of the Bat).
"We have a proud tradition here at BOOM! of working with phenomenal artists, both established talents and future stars who are just breaking into the industry," said BOOM! Studios Editor-in-Chief Matt Gagnon. "The PEN & INK program is a carefully curated presentation of what we believe is some of the most dynamic and inspirational work being published in comics. It's truly an honor to kick off the program by spotlighting Brian Stelfreeze's acclaimed work. And we'll be following it up with an amazing combination of fan-favorite creators and emerging talents. Whether you're a fan of behind-the-scenes material, an aspiring creator, a student of the medium, or simply a collector of beautiful art, these will be gorgeous editions that celebrate the craft of comics."
Each PEN & INK edition will be an oversized 11" x 17", saddle-stitched, prestige presentation featuring the original line art from two issues of a series at near-actual size. Every page will be accompanied by annotations from the creative team, giving fans and aspiring creators unique insight into the behind-the-scenes creative process.
DAY MEN: PEN & INK #1 will contain Stelfreeze's uncolored line work from issues #1 and #2 of DAY MEN and feature a host of thoughtful annotations from him and writers Matt Gagnon and Michael Alan Nelson.
"As a process junkie, the PEN & INK program is exactly the type of access to the creative process that I crave as a fan," shared Vice President of Publishing & Marketing, Filip Sablik. "We've been blessed to work with a number of luminary creators here at BOOM! along with introducing some really exciting new talent to the industry, and now fans will have a chance to share in our excitement when new pages arrive in the office. It's been such a thrill to see Brian Stelfreeze create new sequential work that it seemed unfair to keep that process to ourselves. But Brian, Matt, and Michael are far from the only creators we're planning on spotlighting this way. In the coming months, we'll be announcing additional PEN & INK projects featuring some of my favorite established and emerging talent. Elevated yet a great value, PEN & INK is a great reflection of the BOOM! values."
Created by Matt Gagnon (FREELANCERS) and co-written by Michael Alan Nelson (DC's Supergirl, HEXED), DAY MEN is a vampire noir that brings Brian Stelfreeze back to drawing monthly comics for the first time since 2005. For thousands of years, the world has been controlled by the "50 Families"—a secret network of vampire covens engaged in a timeless struggle for power. But when the sun rises, the vampires are forced to employ the services of a human who acts as their daytime fixer and protector. Trained for centuries to be the mortal soldiers of their vampire employers, the Day Men go forth at sunrise, alone into the world, to do the bidding of their sleeping benefactors.
DAY MEN: PEN & INK #1 arrives in comic shops in early 2014 with a cover price of $9.99 under Diamond order code OCT131001. Not sure where to find your nearest comic retailer? Use comicshoplocator.com or findacomicshop.com to find one! It's also available for order directly from boom-studios.com.