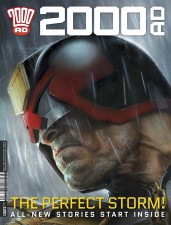 Tomorrow marks a great jumping-on point for 2000 AD's long-running weekly anthology series with the release of 2000 AD Prog 1900. The issue features three brand new strips by some of the publisher's biggest creators, wrapped inside an electric Judge Dredd cover by Greg Staples featuring a new logo by 2000 AD's lead designer Pye Parr.
To give you a glimpse of what's to come, 2000 AD shared two preview pages from each of the three stories.
2000 AD Prog 1900 will also be available digitally from the 2000 AD store or iTunes. And to top things off, Dan Abnett and Ian Edginton are holding an 'Ask Me Anything' session on Reddit Comic Books tomorrow Wednesday September 24. Tune in from 8am EST/1pm GMT.
Judge Dredd: Block Judge
Dredd co-creators John Wagner and Carlos Ezquerra return as Dredd takes on the problems of a single city block – but is Mega-City One's toughest lawman up to the challenge of 'community policing'?
Kingdom: Aux Drift
From Dan Abnett and Richard Elson. In the far future, mankind has been all but destroyed and genetically-modified dogs fight giant insects in a post apocalyptic Earth. Abnett and Elson team up again to bring you the ballad of Gene the Hackman!
Stickleback: The Thru'Penny Opera
From Ian Edginton and D'Israeli. In London at the end of the 19th Century, Stickleback is the master criminal who pulls the strings amidst the denizens of the capital's underworld, and leads a gang of freaks, oddballs and semi-supernatural entities that have got the city under their thumb. But what is his darkest secret? And can he keep it hidden 'til the very end?