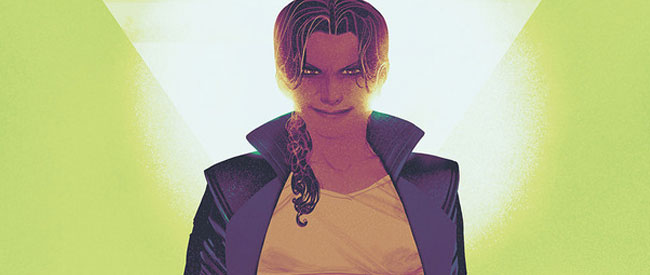 Inside Look is Broken Frontier's director's commentary-like feature in which creators take you behind the scenes of one of their latest comics to hit the stands. In this installment, William Harms discusses building the world of Eternal, his dark sci-fi morality play in the grand tradition of Philip K. Dick launching this week from BOOM! Studios.

By William Harms
People familiar with my comic book writing—such as my vampire series IMPALER or the spy thriller SHOTGUN WEDDING—know that I largely work within the horror and crime fiction genres. And don't get me wrong, I love writing those kinds of stories, but I also love science fiction, especially science fiction in the vein of Philip K. Dick and Paolo Bacigalupi.
So when I was given the opportunity to write ETERNAL, I jumped at it.
In the world of ETERNAL, a company called New Life has perfected both human cloning and the ability to transfer human consciousness. So if you're walking to work and get hit by a bus, you "wake up" a couple of hours later in a new body, with everything that made you who you are—your memories, your emotions, etc.—intact.
Unfortunately, there's a price to be paid for this gift, and it's paid by a group of people called "pures." These are people who are descended from pure genetic lines—neither they nor their ancestors have ever been cloned—and their DNA is harvested to correct a problem with chromosomes, which eventually suffer irreparable damage when they're copied over and over again.
At the beginning of ETERNAL, we're a couple hundred years in the future. A group called the Human Liberation Army (HLA) is trying to free the pures from New Life, who hold them in enclaves (which are one step up from concentration camps). Opposing the HLA is a man named Peter Rathmann and his partner Graham, who work for New Life's Biological Enforcement Unit, and caught in the middle is a teenage girl named Violet.
Page 1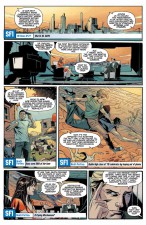 The genesis of this story was in a scene where a bunch of teenagers jump out of an airplane without parachutes and whoop and holler and laugh all the way down. Then we see them at home, watching a video of their exploits and high-fiving each other.
That seems to perfectly encapsulate one of the central themes of ETERNAL: What impact would eternal life have on society? A lot of our social rules, for very good reasons, are based on not hurting each other. You don't plow your car into a crowd of people. You don't invite people over to your house and kill them. You don't get into an elevator and strangle everyone.
But if death doesn't mean anything, what would happen to those rules? Things like murder would no longer exist—if someone kills you, you sue them for the cost of a new clone. There's a lot packed into this page, but I think it captures a lot of the ways in which the world has changed in some really dramatic ways.
Pages 7 & 8
Until this point, no one involved with the HLA (with the exception of a sympathetic scientist named Dr. Cleveland) have ever subjected themselves to cloning. But that all changes when Gail Jensen, the leader of the HLA, begins to clone herself as a way of turning New Life's greatest strength into a weakness. How do you defeat someone who can't die, who turns death into a means of escaping from your grasp?
Visually, the work here by artist Giovanni Valletta and colorist Adam Metcalfe is outstanding. It captures the hard-scrabble existence the HLA is forced to endure and does a wonderful job of grounding the advanced technology in the scene. Those first two panels are (currently) my favorite panels in the entire book.
Pages 16 & 17
These two pages not only introduce the enclave, but also the third primary character, Violet. She's being held in solitary because she stole some medicine to help a sick friend and refuses to answer any questions about it.
When I first started work on ETERNAL, the enclaves were much more bucolic. But as luck would have it, I was re-reading THE HANDMAID'S TALE while writing this issue, and it really inspired me to ramp up the inherent dystopia present in the story. The enclaves went from "peaceful summer camps" to places where no one would ever want to live.
And the same evolution happened with Violet. She started out as a care-free troublemaker, but as the enclaves inched closer to being concentration camps, her character had to change as well. She's probably my favorite character in the book, because she's the only who consistently speaks the truth. The only thing she cares about is being able to live her life the way she wants, and there's a lot of purity in that.
Hopefully you've enjoyed this behind-the-scenes look at ETERNAL # 1 and I can't wait to hear what you think of the full issue. You can reach my on Twitter @wjharms, while Giovanna is @gio2286, and Adam is @AdamGMetcalfe.