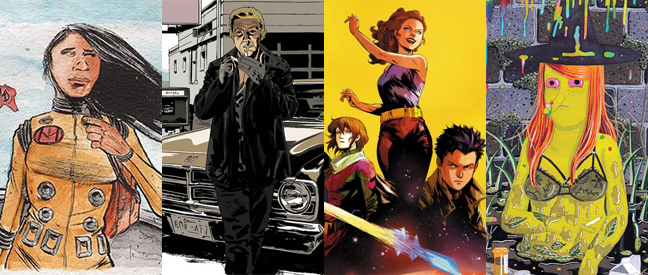 It's nearly Wednesday, and you know what that means: a fresh load of comics and graphic novels! With so many publications hitting your local comics store or digital storefront, the BF staff is here to lead you through the woods with our weekly staff picks. Satisfaction guaranteed!
Comic of the Week
Dept H #1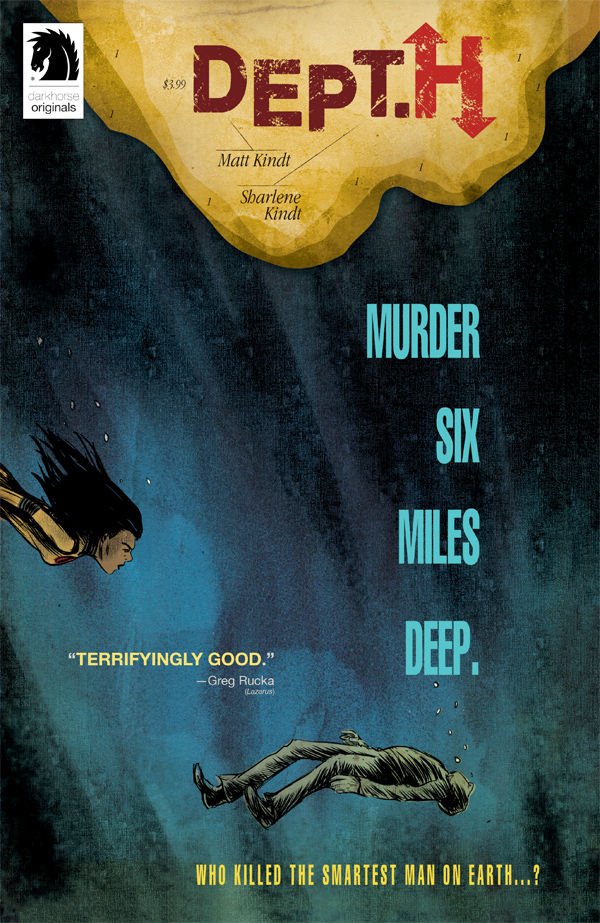 Matt Kindt's previous ongoing project as writer and artist, Mind MGMT, was one of the comics achievements of the decade so far, so there's been no small amount of anticipation for his follow-up, the underwater adventure Dept H.
Set in a deep-sea research centre, it's perhaps the ultimate locked-room mystery. We follow Mia, a young woman sent to investigate an act of sabotage that has a deeply personal resonance. When she gets there, she faces a hostile environment and a cast of suspects that includes a killer.
As the dazzling Mind MGMT and books like Red Handed have demonstrated, there are few comics creators more adept than Kindt at layering their stories and hiding everything you need to know in plain sight. You know that each of these issues is going to reward the attention and re-reads you lavish upon them.
And with Matt's artist wife Sharlene now finishing his work with stunning watercolours, it's time to get very excited and go deep into the Kindts' new series.
Matt Kindt (W/A), Sharlene Kindt (C) • Dark Horse Comics $3.99
– Tom Murphy
Criminal: 10th Anniversary Special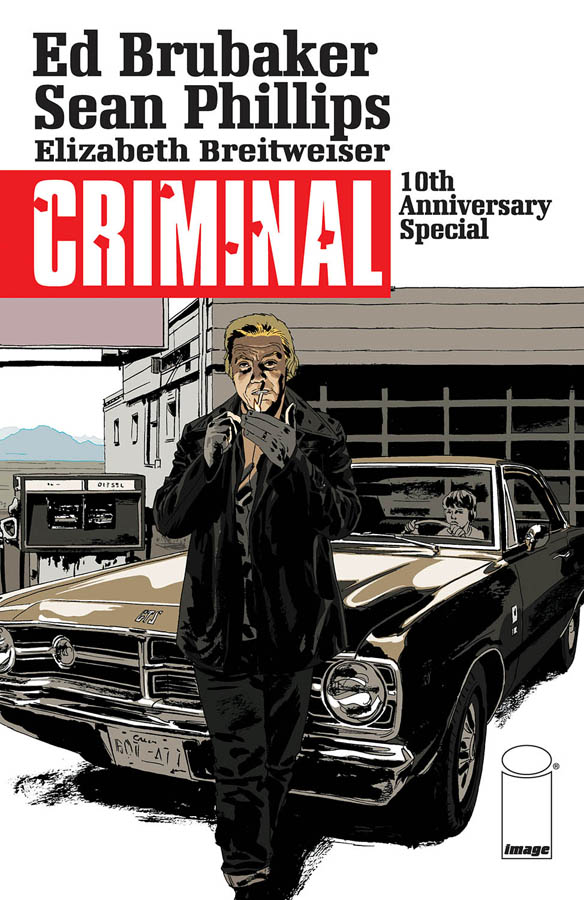 Continuing the recent trend of fantastic revivals of Pop Culture-past, yet another classic returns this week. To celebrate the 10-year anniversary of their best-selling creator-owned crime series, the dynamic duo of noir, Ed Brubaker and Sean Phillips, team up to bring us a new one-shot in their Eisner Award-winning series Criminal.
The new novella-length book returns us to the lives of Teeg Lawless and his son Tracy, in a flashback to their past and life on the run. The story will predominantly unfold from the POV of the adolescent Tracy, and, like previous story arcs from the series, the Criminal special will feature the always-interesting plot device of a "comic-within-a-comic." Advance copies of the magazine-sized variant reveal that this will involve Fang the Kung Fu Werewolf… (Picture Bruce Lee starring in Teen Wolf instead of Michael J Fox.)
Best of all, Brullips cohort (and Broken Frontier Award Winner) Elizabeth Breitweiser (The Fade Out, Fatale, Velvet) is also on board to color the book like no one else can. You'd have to be criminally insane to pass this one up!
Ed Brubaker (W), Sean Phillips (A), Elizabeth Breitweiser (C) • Image Comics, $4.99
– Matthew Box
The Fourth Planet #1
Local Toronto radio personality Fred Kennedy hooks up with Chapterhouse Comics for a sci-fi epic set in a galaxy where humans are most definitely not on the top of the food chain.
After the flagship of a human slave uprising crash-lands on a pre-industrial planet caught in the grip of a three-sided global war, its vast arsenal of advanced weaponry threatens to escalate the conflict to new heights of violence and bloodshed.
Featuring stunning pages from illustrator Miko Maciaczek, this gritty, gorgeous space opera is sure to turn heads with its distinctive visual design and wonderful pops of colour. This is a remarkable piece of world-building from an exciting new creative team, and I can't wait to learn more about the universe of The Fourth Planet.
Fred Kennedy (W), Miko Maciaczek (A) • Chapterhouse Comics, $3.99
 – Jason Wilkins
Megg & Mogg in Amsterdam and Other Stories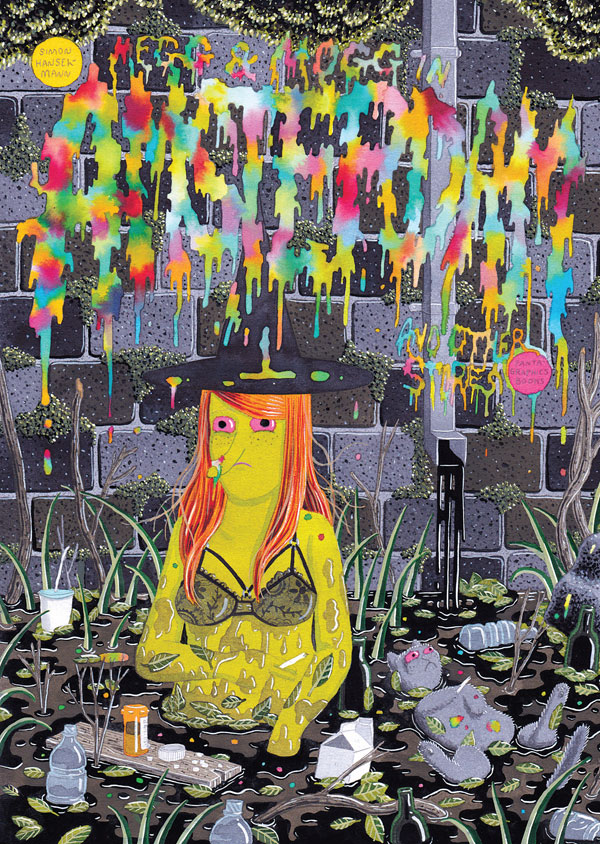 This follow-up volume to Megahex presents more of the bleakly funny misadventures of Megg the witch, Mogg the cat, their friend Owl and their drug-dealer pal Werewolf Jones, as they struggle unsuccessfully with depression, drug use, sexuality, poverty, lack of ambition and their complex feelings about each other.
Megg and Mogg decide to take a trip to Amsterdam for some quality couple time, although the trip gets off to a rocky start when they forget their antidepressants. They need Owl to come and help them to save their relationship. But why does he have a suitcase full of glass dildos? And wait til they find out what the housesitting Werewolf Jones has done to their apartment…
Megg & Mogg in Amsterdam collects all of Simon Hanselmann's contributions to Vice.com, the Ignatz Award-nominated short story 'St Owl's Bay' and a dollop of other treats for fans of this unflinching look at the awkward side of life and relationships.
Simon Hanselmann (W/A) • Fantagraphics Books, $19.99
– Tom Murphy
Joyride #1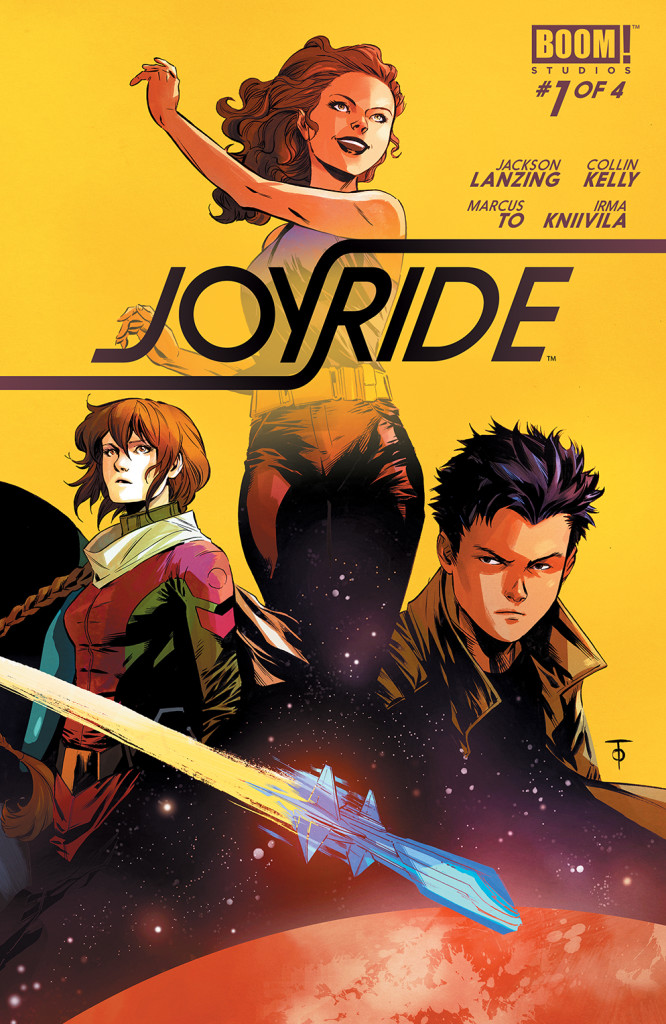 They say not to judge a book by its cover, but the fun-filled art by Marcus To that adorns Joyride #1 is a definite exception to that rule. The striking imagery recalls such sprawling Saturday-morning space operas as Robotech and Star Blazers, as well as modern teen-oriented series like The Woods and Runaways.
Co-writers Jackson Lanzing and Colin Kelly (Hacktivist, Maze Runner: The Scorch Trials) bring the heat to follow up on that cover's promise. Joyride follows Uma Akkolyte, a fiery teen who's just stolen a spaceship with a misfit crew (is there any other kind?). Together, they'll break through the World Government Alliance's barriers and discover the secret behind a mysterious message from beyond the stars.
Marcus To's animated art keeps the pace fast and the action frenetic in this thrilling first issue.
Jackson Lanzing & Colin Kelly (W), Marcus To (A) • Boom! Studios, $3.99
– Paul Mirek
All-New Classic Captain Canuck #1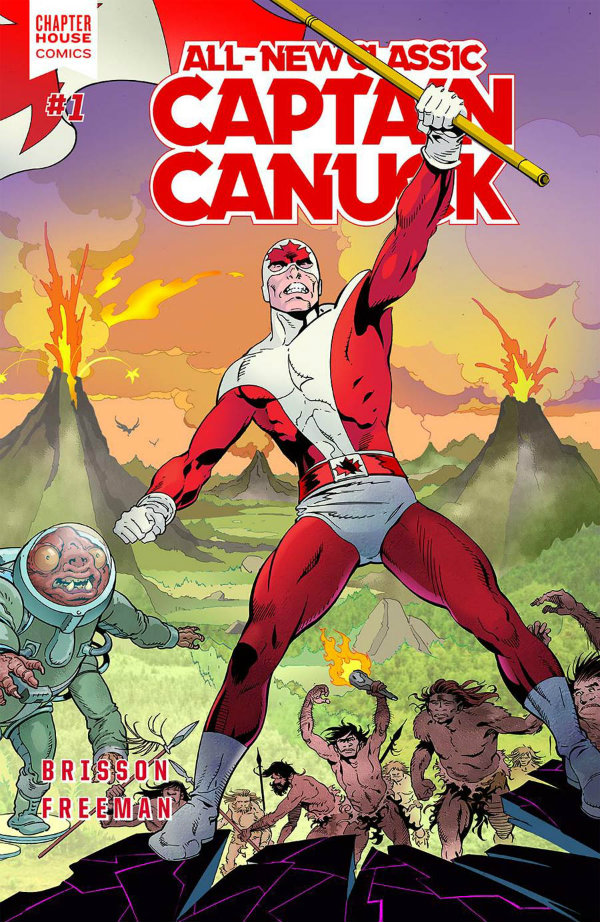 Canada's original iconic super-patriot is back in all-new adventures this spring from Chapterhouse Comics. Continuing the story from his recent zero issue a couple of months back, Ed Brisson (The Violent) once again teams up with legendary Captain Canuck artist George Freeman to chronicle the time-lost hero's quest to return to his own era.
Brisson and Freeman unapologetically plunge into comics' Bronze Age for a madcap adventure featuring bombastic villains with dreams of world conquest, power-mad aliens bent on cosmic revenge, and a crew of construction-themed henchmen that wouldn't be out of place in any Marvel or DC comic circa 1985.
This is pure, unadulterated comic-book fun that hearkens back to brighter days, when heroes were allowed to be heroes, without irony or poor lighting choices (I'm looking at you, Zack Snyder).
Ed Brisson (W), George Freeman (A) • Chapterhouse Comics, $3.99
– Jason Wilkins
Sun Bakery #1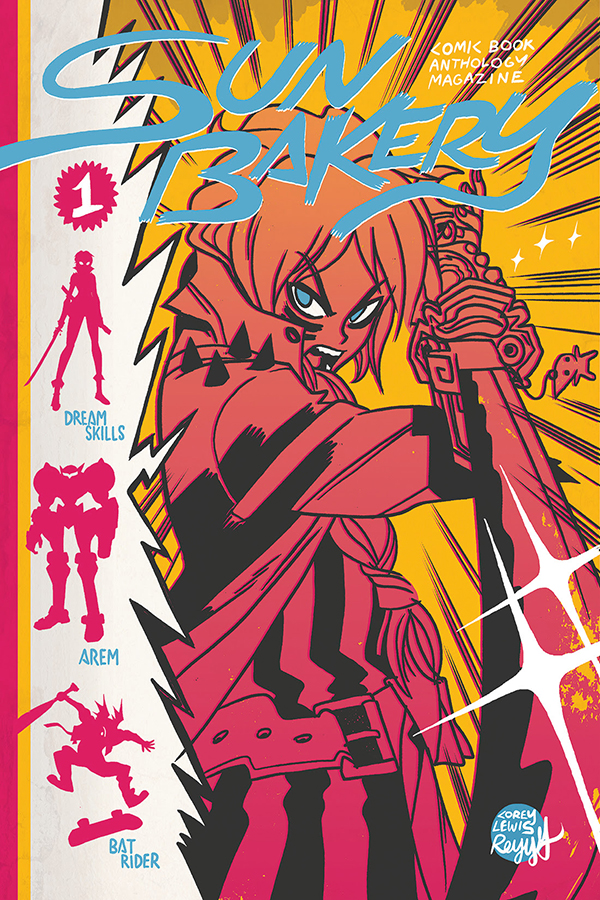 In Sun Bakery, Sharknife creator Cory Lewis launches his own one-man, Shonen Jump-esque comics anthology. Each 48-page issue is jam-packed with new, high-octane stories – the kind of stories Lewis was born to tell.
The first issue kicks off with four stories, including 'Dream Skills', about social swordplay in the big city; 'Bat Rider', about paranormal skateboarding with a hint of romance; and 'Arem', about space exploration with a social media twist.
Sun Bakery is the premiere title from the Press Gang imprint, and features variant covers by artistic heavyweights Jim Mahfood and Paul Pope.
Cory Lewis (W/A) • Alternative Comics, $5.99
– Tyler Chin-Tanner

Lazarus Sourcebook: Volume 1 – Carlyle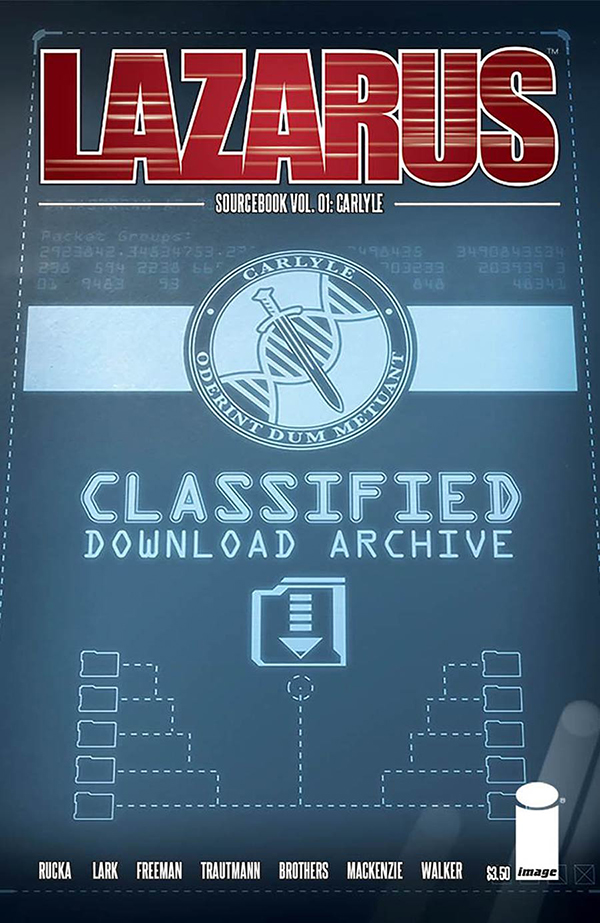 For 21 issues Lazarus has offered one of the most intriguing new storylines in comics, introducing us to a dark future where our world has been divided up by the few, in the form of a group of elite families who now control everything.
As the book prepares to leap into its next story arc, 'Cull', this June, take this opportunity to learn more about this unique landscape, the rival families and what it's like to live under the Carlyle regime!
Greg Rucka et al (W), Michael Lark & Owen Freeman (A) • Image Comics, $3.99
– Tyler Chin-Tanner