The ever-expanding world of Black Hammer gets a little bit bigger next year with the news of a new series of one-shots with guest creator takes on the characters and mythos. Full details in the press release below with a look at the first special's covers.
COMICS' TOP CREATORS BRING THEIR VISION TO THE BLACK HAMMER UNIVERSE!
Experience Black Hammer like never before in this exciting reimagining of the Jeff Lemire and Dean Ormston created, Eisner-award winning series! Black Hammer: Visions is a series of one-shots bringing some of comic's most exciting talent into the Black Hammer Universe including Patton Oswalt, Geoff Johns, Scott Snyder, Dean Kotz, Scott Kolins, Chip Zdarsky, Johnnie Christmas, Cullen Bunn, Malachi Ward, Matt Sheean, Kelly Thompson, Leonardo Romero, Mariko Tamaki, Diego Olortegui, Cecil Castellucci, and Melissa Duffy, with colors by Jason Wordie, Bill Crabtree, Jordie Bellaire and Dave Stewart and letters by Nate Piekos!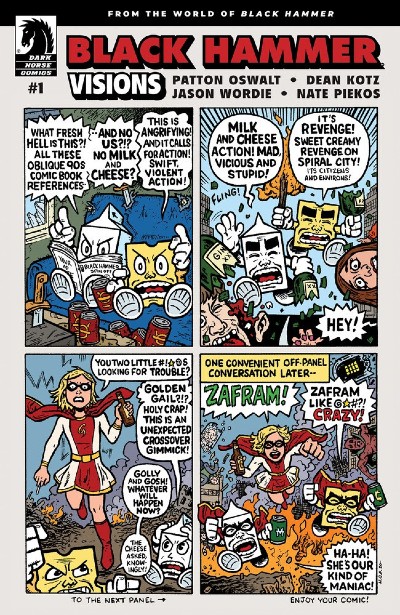 "As much as I love writing in the world of Black Hammer, it's nothing compared to the thrill of seeing creators I admire bringing their voices to these characters that Dean and I created." –Jeff Lemire
"When you're as long in the tooth as myself there are very few things that excite, but seeing this incredible creative lineup working on Black Hammer makes me feel like a giddy teenager all over again." –Dean Ormston
Kicking off Black Hammer: Visions, Patton Oswalt joins artists Dean Kotz and Jason Wordie to explore the life of youthful super heroine Golden Gail on the Black Hammer Farm before the beginning of Black Hammer#1, and her struggle to maintain sanity as a middle-aged woman trapped in the unchanging body of a superpowered grade-schooler. This 32-page issue also features variant covers by Evan Dorkin with Sarah Dyer, and Gilbert Hernandez with Dave Stewart!
Black Hammer: Visions #1 (of eight) will hit comic shops on February 10, 2021. It is available for pre-order at your local comic shop.