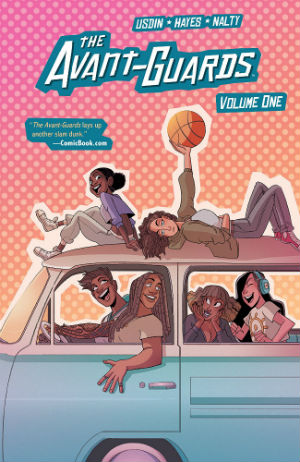 Compiling the first four issues of Carly Usdin and Noah Hayes' 12-issue series (or maxiseries as we used to call them back in the day), The Avant-Guards is ostensibly that rarest of things in US comics publishing – the sports comic. I say "ostensibly" because while on-court dramas do play a significant part in events in this collection they're really more a device to explore the relationships between the core cast. To all intents and purposes, The Avant-Guards is actually a beautifully constructed character study that speaks to us of those formative years when we were first finding our places in the adult world.
Set at the Georgia O'Keeffe College for Arts and Subtle Dramatics, our entry point into this world is Charlie, a transfer student. Alone and slightly lost in this new environment she finds herself drawn into the world of the college's first ever basketball team by the persistent Liv, who is determined to recruit this former star of the court. Her soon-to-be teammates consist of party-loving Ashley, wannabe witch Tiffany, the cynical Nicole and the quieter Jay. This unlikely group's basketball endeavours are juxtaposed with their own inter-relationships in a story of love, friendship and that all-important winning shot.
Usdin's characters are instantly appealing; their recognisable flaws making them all the more human and empathetic. This first story arc focuses largely on the growing bond between Charlie and Liv, which is played with a subtlety that never descends into predictability. On the visual side, Hayes ensures our connection with the group, endowing them with the most expressive body language, and ably transitions from more delicate character interplay to the gripping cartooned choreography of the out-and-out action sports sequences. That's re-enforced by Ed Dukeshire's character-building lettering effects while Rebecca Nalty's vibrant colours give a sparky sense of energy throughout that perfectly matches the atmosphere of the book.
Whether you're part of the YA audience this book is presumably aimed at or an older reader looking for a feelgood piece of escapism, this first volume of The Avant-Guards with its diverse cast of instantly likeable LGBTQ+ characters is a rewarding and diverting book with a true sense of joy at its heart. A comics collection that perhaps you didn't know you needed but one you will instantly fall in love with.
Carly Usdin (W), Noah Hayes (A), Rebecca Nalty (C), Ed Dukeshire (L) • BOOM! Box, $14.99
Review by Andy Oliver