"Becoming a woman isn't exactly what I call a hobby." Originally published in German by Reprodukt, in 2018 Girlsplaining: A (Sorta) Memoir is the recent release from BOOM! Studios' award-winning Archaia imprint. Katja Klengel tackles classic feminist topics such as toy design, the taboos around female sexuality, body hair and social constructions of heroism, from a sharply witty and whimsical angle.
We posted a preview of this book in December, where you can see 12 pages of the comic here.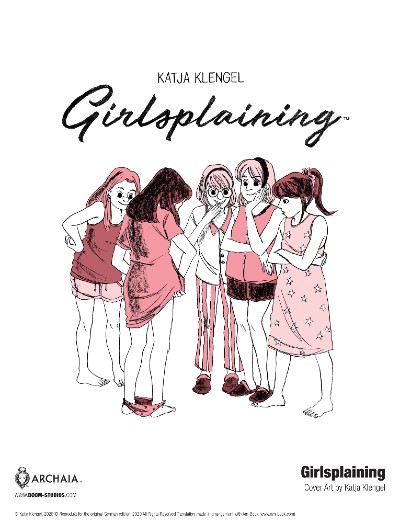 Questioning assumptions, circling back to her own experiences and poking fun at the absurdity of the culture of binary gender which we are still very much in the middle of, the book is divided into neat chapters that originated as comic columns at the online magazine Broadly, an offshoot of Vice. At times wholesome, and at others frankly disturbing, the author goes to bat for all women's right to be both – an imagined advert for Psychopathic Killer Barbie for example.
Klengel's first column invokes Carrie Bradshaw as a (flawed) template of self-referential female journalism, and many of the (many) cultural references in the book are American or Japanese (plenty of Buffy, Star Trek and Sailor Moon), although I also went down a google rabbit hole on Princess Fantaghiro and am highly tempted to watch the entire English dub on YouTube. There's a handy list of recommended reading and watching at the end of the book, but anyone looking for a uniquely German perspective here will need to look for more subtle references. This memoir works well as a more general critique of Western patriarchal culture. What makes it worth reading though is Klengel's sheer inventiveness in her use of visual language. The style is whimsical and clean – her stated influence combining classic Shojo Manga and more recent American graphic novels is clear, especially the work of Jillian Tamaki. The mixing of anecdote, metaphor, reality, fantasy and internal dialogue could easily be confusing or overwhelming, but the pacing is on point to balance this out and keep everything eminently readable.
'When I make comics, I can formulate thoughts that don't occur to me in real time" begins one of the columns/chapters, before turning an anecdote about an inappropriate come-on into a charming metaphor for internalised misogyny in the form of an arguing Starfleet crew. Klengel deftly demonstrates her own premise here in more ways than one, and Girlsplaining really is a perfect argument, not just for what comics are capable of communicating, but of what we are capable of thinking, when we make comics. Sitting down to create a meditation in words and pictures opens doors of juxtaposition in our brains – surely an argument that everyone should use comics to figure out what we think about things.
From  a magnificently frank portrayal of the pressures on women to procreate – including joyfully mixed high-brow and low-brow references in visual jokes about the horrors of childbirth itself, to a Harry Potter analogy used to explore taboos around female genitalia including a giant Vagina Dentata hovering over Hogwarts – Girlsplaining brings a neatly absurd angle to battles big and small we still fight daily as women in the West. While not without nods to intersectionality and identity politics, this is far from a thorough investigation of feminism, but it does a great job of evoking the experience of growing up through, and tearing down, various veils of shame and ignorance around womanhood. And it did make me question one thing that I had never thought of before – why is that more products are not marketed to hide the smell of sweaty bollocks?
I know it's massively hypocritical of me to say this, but I am a little bit sorry that this is for mature readers, as there is much here that younger readers would benefit from. Perhaps buy a copy for the younger teenagers in your life and judiciously remove a few specific pages (one in particular leaps to mind).
Katja Klengel (W/A) • BOOM! Studios/Archaia, $17.99
Available online from Gosh! Comics here
Review by Jenny Robins