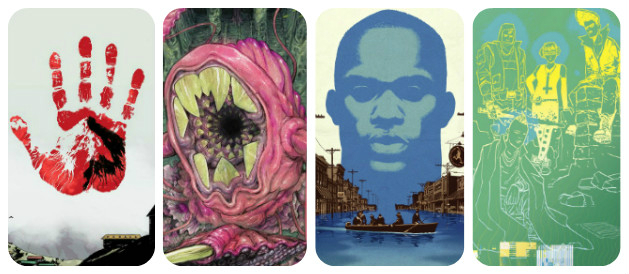 It's nearly Wednesday, and you know what that means: a fresh load of comics and graphic novels! With so many publications hitting your local comics store or digital storefront, the BF staff is here to lead you through the woods with our weekly staff picks. Satisfaction guaranteed!
Comic of the Week
The Tomorrows #1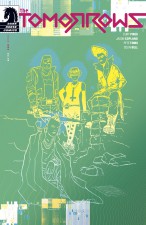 Writer Curt Pires is rapidly carving out a niche for himself as a creator of high-concept, high-energy comics. And now, hot on the heels of The Fiction (BOOM! Studios) comes The Tomorrows – a suitably zeitgeisty bit of sci-fi that will feature rotating artists, starting with his Pop collaborator Jason Copland.
In a future world where the corporate hegemony has "weaponised" Big Data and creating art has become a capital offence, we follow artist Zoey as she is rescued from detention by the hip resistance – the Tomorrows of the title – and given the opportunity to join the good fight.
This 28-page opener samples beats from a range of comics influences, including V for Vendetta, Akira and The Invisibles. However, the snappy patter and dynamic artwork, plus vivid colouring and sharp design, make it an engaging and thoroughly poptastic intro.
Curt Pires (W), Jason Copland (A) • Dark Horse Comics, $3.99
– Tom Murphy
Strange Fruit #1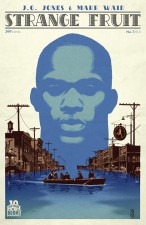 Set against the great Mississippi Flood of 1927, Strange Fruit is a four-issue mini-series from writer Mark Waid and co-writer and artist J.G. Jones set in the fictional town of Chatterlee, Mississippi – a former plantation town replete with the racial and class tensions of the era. The flooding river and a mysterious presence in the town reveal the book's underlying Biblical themes, which can't be dismissed as random occurrences and will affect the plot going forward.
Waid knows how to intrigue a reader in a first issue. The underlying themes are subtle compared with the overt tensions and Waid's use of the period's language, and it appears that the story will take a turn toward the sci-fi side. Jones is in fine form with this lush, fully painted project, offering stellar facial expressions that set the tone for every meticulously paced panel. I'm expecting the unexpected with this series.
Mark Waid (W), J.G. Jones (W, A) • BOOM! Studios, $3.99
-Karen O'Brien
Negative Space #1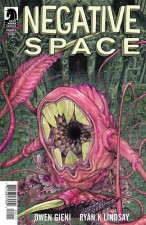 At first glance, the adage "write what you know" hardly seems to apply to Ryan K. Lindsay's body of work. Headspace (a digital mini newly available in a collected edition from IDW) chronicles a Lynchian town that exists in the mind of a serial killer, while the one-shot Deer Editor follows a hard-bitten journalist of the titular species as he stumbles into a political conspiracy.
But look harder, and you'll see that there's always a kernel of very personal anxieties at the heart of Lindsay's work. In Negative Space, those neuroses come to the forefront in one of Dark Horse's darkest debuts of the year.
The issue opens with author Guy Harris penning his suicide note, only to come down with a case of writer's block. Hoping to clear his head, he goes out for a walk that brings him into conflict with a far-reaching plot with ramifications for the entire human race.
Owen Gieni brings the book to horrifying life, ensuring that the nightmarish world of Negative Space looks like nothing else on the shelves. Crack it open if you dare, and don't be afraid to look closer this Wednesday.
Ryan K. Lindsay (W), Owen Gieni (A) • Dark Horse Comics, $3.99
– Paul Mirek
Bacchus: Volume One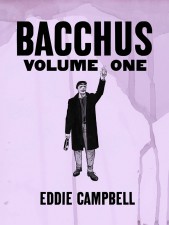 With two of the finest achievements in comics under his belt – Alec and From Hell (with Alan Moore) – it's perhaps a bit of a surprise that the third main strand in Eddie Campbell's work, the epic modern-day revisiting of the Greek myths that started nearly 30 years ago as Deadface, isn't more widely acclaimed than it is.
Of course, its complicated publishing history and the fact that it's been in and out of print for years probably haven't helped*. Anyway – after a bit of a delay – Top Shelf are taking care of that, with the first part of a two-volume omnibus, designed to sit nicely alongside the Alec: The Years Have Pants collection that MUST already be at the heart of your comics library.
Totting up to nearly 600 pages, including new notes and commentary from the always fascinating author, this deluxe softcover edition collects the first half of the saga. In Campbell's version of "an American-style comic book", the weary, wrinkled god of revelry finds himself navigating the modern world, dealing with old feuds and new complications.
* A digital version has been available since last year from Sequential.
Eddie Campbell (W, A) • Top Shelf Productions, $39.99
– Tom Murphy
Fantasy Sports #1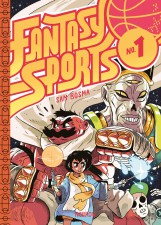 Released in the UK a short while back, Sam Bosma's Fantasy Sports makes it to US shores this week. Originally self-published by Bosma as Fantasy Basketball, the work has been carefully coloured for this handsome album-style repackaging from Nobrow Press, which has a pleasing tactile aesthetic to it.
A deliciously diverse blend of genre influences, Fantasy Sports combines Dungeons and Dragons-style role-playing quests with a bizarre basketball match against sorcerous opposition, as tomb plunderers Wiz-Kid and Mug tackle an ancient sports-obsessed power on their way to recovering a hoard of magical artifacts. Witty, kinetic and bursting with energy, this is the first in a series of Fantasy Sports books from Bosma.
Sam Bosma (W/A) • Nobrow Press, $24.95/£12.95
– Andy Oliver
Transference #1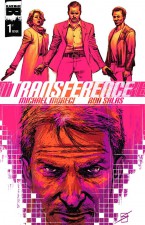 In recent months, Black Mask Studios has emerged as a true force to be reckoned with in the independent publishing arena. With a penchant for slick, genre-bending properties such as Mayday by Curt Pires and Chris Petersen and Ballistic by BF Anthology contributor Adam Egypt Mortimer and Darick Robertson, the upstart publisher has managed to lure both critically-acclaimed established creators and exciting new talents to its stable.
Their latest offering is Transference, a fast-paced science-fiction thriller dubbed "Sci-Spy" by its creators Michael Moreci (Roche Limit) and Ron Salas (Existence 2.0 & 3.0). The plot follows special agent Colton Moss, who leads a small unit of time-travelling anti-terrorist operatives as they endeavor to prevent catastrophes before they happen.
When Moss discovers his own life has been drastically altered in the past, by a mysterious new player in the time-travel game, the race is on to uncover the culprit's true identity. There's just one problem: thanks to the particular time-travelling mechanics of "transference" – the process of sending one's consciousness into the past – this temporal terrorist could be anyone.
Fun, fast-paced, and featuring moody, atmospheric art by Salas, Transference provides a wonderful summer escape with its unique blend of espionage and science-fiction.
Michael Moreci (W), Ron Salas (A) • Black Mask Comics, $3.99
– Jason Wilkins
High Crimes
Christopher Sebela and Ibrahim Moustafa's cold-as-ice thriller was a word-of-mouth hit during its digital release through Monkeybrain, and now Dark Horse are giving the traditionalists in the crowd their day, with this complete hardback collection.
For some, the highest reaches of Earth are heaven. For former snowboarder Zan Jensen, they're a treasure trove that's ripe for the picking. Zan is a grave robber who makes her living off the bodies of climbers who never made it down from the peak – but her life is upended when she stumbles on a body that a certain organization didn't want found.
Sebela and Moustafa deliver a propulsive blend of crime and adventure, set in a landscape as alien as anything you'd find in space. Moustafa's art brings out the chill of both the setting and the characters, many of whom aren't exactly what you'd call heroes. The result is one of the most singular reading experiences of the year, and a strong indication to add both creators to your "Must Watch" list.
Christopher Sebela (W), Ibrahim Moustafa (A) • Dark Horse Comics, $19.99
– Paul Mirek
Walks with LuLu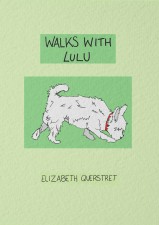 Over the last year or so the larger-than-life presence of DIY-style comics diarist Elizabeth Querstret has become a very welcome addition to the London small press scene. Querstret is the latest self-publisher to make the jump from producing their own comics to being picked up by acclaimed UK micropublisher Avery Hill, and is yet another creator who got their first coverage break here at Broken Frontier, in our regular Small Pressganged column.
Unlike the frenetic pace of Querstret's diary comics, Walks with LuLu – an account of quiet walks with a canine chum – is a far more reflective piece of autobiographical storytelling; her relationship with the dog takes on a therapeutic importance along the way. The sketchy minimalist layouts of Querstret Comics also give way here to a far more detailed visual sensibility, with a gorgeous and evocative use of colour on show. You can order the book online here.
Elizabeth Querstret (W/A) • Avery Hill Publishing, £4.00
– Andy Oliver