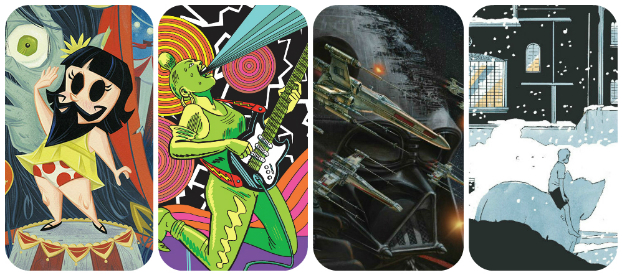 It's Wednesday, and you know what that means: a fresh load of comics and graphic novels! With so many publications hitting your local comics store or digital storefront, the BF staff is here to lead you through the woods with our weekly staff picks. Satisfaction guaranteed!
Comic of the Week
The End of Summer (New Edition)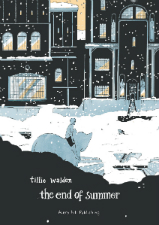 While it may seem a touch redundant to be effectively choosing the same book as our 'Comic of the Week' for a second time in just over a year the phenomenal talent that is Ignatz-winning Tillie Walden deserves every last superlative of all the oft repeated praise she gets. Avery Hill Publishing have released this new edition of her not just critically acclaimed but critically adored debut graphic novel just in time for the Lakes International Comic Art Festival this weekend, complete with a brand new prequel story 'Lars and Nemo'.
Taking place in the environs of a vast and sprawling castle, this is the dark tale of the relationship between Lars and his twin sister Maja and of the secrets that surround their family. Gothic fantasy with the most stunningly rendered visuals, I said of it when I originally reviewed it here at BF that "You're unlikely to read anything else this year that so fully manipulates the pure mechanics of the comics form to the degree that The End of Summer does. It really is that remarkable a piece of work and Tillie Walden really is that remarkable a prospect."
If you haven't read The End of Summer yet then this is your LICAF must-buy. And if you have then you'll want to grab this new version for its extra story pages. Don't forget too that Tillie Walden is a festival guest and will be signing courtesy of Page 45 in the Clock Tower. You can also pre-order a copy online here.
Tillie Walden (W/A) • Avery Hill Publishing, £11.99
– Andy Oliver
Band for Life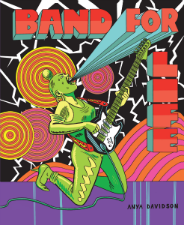 Originally serialized at VICE and later at Anya Davidson's own website, Band for Life is a psychedelic ode to the struggle of balancing creative fulfillment and survival as seen through the eyes of an offbeat noise-rock band. Davidson's characters meander through a surreal world of fantastical characters and mundane tribulations that are a damn fine metaphor for young adulthood in the 21st century.
Like the work of the Hernandez Bros., Band for Life fuses the animated sensibility of '60s kids comics with a punk rock backbeat with incredible results. You can read the whole thing for yourself online, but this kind of throwback delight belongs in the world of pulp and ink.
Anya Davidson (W/A/C)  • Fantagraphics, $29.99
– Paul Mirek
Chimichanga: The Sorrow of the World's Worst Face #1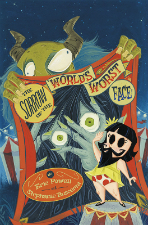 The story of Chimichanga first came out as 3-issue series written and drawn by Eric Powell that was collected by Dark Horse Comics in 2011. As a parent who loves The Goon, it was a great way to introduce my daughter (who has a taste for things weird and wicked) to Powell's work. Well this new series, written by Powell and drawn by Stephanie Buscema (granddaughter of John Buscema) promises to be even more appealing to young readers, provided they have a taste for the weird and the wicked.
Lula is the adorable bearded girl from Wrinkle's Traveling Circus who befriends the beast named Chimichanga. But now there's a new act in town, the Sorrow of the World's Worst Face! But beware: those who look behind the curtain are in for an awful treat, and it's not just his face we're talkin' about!
Eric Powell (W) Stephanie Buscema (A) • Dark Horse Comics, $3.99
– Tyler Chin-Tanner

Troll Bridge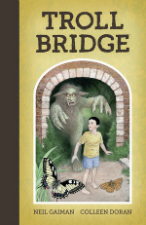 If you're already a fan of Neil Gaiman (Sandman, American Gods, so many wonderful others) and Colleen Doran (Sandman, Gone to Amerikay, Amazing Fantastic Incredible Stan Lee, so many wonderful others), you don't need me to tell you to pick up Troll Bridge. Their latest collaboration debuts this Wednesday and is probably already on your pull list. If you set a calendar alarm on your phone for the exact moment your local comics shop opens, you're definitely a fan. And if you did both, well, you are officially a super fan.
If you're wondering what all the fuss is about, here's the official description from Dark Horse: "Young Jack's world was full of ghosts and ghouls, but one monster—a ravenous and hideous troll—would haunt him long into manhood. As the beast sups upon a lifetime of Jack's fear and regret, Jack must find the courage within himself to face the fiend once and for all!"
It's a promising description until you realize that in the hands of Neil Gaiman, the discovery and achievement of one's inner courage is always an epic journey fraught with peril and promise, fortitude and frailty presented in such exquisite balance that the reader feels love, loss, and the personal cost exacted by the struggle right along with the protagonist. With works like Odd and the Frost Giant and Troll Bridge, Gaiman has become the Brothers Grimm of the twenty-first century and his stories will outlive us all.
Neil Gaiman (W), Colleen Doran (A) • Dark Horse Comics, $14.99
 – Karen O'Brien
Terminal City Library Edition

Originally published in 1997 by Vertigo Comics in the form of two popular limited series, Dean Motter (Mister X) and Michael Lark's (Lazarus) sci-fi epic, Terminal City, chronicled the decline of a sprawling retro-futuristic metropolis, where crime and corruption ruled the day. Told from the point of view of washed-up adventurer the Human Fly as he attempts to solve several interconnected mysteries involving his former colleagues, Terminal City is a refreshing, beautifully-crafted cycle of stories anchored in Motter's singular design sense.
This week, Dark Horse Comics collects Terminal City in a gorgeous, much-deserved over-sized hardcover library edition, featuring extra sketch pages that give the reader a glimpse into Motter and Lark's creative process. A huge offering from a publisher that clearly values the comic book benchmarks of days gone by, this collection celebrates the talents of two of the medium's grandmasters and would make a perfect gift for any self-respecting comic book aficionado.
Dean Motter (W), Michael Lark (A) • Dark Horse Comics, $49.99 
– Jason Wilkins
Darth Vader #25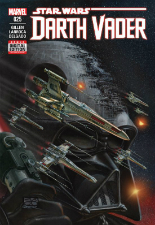 As Lord Vader has pursued his personal agenda concomitant to the Emperor's varied assignments, his schemes may prove to either be his undoing or his greatest achievement since turning to the Dark Side. He's passed his trials against Cylo's creations. His secret agenda with Doctor Aphra and her homicidal (and at times hilarious) droids has revealed the identity of the rebel pilot who destroyed the Death Star. And it all comes to a grand conclusion in the over-sized 40-page issue #25.
I'm definitely sorry to see this title end, but I'm very glad that the creative team didn't stretch it out—a longer duration would have destroyed the urgent pace set by writer Kieron Gillen and artist Salvador Larroca that makes Vader oh-so-dangerous in his frantic search for that rebel pilot. After all, what good is it to be a Dark Lord of the Sith if you don't manipulate and/or eliminate every obstacle in your path?
Star Wars: Darth Vader has been a smash hit for Marvel since its debut. It's placed on full display the principle of "beware what you wish for," as Anakin's freedom from the restrictions of the Jedi have been traded for his life as a Sith Lord beholden to the Emperor. The carefully crafted layers of character development throughout the title demonstrate that beyond his obligations to the empire, Vader still maintains the independent streak that made Anakin a champion pod racer and an unconventional Jedi.
I highly recommend that Star Wars fans go back and pick up the three trade paperback editions currently available and catch up with this title. And as an FYI, issue #25 will appear in the fourth and final volume of the Darth Vader trade paperback. Issues #20-25 will be collected in Star Wars: Darth Vader Vol. 4: End of Games, but you'll have to wait until December 6 to get it.
Kieron Gillen (W), Salvador Larroca (A) • Marvel Comics, $5.99
-Karen O'Brien