As the saying goes, nothing is certain except for death and taxes. While we live our finite lives, we're going to pay for it, one way or another. Laila Starr is attending a graduate party in Mumbai, "a moment of precarious balance before life plummeted into the unknown," before she slips (or did she jump?) off the six-story ledge – hurtling down to her death. At the same time, in a higher plane above the mortal realm, the Hindu goddess of Death, Kali, is being laid off. In The Many Deaths of Laila Starr, Hindu mythology is reframed as a corporate structure, with the supreme three-faced god Brahma as a CEO who, given a newly born child is prophesised to bring about Eternal Life, makes Death redundant. Luckily for Death, a convenient mortal vessel is available for her to dive into, having just plummeted from six-stories up.
Ram V has gained recent acclaim for the graphic novel Blue in Green, and he elegantly weaves Many Deaths' disparate threads together into a satisfying harmony. Modern reimaginings of mythological pantheons are nothing new, but Ram V grants these figures a unique vibrancy so that even those unfamiliar with Hinduism can understand them (but also want to learn more). Death, for instance, is neither some morbid grim reaper nor The Sandman's spunky goth-girl. Instead, she's somebody whose existence has been defined by her role, giving her a relatable undercurrent as she's tossed aside, even while possessing an omnipotent perspective on humanity. Ram V expertly blends an epic scope and humane details, shown by Death's hesitant encounter with the Eternal Child. As the script flows through the introductory issue, V mixes lovely flowery narrative prose – describing how Laila's "thoughts, like her cigarette smoke, were drifting" – with sly sardonic remarks, like how Death "had never known the purveyor of all Goodness to ever be the bearer of good news."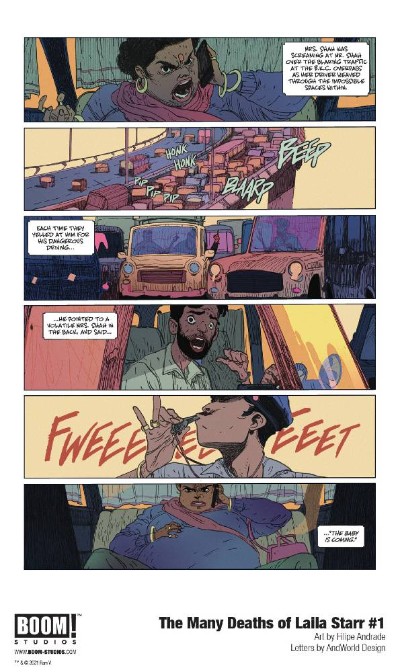 Ram V's words are perfectly matched by Filipe Andrade's gorgeous artwork, which bounces through each sequence. Many Deaths looks great, and the design of the Hindu Gods is particularly appealing as Death's six arms nervously prep herself for her meeting with Brahma, adding touches of relatability to these personifications. This extends to Earth too, as we are shown the bustling streets and compact skyline of modern Mumbai. Andrade's artwork is simply beautiful to read, and the fluid cartoon style never relinquishes the expressions and postures that convey the character's motivations and inner-thoughts.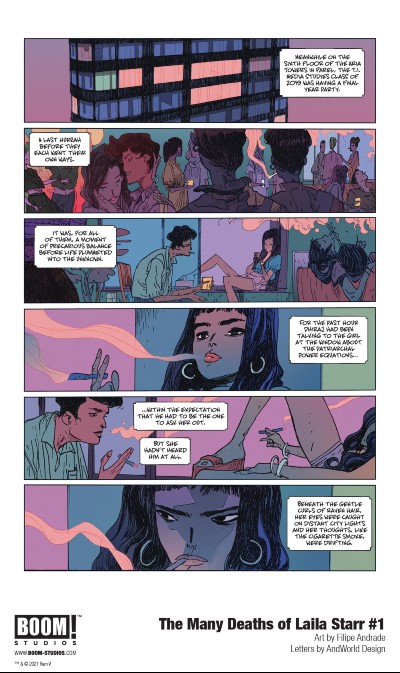 The lettering studio AndWorld Design also do an impressive job, with an intimate font for the characters, with funny stylisations for their shouts and groans. Inês Amaro perfectly fits the otherworldly magic mood of Many Deaths, the palette including an assortment of purples, pinks and blues. But while the temperature is clear pastels in the deities' corporate offices, such colours become darker and muddier (but no less beautiful) down on Earth.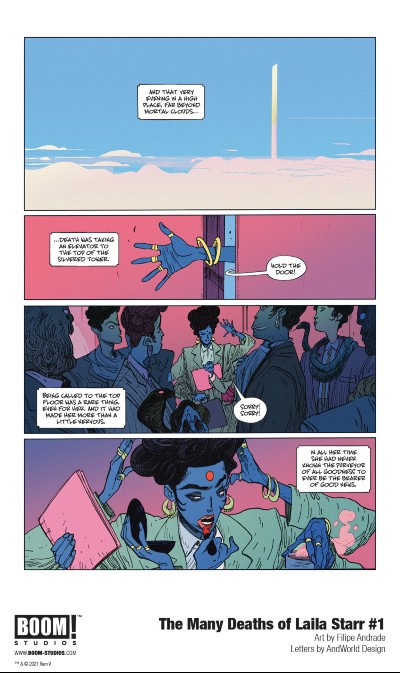 Simply put, The Many Deaths of Laila Starr is a tremendous first issue, throwing readers into a magical new world that remains grounded by its endearing characters and beautiful mixture of art and prose. It demonstrates the scope and imagination of the book, while reassuring readers they'll be expertly guided through it by the creative team. By the end of Many Deaths #1 I was hooked, not only be the potential to grow, but because I was hungry for more. In this book, not even Death is certain (taxes remain to be seen), but the unpredictable plummet of Many Deaths is a ride I'm more than eager to take.
Ram V (W), Filipe Andrade (A), Inês Amaro (C), AndWorld Design (L) • BOOM! Studios, $3.99
Review by Bruno Savill de Jong