Hit: 1957 #1 follows up on its shotgun blast of a predecessor with a dark look at justice in the City of Angels. You won't find many easy answers here, but if you've been searching for savvy, sexy noir with a little bit of bite – welcome home.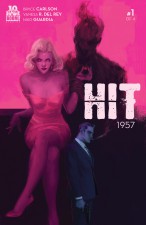 The latest chapter of Bryce Carlson and Vanesa Del Rey's violent saga opens with a police bulletin featuring the case of a missing boy – the kind of routine tragedy that's still all too common more than half a century later. This nod to the official trappings of law and order points to the deadly little question dogging Det. Harvey Slater and his vigilante team: how can you protect society and its rules when you're the one breaking them?
And one more: if so, how do you know when you've crossed the line?
These questions often resonate in one shape or another through most popular comics fiction. Unlike the stars of the latest superhero episodes, though, there's no guarantee that any of Hit: 1957's dramatis personae will find any resolutions – or even make it to the end alive. Furthermore, Carlson's suggestion that at least some portion of the story is true gives this series the feel of a secret history, peeling back the layers of modern America.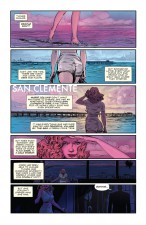 As the subtitle suggests, Hit: 1957 picks up two years after the events of Hit: 1955. Carlson and Del Rey don't spend much time on catch-up in this initial issue, but even so, knowledge of the first series is by no means mandatory.
That's the wonderful thing about these hardboiled tropes when handled confidently: even if you don't know what Bonnie Brae is running from, or the details of what went down with the Schwartz case, the characters are engaging enough – and the storytelling deft enough – to make their tragedies feel real nonetheless.
Judging by the sheer number of threats in this first issue, there are bound to be plenty of tragedies to come. A serial killer is leaving a sickening trail of bodies across the city, Internal Affairs is hounding Slater, and Domino is working behind the scenes to extend his Syndicate's control through Los Angeles. Carlson and Del Rey are economical with the scene-setting, mingling small details, smart dialogue, and visceral action for a first chapter that feels full but never overstuffed.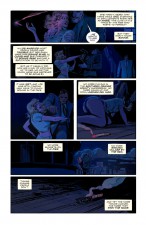 If you have read the first volume, then you have the added bonus of being already acquainted with the work that won Del Rey a nomination for the Russ Manning Award for Most Promising Newcomer.
On a purely visual basis, her work is dark, alluring, and expressive – qualities that are captured perfectly in the series covers. But her layouts and panel progressions here are also noteworthy, particularly a tense multi-page sequence where Bonnie shows why she's the best at what she does. It's traits like these that make it even harder to believe it's been less than two years since her publishing debut.
This first issue also marks the debut of Niko Guardia as the team's colorist. Guardia applies a wonderfully surreal color sense to Del Rey's art: psychedelic hues pop out of the darkness as the tension escalates, but never to the point of overshadowing the authentic period feel.
If this first issue is any indication, 1957 isn't looking good for Harvey and Bonnie – but it could be this team's best year yet.
Bryce Carlson (W), Vanesa Del Rey (A), Niko Guardia (C) • BOOM! Studios, $3.99, March 26, 2015