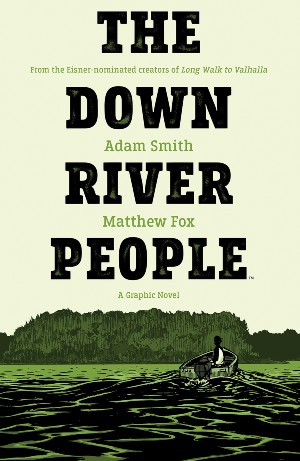 There's something about troubled families that clearly attracts Adam Smith and Matt Fox. It is a theme the writer-illustrator team last explored on Long Walk to Valhalla a little over half a decade ago. Their latest collaboration may not quite fit into the same space, but much of The Down River People is still an exploration of how dysfunctional homes affect an individual's ability to engage with the world.
At the heart of the book is the life of Myers Carpenter, a bootlegger who has lost his father to suicide, and is forced by circumstance to reach out to a mother who has been absent for years. It also brings into his orbit a half-sister he knows nothing about. The river in question is the Mississippi, down which he is forced to head to find a new supplier of alcohol. Reconnecting with his mother then brings him to the fishing lodge she manages, where things are not quite what they seem.
Much of what defines the Southern Gothic genre has remained unchanged since its first appearance in the early 19th century. Smith and Fox tick off a number of these boxes, starting with the panic attacks that Myers struggles with, moving into the irrational lives of people living in his part of the world, then eventually coming to a head with something horrific and almost grotesque that he must confront against his wishes. It is the pace at which these threads are strung out and pulled together that lend a narrative its potency, and this inevitably leads to a few hits and misses.
The dread builds steadily, promising a denouement that may or may not be as surprising as it promises to be, depending upon how high a reader's expectations are. Fox's illustrations can't be faulted as far as this is concerned, because he portrays these characters beautifully, lavishing as much attention on tight close-ups as he does on wider panels of Myers rowing down the river. The colour palette is also interesting, somehow managing to look like two tones throughout even as he obviously deploys more.
The lodge is a manifestation of the rottenness that lies at the heart of wealthy communities anywhere, and it's easy to treat the book as a simple analogy for the battle between capitalism and conscience. This theory ceases to hold some water on account of the supernatural nuances that creep in though, which eventually cause more harm than good.
There is much to recommend The Down River People, from the way it allows its characters to breathe to how it builds layer upon layer to create a feeling of anxiety. What lets it down is its inability to follow through, losing its grip on that shadow of uncertainty when it needs to be turned up another notch. To reveal more is to ruin the story, so these vague hints are all one can allude to.
Ultimately, this is a great book for anyone interested in the genre itself, and for the pleasure of watching two intriguing artists attempt something new. The effort alone is worthy of applause.
Adam Smith (W), Matt Fox (A), Mike Fiorentino • Archaia/BOOM! Studios, $19.99
Review by Lindsay Pereira