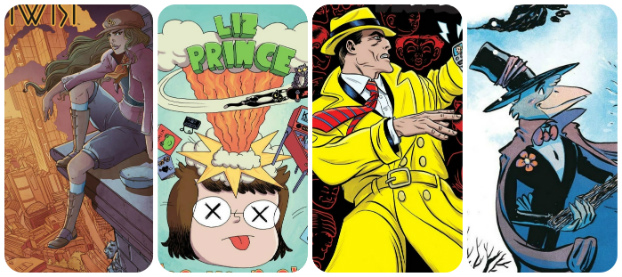 It's nearly Wednesday, and you know what that means: a fresh load of comics and graphic novels! With so many publications hitting your local comics store, comics event or digital storefront, the BF team are here to lead you through the woods with our weekly staff picks. Satisfaction guaranteed!
Comic of the Week
Petals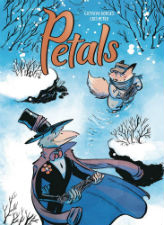 As we've remarked on a few times fine, BOOM! Studios have been putting out some fine original graphic novels across their many imprints of late and this week sees another gorgeously illustrated book to add to that number. Petals is a beautiful, poignant piece of storytelling from debut graphic novelist Gustavo Borges from their all-ages kaboom! line.
Telling the tale of a fox father and son struggling in a particularly harsh winter, and of the unlikely friendship they strike up with a passing bird (bedecked in top hat and cloak on the book's cover), this silent story will charm, delight and touch its readers' hearts. Delicately illustrated with crisp colours from Cris Peter, look for a full review here at Broken Frontier in the very near future.
Gustavo Borges (W/A), Cris Peter (C) • BOOM! Studios/kaboom, $16.99
– Andy Oliver
Dick Tracy: Dead or Alive #1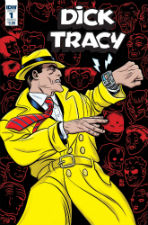 My bona fides as a Rich Tommaso fan are pretty well established on this here site; my love for the Allred's work as writers and artists less so (from Madman to that undersung run on FF with Matt Fraction, there's a consistency of vision and style in their work which doesn't preclude an ongoing spirit of invention); Dick Tracy I know next to nothing about. Madonna was in the film? He saved Little Orphan Annie from a kidnapping? Warren Beatty walks around dressed as him IRL now?
Regardless, all that pop art talent on board for a contemporary relaunch of the character from IDW supersedes my ignorance of the private detective (?) who wears an incongruously un-noir yellow mac. Tommaso's crime stories, from Dark Corridor to this year's Dry County, have always had a classic comic strip art influence. Fully embracing that aesthetic, with Laura and Mike Allred's freewheeling psychedelia chiming with the weirdo rogues gallery of Tracy, is a sure-fire hit.
Michael and Laura Allred (W, CA) Rich Tommaso (A) • IDW Publishing, $3.99
– Tom Baker
Misty Volume 3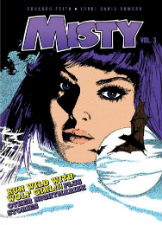 The fine folk at the Treasury of British Comics have put together a third compilation of strips from classic 1970s girls supernatural weekly comic Misty and this time around there's a lycanthropic element to it. The main collected serial is 'Wolf Girl' illustrated by Eduardo Feito (the writer's identity is sadly and surprisingly lost to time) in which a young girl named Lona, who was briefly brought up by wolves as a child, begins to give in to her more feral nature.
Backing it up are some complete-in-one short stories on similar horror themes from across Misty's run. This slim and affordable paperback collection has the added bonus of the original colour pages actually being printed in colour. Great to see Rebellion reproducing them as close to their original presentation as possible.
Eduardo Feito (A) • Rebellion/Treasury of British Comics, £13.99
– Andy Oliver
Be Your Own Backing Band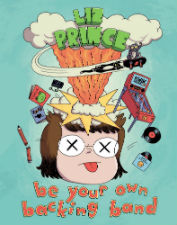 If recent shenanigans in the comics world have left a nasty taste on the oul' palate, maybe just the thing to cleanse it is what those scamps at Silver Sprocket are calling an essential addition to your 'LIZbrary'.
This collection by Liz Prince (Tomboy, Will You Still Love Me if I Wet the Bed?) pulls together strips dating back to 2010 from the website If You Make it and the zine Razorcake and gives them a full-colour makeover. In them, with characteristic candour, she looks at her life through the prism of what still seems to be called the punk music scene (and the surrounding world of DIY culture more generally).
With her easy blend of humour and honesty, Prince is never less than enjoyable company on the page. And while she might feel she's moved on since the earliest strips presented here, it's a great opportunity to catch up on a body of work you may have overlooked.
Liz Prince (W/A) • Silver Sprocket, $12.00
– Tom Murphy
Olivia Twist #1
Punning on a literary classic to sell a dystopian cyber romp in which the characters' genders are switched seems a slightly risky strategy, but one that looks like it will pay off with this latest new comic from Dark Horse. Veteran best-selling novelist Darin Strauss and Adam Dalva write for the Doctor Who and The Adventures of Supergirl artist, Emma Vieceli in this street-fighting, political gut-punching comic with bonus London skyline cyber-punk meets Victorian aesthetics.
Olivia Twist is a bit older than the Dickens protagonist so it's okay to sex it up a bit, she 'ages out' of the state-run orphanage as the book begins on her 18th birthday but quickly ends up on the wrong side of the tracks with a floppy mohawked Artful Dodger and badass sexy pirate queen-looking Fagin. There's a hint of a scientific legacy from her across the Brexit barricades parents, and other intriguing characters met in this first outing, so it's probably safe to have Great Expectations…
Darin Strauss and Adam Dalva (W), Emma Vieceli (A). Lee Loughridge (C) • Dark Horse Comics/Berger Books, $3.99
– Jenny Robins
Judge Dredd Megazine #400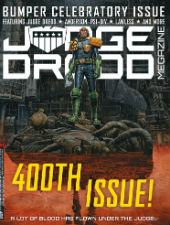 There's been some playing with renumbering and multiple volumes along the way but the Judge Dredd Megazine reaching its 400th issue is still an impressive milestone. As you'd expect, this landmark edition is another of the regular "jumping-on points" that are a regular feature of the 2000 AD stable.
Among the highlights of the new stories starting are veteran writer John Wagner returning to Judge Dredd, former Broken Frontier columnist David Hine writing The Dark Judges, and some very atmospheric Quinton Winter art on Devlin Waugh. From Judge Anderson to Judge Death all the Mega-City favourites are here. A perfect opportunity for lapsed readers to re-enter the Lawman of the Future's dystopian world.
Anthology – Various creators • Rebellion, £7.99
– Andy Oliver
The Hchom Book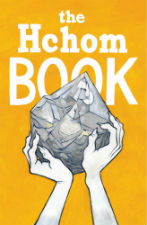 Marian Churchland is straight up one of my favourite working comic artists. Which is frustrating, because she doesn't work nearly enough. Between projects like her haunting graphic novel Beast to aborted fantasy epic Arclight, the most reliable source of new Churchland shinies was her blog Hchom. There she shared not only works-in-progress but also illustrations produced just because, without any commercial prospects in mind.
Fan art of her own Dragon Age videogame characters, guides to the best coffee and cakes in Vancouver, wish lists for chic clothes and crystals. In anticipation of taking the blog down, she has compiled the best of this work — even the most seemingly-tossed-off doodles include ink washes and ghostly watercolours — which combine the warmth of a small, pre-web 2.0 blog and the love of simple pleasures seen in food manga and personal zines.
Marian Churchland (W/A) • Image Comics, $16.99
– Tom Baker
Cold War Vol 1 TP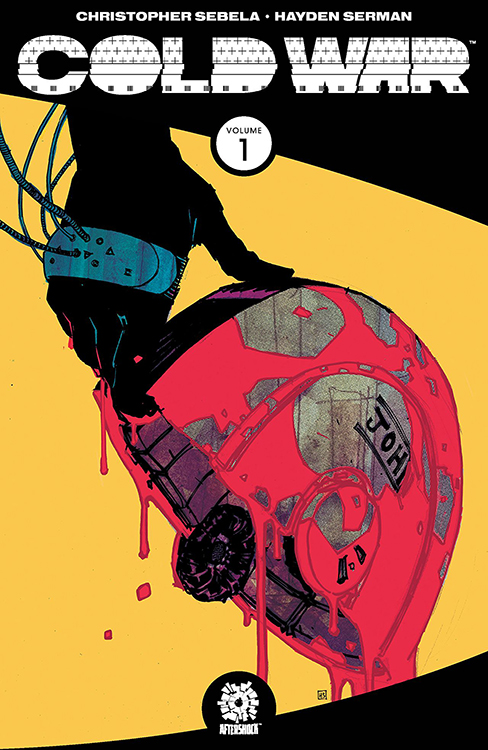 For anyone who likes their science fiction epics to be dark and action-packed, Cold War definitely lives up to its billing. Buying into the corporate pitch that having themselves cryonically frozen would result in them waking up to a future paradise, a group of ordinary citizens are revived into a world ravaged by war.
Gone are all the promises of a better life. Instead, these shellshocked individuals are forced into a life of servitude, where there only option is strap on some armor, grab a gun and fight against an unknown enemy in a war they know nothing about. 
Christopher Sebela (W), Hayden Sherman (/A) • AfterShock Comics, $14.99
– Tyler Chin-Tanner