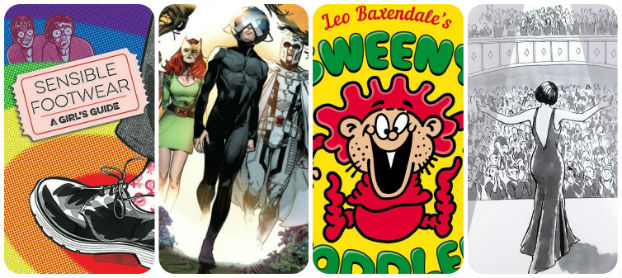 It's nearly Wednesday, and you know what that means: a fresh load of comics and graphic novels! With so many publications hitting your local comics store, comics event or digital storefront, the BF team are here to lead you through the woods with our weekly staff picks. Satisfaction guaranteed!
Comic of the Week
Sensible Footwear: A Girl's Guide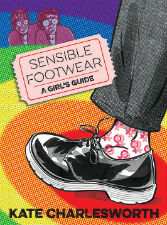 Officially published this Thursday, Kate Charlesworth's Sensible Footwear: A Girl's Guide underlines what a strong 2019 it's been for Myriad Editions who, in the same year Myriad Creative Director Corinne Pearlman was inducted into our Broken Frontier Hall of Fame, have put out some of their most eagerly anticipated books to date.
Sensible Footwear is both a celebration and record of LGBTQI+ history, and Charlesworth's personal account of living through a changing socio-political climate. From an era when male homosexuality was  punishable with prison time through to contemporary queer culture, this powerful book encompasses coming out, Stonewall, the AIDS crisis and Section 28 along the way. Undoubtedly one of the most crucial graphic memoirs of the year and one we'll be reviewing at Broken Frontier in the not-too-distant future.
Kate Charlesworth (W/A) • Myriad Editions, £17.99
– Andy Oliver
Leo Baxendale's Sweeny Toddler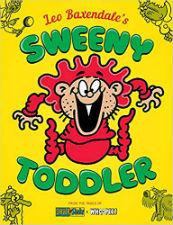 Leo Baxendale's much-travelled infant terror Sweeny Toddler would be featured in no less than four of Fleetway/IPC's 1970s/'80s/'90s humour anthologies over the course of the best part of three decades. The formidable two-year-old began his misadventures in Shiver and Shake in 1973, going on to strips in Whoopee! (his longest home), Whizzer and Chips and, finally, Buster.
One of Baxendale's most enduring creations (though handed over to other creators, including most notably Tom Paterson), Sweeny Toddler's popularity ensured the character's survival as comics inevitably folded and merged into each other. See how it all began with this collection of the early strips from Rebellion's ever excellent Treasury of British Comics series this week.
Leo Baxendale (W/A) • Rebellion/Treasury of British Comics, £14.99
– Andy Oliver
Star Pig #1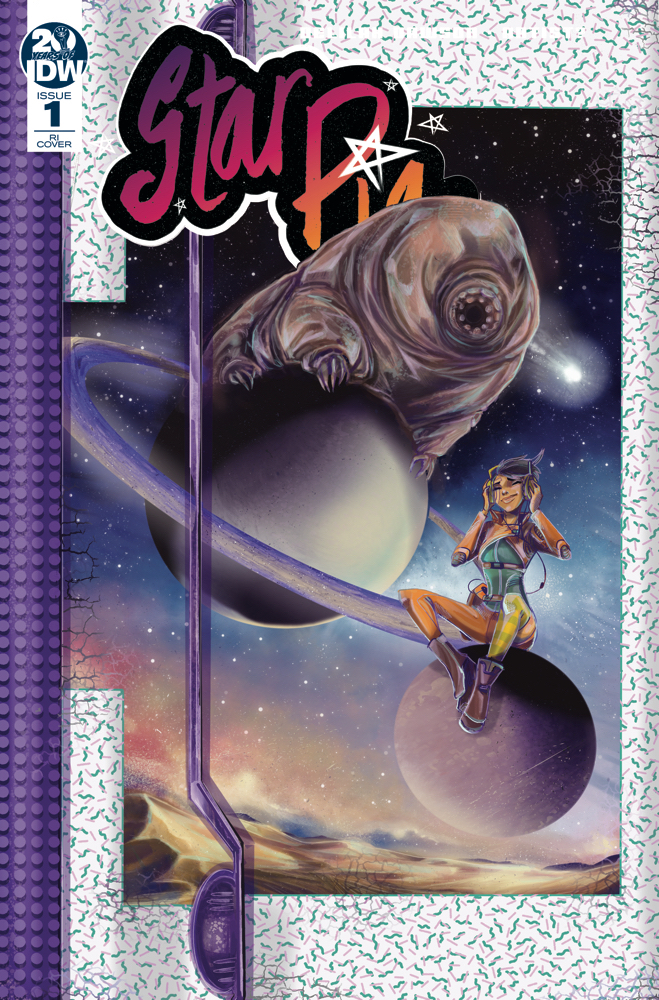 Writer Delilah S. Dawson (Star Wars: Phasma, Sparrowhawk) and artist Francesco Gaston (Ms. Marvel, Bloodstrike) team up for a nostalgic sci-fi romp that sets an unlikely pair on a journey to return home. Vess is a typically geeky late-21st century teenager who has been packed off for the summer to Space Camp—which is literally in space. While traveling to camp, the shuttle suffers a catastrophic accident and sends Vess and the rest of the passengers careening toward a cold death among a sea of stars. But Vess is in luck as a giant, space-faring water bear rescues her (and her beloved and totally retro Discman), sending the improbable pair on an adventure toward friendship and home.
Dawson has a gift for creating cheer-worthy, empathetic characters, and it makes not one whit of difference whether or not they are human. Gaston's colorful art exudes a fun, retro vibe underscored by the harrowing circumstances and evokes Mike Maihack's Cleopatra in Space in the most delightful way. Star Pig #1 is a four-issue series that we'll probably wish was six issues instead.
Delilah S. Dawson (W), Francesco Gaston (A) • IDW Publishing, $3.99
– Karen O'Brien
Life Drawing: A Life Under Lights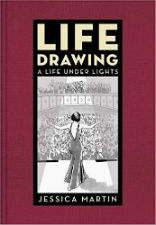 You may already have received or picked up a copy of actor and artist Jessica Martin's autobiographical comics offering if you backed the Unbound Books crowdfunder or attended its launch night at the Cartoon Museum a few weeks back. But it's officially published this week and as a long-time featured artist at BF, Martin's very personal graphic narrative was always going to be a top pick when it hits shelves.
As a star of stage (Me & My Girl, Elf) and television screen (Doctor Who, Copycats) Martin's graphic memoir on her life and career is full of star-studded cameos. But this book is far more than a mere celeb-fest. In Jessica's words from our 2017 interview about the book:
"My story is about dreams coming true, dreams falling apart and new ways to dream. It is many stories. Other people's whose lives have touched my own. My Singaporean father arriving in London to seek fame and fortune as a jazz musician in Soho. My Irish mother escaping her parochial roots, attracted to the exoticism and excitement of Fifties London. It's about how culture can enhance at even the base level of life. The TV documentary about Garbo I watched as a child, inspired a lifelong love of classic film, art and acting. It's about being unorthodox to make things happen."
Another new release we'll be reviewing here at BF in due course!
Jessica Martin (W/A) • Unbound Books, £16.99
– Andy Oliver
History of the Marvel Universe #1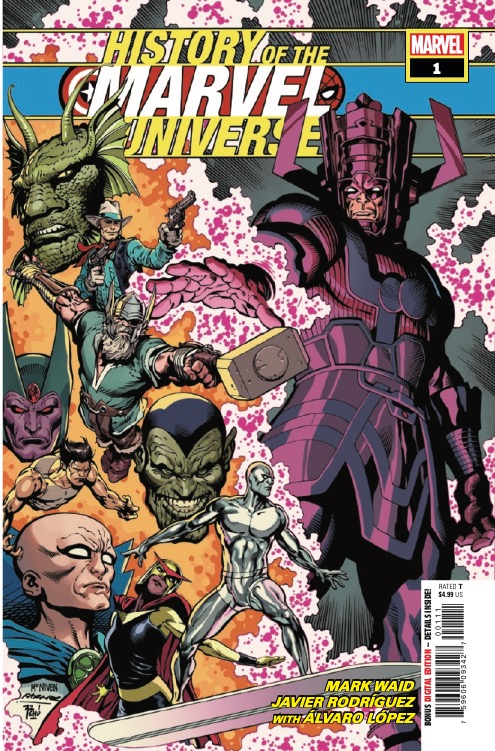 Legendary writer Mark Waid (Daredevil, Avengers: No Road Home) is teaming up with artists Javier Rodriguez (Exiles) and Alvaro Lopez to present the entire history of the Marvel Universe in a six-issue series, and it's the perfect history lesson for longtime fans or the legions of "new" fans born in the wake of the successful Marvel cinematic universe.
As Marvel's Executive Editor Tom Brevoort said on the company's website: "History of the Marvel Universe is exactly what it says on the package—a sweeping story that covers all of the important events in the span of Marvel history from the Big Bang all the way to the heat-death of the universe. It's not a Handbook, it's not Marvel Saga, it's an all-new story that puts all of these events into a greater context. But like those earlier projects, it will also serve as a massive master reference resource for anybody who wants to know what went down when. Even those readers who think they know everything will find new surprises and revelations—and the artwork for the series will make it a visual delight for both those new to Marvel as well as decades-seasoned Marvelites."
Let's face it, even if you've been reading Marvel since the 1960s, you still didn't have the dough to purchase and read ALL of those books every month during the last 50+ years. There are plenty of storylines and character origins you missed. Or, if you're tired of trying to explain all of the tangled story threads to Marvel novices, send them directly to this series.
Mark Waid (W), Javier Rodriguez (P, C), Alvaro Lopez (I) • Marvel Comics, $4.99
– Karen O'Brien
Marvel Visionaries: Roy Thomas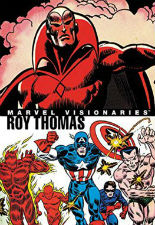 Roy Thomas had the unenviable task of taking over writing duties from Stan Lee in the 1960s on what would now be considered Marvel's key franchises – Avengers and X-Men. With his incredible knowledge of super-hero history becoming a key part of his approach to the genre, he would craft stories that are widely regarded as true classics of the Marvel Universe. These included the introduction of the Vision, the Kree-Skrull War and a widely acclaimed Silver Age X-Men run with Neal Adams. And that's before we even get to a certain Conan the Barbarian…
This latest Marvel Visionaries volume celebrates Thomas's contributions to the House of Ideas over the years giving us examples of both some of his most memorable series like Invaders, Fantastic Four and Captain Marvel alongside some that you may not be aware of including stories from Modeling with Mille and Chamber of Darkness. A fitting tribute to a Marvel Comics giant.
Roy Thomas (et al) • Marvel Comics, $34.99
 – Andy Oliver
House of X #1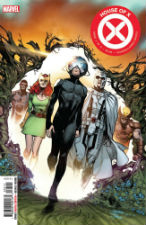 Contemporary X-Men comics would normally be way out of our area of interest here at BF but there's no denying the incredible buzz surrounding writer Jonathan Hickman's plans for relaunching the once mighty mutant franchise. Building on the foundation of seminal runs in X-history (Giant-Sized X-Men. X-Men. Age of Apocalypse. New X-Men) and purporting to be the next great leap forward for the characters and their world, House of X promises to reveal Charles Xavier's masterplan for mutantkind.
Hickman's intricate planning when it comes to vast sprawling super-hero sagas is always impressive (although his Avengers run also underlined that it's a vision perhaps not best suited to the fleeting page counts of serialised, incremental, monthly storytelling) and the preview art for the multiple new books will no doubt have whetted the appetites of long-term fans of the characters. No doubt there will be enough great revelations, epic plot twists and changes to the status quo to satisfy those who are suitably invested in the mutant mythos.
Jonathan Hickman (W), Pepe Larraz (A) • Marvel Comics, $5.99
– Andy Oliver