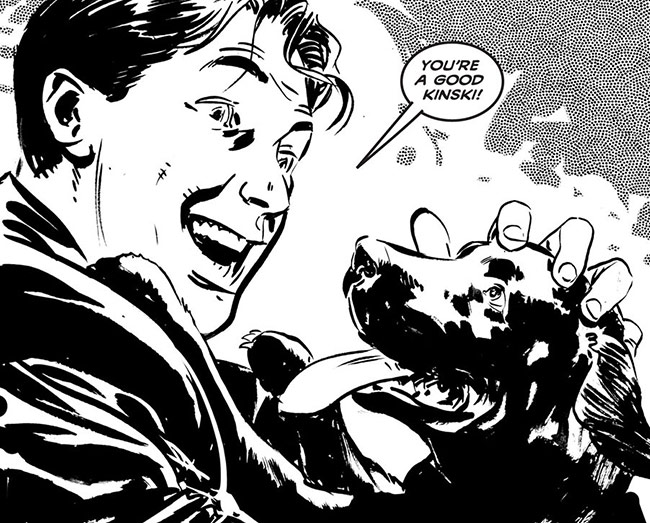 Inside Look is Broken Frontier's director's commentary-like feature in which creators take you behind the scenes of one of their latest comics to hit the stands. In this edition, Gabriel Hardman shares his favorite moments of Kinski, his crime-noir story starring a dog… and Joe, who so desperately wants the dog to be his new best friend.

The six digital-only issues of Kinski are available at Monkeybrain Comics. The collected edition is now out in print from Image Comics.
By Gabriel Hardman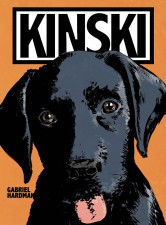 KINSKI is a true passion project for me. There's no question that I love huge, stylized, genre stories, big action, and exploring other worlds through comics storytelling.
But comic creators shouldn't be limited to genres most closely associated with the form. It's been said many times, but I think it deserves repeating: comics aren't a genre, they're a form. The types of stories you can tell in that form are nearly infinite.
KINSKI is a quirky, fun, occasionally unnerving, Coen Brothers-esque crime story. In many ways it's a noir story. But it's not about fast talking dames, armored car heists, or fedoras. Those are just the superficial trappings of noir. KINSKI is about desperation. That's what noir is really about: characters whose own weaknesses lead them down an increasingly doomed path.
In KINSKI, that doomed existentialism all relates to stealing a puppy. Joe, the main character is a salesman, unsatisfied with where he is in his life and career. When he finds Kinski, he's given a singular purpose: save this dog.
I'm going to talk more about the overall storytelling here rather than the plot; I think a story doesn't benefit from being explained by the author. It should stand on its own.
Chapter 1, Page 1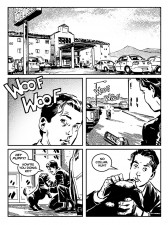 Hitchcock always said to start close, then gradually reveal to your audience where the story is taking place in a wide shot. Obviously here I didn't take his advice.
My intention with KINSKI was to tell the story in the most economical, stripped down way possible so I started with a simple, uninflected establishing shot. You know which Hitchcock movie opens with a wide shot and gets closer? PSYCHO. One of the greatest, most innovative movies ever made. Hitchcock broke his own rule so I can too.
This guy hears a dog bark. Introduce the stray dog. A guy found a dog. Yes, this is the moment the story starts, when an external force impacts the main character. Main character: Joe. External force: puppy. No preamble. No set up. No time is wasted getting to the point. Set up is for babies.
Chapter 2, Page 42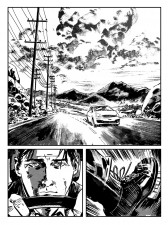 Everything in comics is storytelling. The pictures, the words… Everything. Separating the writing from the drawing as if the writing is where the story is told is a misunderstanding of the medium.
Since I'm writing and drawing KINSKI, I'm able to fully exploit things like silences and downbeats because I can craft them in the art. That kind of pacing is essentially writing. Writing with pictures. I really think comics are at their best when the writing and drawing are synthesized into one thing that you couldn't separate if you tried. Sometimes they call that cartooning.
Chapter 3, Page 53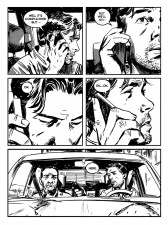 Emotion. That's what this stuff is all about. How do you get across emotion? Faces. Expression. I'm of the opinion that less is more. I think you can pull more nuance out of a story by not going over the top with the expressions you give a character. That subtlety pulls me deeper into a character. Big cartooned reactions can be distancing.
I loved the opportunity in KINSKI to tell the reader what Joe was going through, just based on his reactions. Different readers may read in different emotions here based on their personal experience but that's a good thing. It's important to me that the author doesn't tell the reader what to think. I want to give just barely enough information and let the reader meet me halfway.
Chapter 4, Page 87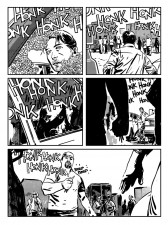 Hand-drawn sound effects. This is another element at the storyteller's disposal to do one of their most important jobs: lead the reader's eye around the page. I've worked with a lot of great letterers but if the artist doesn't fully integrate the lettering into the art, signals can get crossed.
In mainstream comics the letterer is often responsible for adding the sound effects at the end of the process. Often they feel like they're floating on a different plane from the art rather than working to tell the story visually. That's why I opted to hand draw all the special effects in KINSKI, in all their sloppy glory. Of course, I also lettered KINSKI myself. Take from that what you will.
Chapter 5, page 94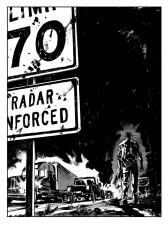 Look at this sad fellow. And look at all the ink on the page! I made a conscious effort to shift the style of the line work over the course of the story. It starts very clean and simple (especially by my sloppy standards) and the art becomes darker and more chaotic as the narrative veers in that direction.
There's definitely some Wally Wood in this page. Here you can also see the huge influence of artist Jorge Zaffino creeping in. If you haven't seen his work, I recommend you seek it out. It will change your life.
Chapter 5, page 113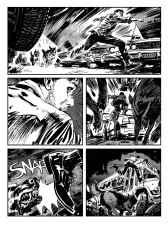 Remember how I said I loved action? Well here you go. Just because the apparent stakes of KINSKI are low, that doesn't mean there aren't huge opportunities for action and suspense.
Finding those moments in places you'd never suspect is one of my favorite things about storytelling. You don't need the entire world to be in jeopardy to get a reader to care. In fact, if often has the opposite effect. Here I show the relationship between Joe and the dogs chasing him but in panel two I show his reaction.
For me this is the most important panel on the page. If we don't empathize and understand what the characters are feeling, all the action in the world won't help you.
A black and white, quirky suspense story about dognapping?
Who is this for? Who was asking for this comic? I'll tell you who. Me. This is the kind of comic I'd like to read more of. The best reason to make any comic or tell any story is that it's something you'd be happy to read yourself. I know there are others out there who would like this kind of material and I hope a copy of KINSKI finds its way into their hands.