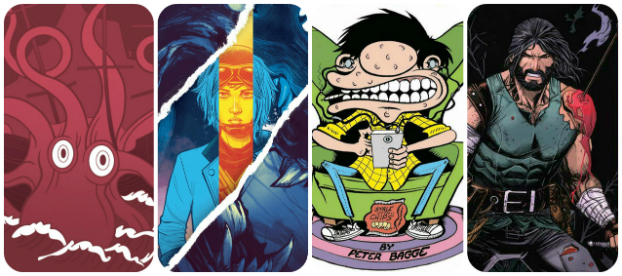 It's nearly Wednesday, and you know what that means: a fresh load of comics and graphic novels! With so many publications hitting your local comics store or digital storefront, the BF staff is here to lead you through the woods with our weekly staff picks. Satisfaction guaranteed!
Comic of the Week
Cry Havoc Vol 1: Mything in Action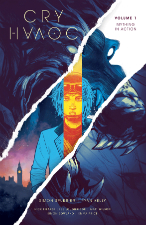 After a 20-year hiatus from reading comics, I picked an amazing time to get back into them – 2016 has been an unbelievably good year for the medium thus far. Simon Spurrier and Ryan Kelly's Cry Havoc, which will now be collected into an Image Comics trade, has definitely been high on my list since I started reading it several months ago. I've never come across anything quite like it before!
Lou is your average twenty-something millennial – listless, angsty, rebellious. One night she encounters and wrangles with a supernatural entity that not only changes her life forever, it also changes, well…her shape. Lou becomes a werewolf (of sorts) and finds herself on the frontline of a war on terror of a kind that you won't see on the nightly news.
Using multiple colorists to delineate three different components of the story, Cry Havoc mines the entire world history of mythology for the rarest and most esoteric phantasmic entities and weaves together a tale that will take you places you've never been before in a comic.
The six original issues were supplemented with excellently detailed background material from Spurrier on the various monsters and spirits that found their way into the story. If Image has any good sense, they'll include this with the trade collection. If not, it's totally worth it to track down the single issues as well.
Cry Havoc! and let loose your hard-earned money on this incredible book!
Simon Spurrier (W), Ryan Kelly (A), Matt Wilson, Lee Loughridge, Nick Filardi (C), Simon Bowland (L) • Image Comics, $14.99
– Matthew Box
The Complete Neat Stuff Boxed Set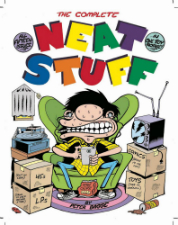 Underground comix survived the dayglow decade of the 1980s thanks in part to creators like Peter Bagge who were heavily under the influence of legendary predecessors like R. Crumb. Bagge discovered Crumb's work in 1977 while enrolled at the School of Visual Arts in New York City. By the early 1980s, he co-published three issues of Comical Funnies, the comic that introduced his highly dysfunctional suburban family, the Bradleys. From 1983 to 1986, Bagge was the managing editor of R. Crumb's magazine, Weirdo.
Itching to start his own series, Bagge launched Neat Stuff for Fantagraphics Books in 1985. Returning to the Bradley family, Neat Stuff featured Buddy, the Bradley's "alienated and pessimistic teenage son." From 1985 to 1989, Bagge produced 15 issues of Neat Stuff.
Fantagraphics has now collected the series into a two-volume hardcover slipcase set that also features new artwork and annotations from Bagge. This is a must-have for all underground comix fans and late '80s punks who became early '90s slackers.
Peter Bagge (W/A) • Fantagraphics, $59.99
– Karen O'Brien
Demonic #1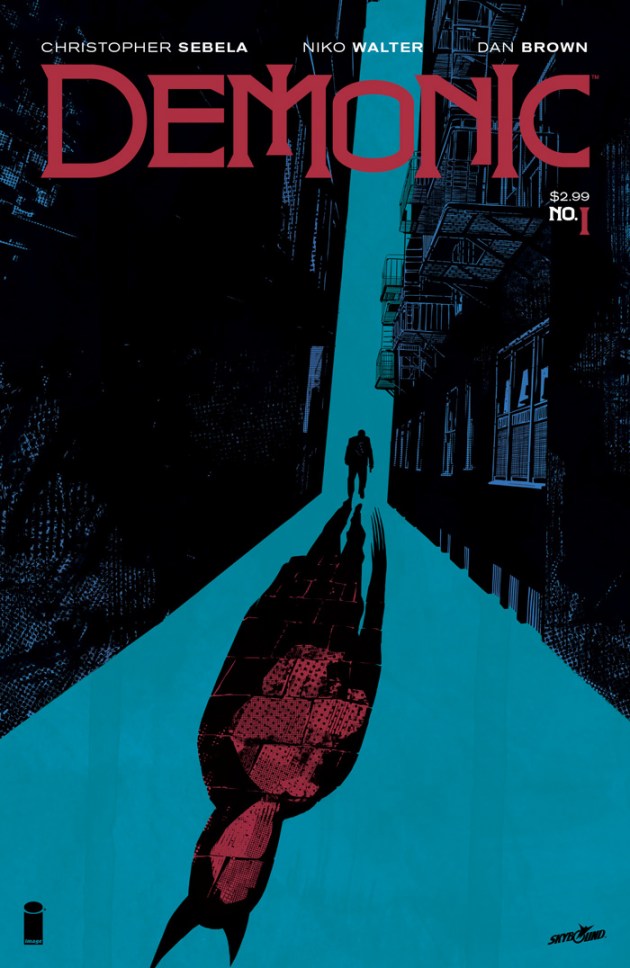 Christopher Sebela has gained notice in recent years with a succession of critically acclaimed creator-owned series, including High Crimes, Dead Letters, and most recently Heartthrob for Oni. In his first title for Image imprint Skybound, Sebela and artist Niko Walter are set to continue that trend with their tale of a possessed NYPD officer.
Based on a 2010 one-shot from Skybound founder Robert Kirkman, this new version of Demonic owes much to Sebela and Walter's innate chemistry. As with much of Sebela's work, the supernatural elements work because of the very human characters at the center of them. In addition to dark entities from beyond our world, Officer Graves must also confront what it means to be a good man when the world seems dead-set on pulling the rug out from under you – a downward spiral that's captured perfectly by Walter's noirish art.
At just six issues, this opening arc doesn't leave much room for you to catch your breath. Fans of crime fiction with a sinister bent will eat this one up—just be careful not to get chewed up yourself in the process.
Christopher Sebela (W), Niko Walter (A), Dan Brown (C) • Skybound/Image, $2.99
– Paul Mirek
Tumor: A Medical Noir HC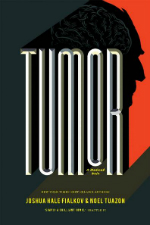 First published in print by Archaia in 2010, Tumor marked the second time creators (and BF Anthology contributors!) Joshua Hale Fialkov (The Life After) and Noel Tuazon (The Broadcast) collaborated on a quirky, character-driven crime drama, after their critically-acclaimed OGN Elk's Run. Although passed over for an Eisner in 2011, Tumor continues to resonate with fans and critics five years later.
This new Oni Press hardcover edition comes in the wake of Fialkov's exclusive indie contract with the popular Oregon publisher, preceded by the digital release of individual chapters on Comixology. Truly, though, this is a book best enjoyed in print and in one sitting.
The plot chronicles the last big case of Los Angeles PI Frank Armstrong as he struggles to navigate the seedy underbelly of the City of Angels, while battling the time-warping dementia brought on by a terminal brain tumor. Past and present collide to form a kaleidoscopic journey through the psyche of one of the genre's most intriguing, sympathetic, and unreliable narrators.
Tuazon's raw, expressive artwork perfectly captures the emotional confusion of Frank's unraveling mind with economy and style and brings to life the hidden corners of LA that rarely make it to the big screen. It'll only take you a few pages to understand just how special his collaboration with Fialkov is.
An instant classic that deserves a much wider audience, Tumor belongs on the shelf of any self-respecting connoisseur of creator-owned comics.
Joshua Hale Fialkov (W), Noel Tuazon (A) • Oni Press, $19.99 USD
—Jason Wilkins
Dirty Rotten Comics #8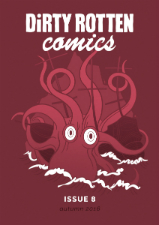 Previewed here this week at Broken Frontier, Dirty Rotten Comics #8 is the latest issue of that now vital bastion of the UK small press scene, combining the very best of up-and-coming new indie talent, regular names from the DRC pool of contributors, and established creative forces.
This Autumn edition includes work from BF 'Small Press Creators to Watch' Jey Levang and Rozi Hathaway, as well as Andrew Warwick, Claude TC, Maria Stoian, Josh Hicks. Henry Miller and Tom Mortimer. Hathaway's poignant contribution is an outstanding entry but look out also for clever use of visual metaphor from Benjamin Leon and the distinctive stylings of Francis M. among a number of gems this time around.
You can pre-order DRC #8 (published this Friday) online here.
Anthology – Various creators (W/A) • Throwaway Press, £4.00
– Andy Oliver
Klaus #7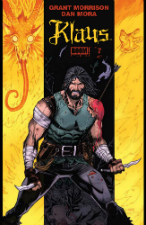 It's the final issue, and although I can't wait to read it, I'm sad to see this one end. Grant Morrison and Dan Mora have weaved together a fascinating tale of Santa's origins complete with an oppressive evil ruler, a damsel in distress, a demon unleashed, and a hero who spent the day "mostly dead" to paraphrase Miracle Max in The Princess Bride.
The demon Krampus is free and insisting on a feast of children, beginning with Jonas. Lord Magnus is powerless to stop it, so it's up to Lady Dagmar and a borrowed bow to save the day—but some timely assistance from Klaus would be quite welcome as the throne room goes up in flames.
Come to this title for Morrison's thrilling story and stay for Dan Mora's lush art. It's no accident that Mora won the Russ Manning Promising Newcomer Award at the 2016 Eisner Award ceremony.
Grant Morrison (W), Dan Mora (A) • Boom! Studios, $3.99
-Karen O'Brien
Briggs Land #1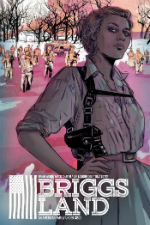 The incredibly prolific Brian Wood launches his new series Briggs Land this week over at Dark Horse Comics, and he claims it could be one of the biggest endeavors of his already stellar career.
For more than a century, the Briggs family has been at the head of an underground anti-government secessionist community located on their property. Now the secret is out, and the heat has come down on their movement in the form of external pressures from corporate interests and federal law enforcement agencies that threaten to destroy what they've built. When the clan's patriarch is sent to prison, his wife, Grace Briggs, is called upon to step up and fill the void in leadership, sparking a war of sorts among the family. Will she be able to keep everything from falling apart?
Wood's work is always well-researched, tightly written, and socially relevant. And, with art by Mack Chater, Lee Loughridge, Nate Peikos and Tula Lotay, this tale of "an American family under siege" certainly has the substance to be yet another awesome feather in Wood's comic book cap. In fact, he's already negotiated the terms for the series to be adapted for television by AMC and is currently working on the pilot episode. Thus, this inaugural issue could easily end up being a highly-prized item for collectors.
Brian Wood (W), Mack Chater (A), Tula Lotay (CA), Lee Loughridge (C) • Dark Horse Comics, $3.99
– Matthew Box
Supergirl: Rebirth #1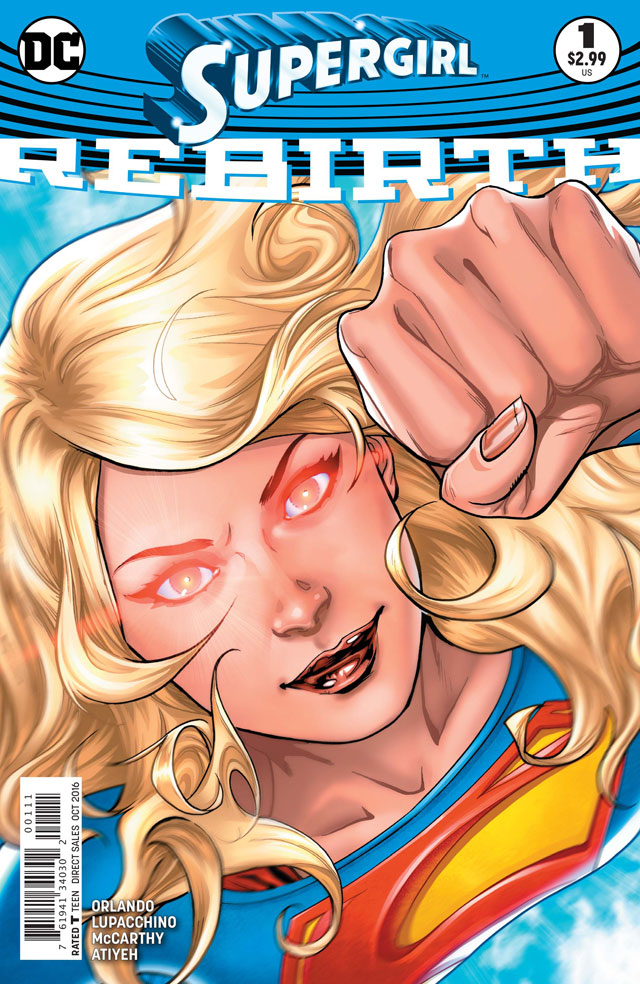 This special rebirth issue sets the stage for the new ongoing Supergirl series by "repositioning" her into a storyline that should be familiar to both longtime fans of the comic and new readers coming in from the TV show.
Supergirl teams with D.E.O. (Department of Extranormal Operations) to rocket directly into the heart of the sun with the hopes it will restore her lost powers. But in her absence, disaster strikes as a captive from the Phantom Zone is accidentally released on Earth, and the red kryptonite sickness he suffers from manifests itself in a peculiar way, turning him into a super-powered werewolf.
Steve Orlando (W), Emanuela Lupacchino, Ray McCarthy, Michael Atiyeh (A) • DC Comics, $2.99
-Tyler Chin-Tanner