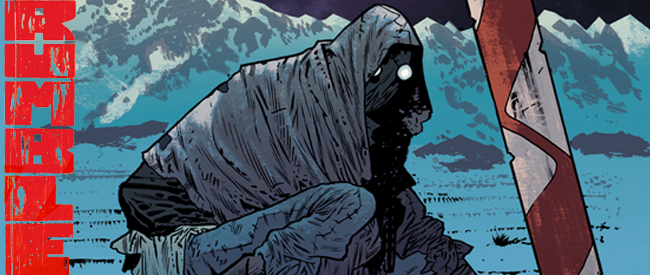 There have been moments throughout the history comics when the right creative talents team up together and we realize we're witnessing the start of something special.
One such moment occurred when writer John Arcudi was joined by up-and-coming artist James Harren on the series B.P.R.D.  John had worked with a number of talented artists on the title before, but something about his collaboration with Harren struck a certain chord with readers. Their styles just meshed perfectly together.
They could have easily continued to enthral us with more stories of the paranormal in the Hellboy universe, but John had another idea bouncing around in his head and James was just the artist to allow it to "make sense" for him.
Harren's sketches and designs added new dimensions to the storyline. They also invited their colorist from B.P.R.D., Dave Stewart, and the team was set. Their new creator-owned title, Rumble, would call upon their strengths from past work, but would still stand on its own as separate work with a mood and tone of its own.
With Rumble #1 hitting the stands from Image Comics on December 17, John Arcudi talks with us about the origins of the concept, the challenges of making non-human characters relatable, and how his new series will be unlike anything we've ever read before.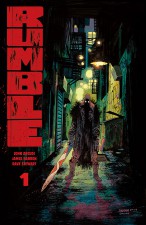 Broken Frontier: Rumble looks amazing, but tell us more about the main character, Rathraq. Is he a scarecrow come to life Wizard of Oz-style, or a being from another time and/or dimension? And what brings him to this modern, urban world?
John Arcudi: I don't think any of those descriptions quite sum up who or what Rathraq is. Or maybe all of them do. But he's certainly not out of the Wizard of Oz and he's not an inter-dimensional demon. He's kinda just someone looking to right a wrong, which is what brings him to the "big city."
You've mentioned that Rumble has a Louie vibe. In what ways to you feel it's similar to the tone of that show?
What I like about Louie is that it looks at everyday (and not so everyday) life in an analytical way that results in some elements of comedy, but also some elements of human drama. And it doesn't warn you which way it's gonna go, y'know? So if we can achieve that same kind of awkward comedy/drama in any way in Rumble, I'll consider it successful.
Does the story focus on any other characters along the way to help give it more of a "human" feel?
I would argue that any character, scarecrows included, can be portrayed in a very human light, but one of the focal points of the series is a bartender named Bobby. He and his skinhead friend Del each react to Rathraq – and other elements of this changing world – in their own way, which makes for some interesting contrasts – and therefore plot points.
Then there's Timah, a friend of Del's, and the way she reacts to Bobby and Del gives the reader, perhaps, the most grounded take on this world. She and her views will become much more important as the series progresses.
For quite some time you've been writing B.P.R.D., which is part of the Mignola-verse. Now that you're forging your own path with this creator-owned title, are you doing anything different in terms of creative approach? How conscious are you of distinguishing your work on Rumble with that of B.P.R.D.?
I'll say that Rumble is nothing like BPRD, but as to any effort on my part to consciously try to make that distinction, not really. The story demands a totally different take, is all, and my main concern, always, is to tell a good story. You start bogging down in anything else, you end up with something less sincere. Or that's my thinking.
You've worked with artist James Harren before on a few B.P.R.D. stories. Was there anything in your collaboration or how James approached your scripts that made you think he'd be the perfect artist to work with on an outside project?
We work well together, and after a bit it occurred to me that his style couldn't be better suited to telling the story of scarecrow warrior god, you know? Plus, the action that takes place in Rumble seemed to me exactly what James does best, as you'll see in the first five-issue arc.
Did you take a peek at his three-issue run on Conan? Did that have any implications on how great of a fit he'd be for Rumble?
You know, that's interesting. I never thought about that, but you may be right. I mean, of course I knew what James did on Conan, but I have no idea if it influenced my decision to ask him if he wanted to do this book.
How much of your original concept for Rumble changed after bringing James on board? Do the two of you work pretty closely in developing the characters and storylines?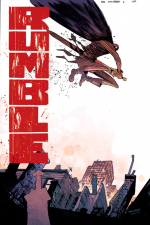 Boy, Rumble has gone through such a large arc in development – that is, it's been changing all the time – that coming up with a way to measure the quantity of change at any given point would be rough. But James and I certainly had discussions that changed the first issue in ways that improve the larger story. How much I couldn't tell you, but he definitely had his say.
What can you tell us about what to expect from future issues of Rumble? Will you play up the fantastical element or keep it fairly grounded with "street level"-type stories?
The short answer to your question is "Yes."
Our aim is to explore every element of this world, both the intimidating and sad environment of a failing American city, and the epic scope of a bigger-than-life fantasy world.
The tension between those two "realities" as they rub up against each other will be where we tell our stories.
Rumble #1, by John Arcudi, James Harren and Dave Stewart, is out from Image Comics on December 17.