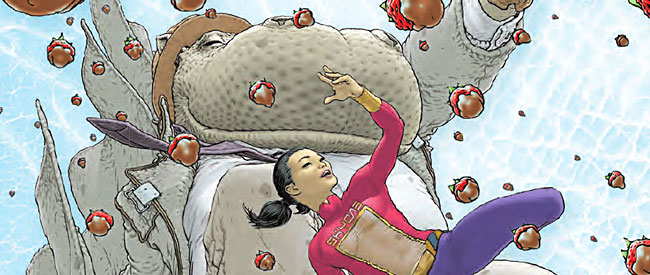 Intelligent and moving dystopian sci-fi that, like the best of its genre, is as strong on our yesterdays and todays as it is on our potential tomorrows.
"We had nothing, and we wanted more."
In its fifty issues, Elephantmen, as you can imagine, has developed quite a bit of back-story.  However, what we have here are two self-contained tales that can be read on their own, or as part of the rich tapestry that Richard Starkings has created over the years.  The first is a new story that is told in the form of a letter from an ordinary Elephantman, examining the trials and tribulations of his life.  The second is a re-presentation of issue one of the comic about a chance encounter between an Elephantman and a little girl.
The Elephantmen were genetically engineered super soldiers developed by the MAPPO Corporation.  Animal/human hybrids trained from birth to be killers.  A war developed between the Corporation and the United Nations, which the UN eventually won, but only after massive amounts of casualties on both sides.  The Elephantmen were then liberated to live in the outside world, to the distrust and horror of the human inhabitants.
The Elephantmen are both unwanted minorities and traumatised soldiers struggling to adapt to a new life.  They are representative of the ramifications of genetic experiments, war and racism.  Whilst there has been a lot of action and violence to lead us to this point, what have here are two very quiet stories that are as much about racial integration in the past and present day, as they are dystopian science-fiction. Both stories are beautifully told and illustrated and are a good, understated introduction to the series. It's also worth mentioning the stunning cover by Frank Quitely who demonstrates yet again why he's one of the great artists of modern comics.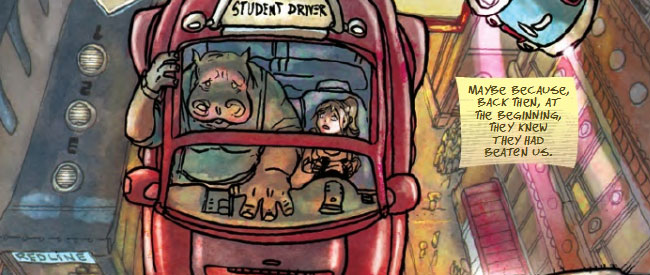 Good news if you like this anniversary issue: the series has been collected in various trades over the years and Image has also recently put out a new edition of the first hardcover.  Give it a try, it's yet another refreshing and intelligent comic from Image that deserves as large a readership as some of its more celebrated stable-mates.
Richard Starkings (W), Gabriel Bautista, Axel Medellin, Moritat (A) • Image Comics, $5.99, July 17, 2013.