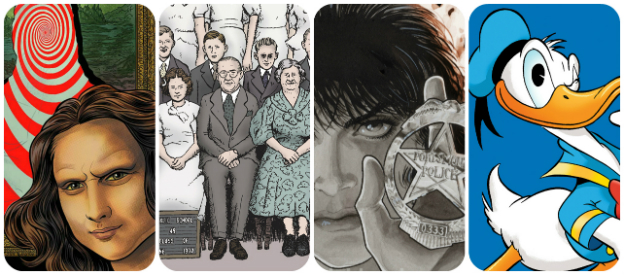 It's nearly Wednesday, and you know what that means: a fresh load of comics and graphic novels! With so many publications hitting your local comics store or digital storefront, the BF staff is here to lead you through the woods with our weekly staff picks. Satisfaction guaranteed!
Comic of the Week
The Inflatable Woman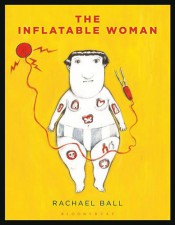 The Inflatable Woman is former Deadline contributor Rachael Ball's first full-length graphic novel. It mixes magic realism and slice-of-life storytelling to tell the tale of zookeeper Iris, whose quest for love on the internet becomes a major focus in her life after she is diagnosed with breast cancer.
Undoubtedly one of the most eagerly anticipated graphic novels of 2015, The Inflatable Woman has some staunch and notable champions in its corner.
Broken Frontier Anthology contributor Karrie Fransman (Death of the Artist) describes the book as a "stunning debut graphic novel… beautifully illustrating the power of imagination and the unconscious when confronted with the harshest realities of life", while Nicola Streeten (Billy, Me & You) adds that "[Ball] presents the reader with a world of astonishing wonder and beauty through marks of the ordinary humble pencil, inviting us to look at our own lives anew".
Replete with poignant visual metaphor and surreal flourishes (most notably a colony of singing penguins), Ball's take on the graphic medicine strand of comics is one of the most original and powerful you will read this year. Or any other, for that matter.
Rachael Ball (W/A) •  Bloomsbury, £18.99
– Andy Oliver
Art Ops #1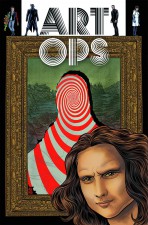 Gerard Way handpicked Shaun Simon to co-write the comic adaptation of The True Lives of the Fabulous Killjoys, but Simon's stellar Neverboy proved he was no one-hit wonder. With its bizarre saga of an imaginary friend trapped in his own fantasies, Neverboy featured more than enough ideas for an ongoing series. That's why I'm overjoyed to see Simon featured in Vertigo's illustrious slate of new titles – and being paired with the legendary Michael Allred certainly doesn't hurt.
Art Ops tackles the inner lives of imaginary figures from a new angle: the art world's most famous works. Reggie Riot and the Art Operatives agency are tasked with tracking down such figures when they go rogue. After all, you might be a little angry too if you'd been trapped in a frame for five centuries.
To make matters worse, Reggie might be hiding some secrets that could bring the whole operation crashing down. Pick up Art Ops #1 tomorrow to find out: your Art History teacher will thank you.
Shaun Simon (W), Michael Allred (A) • Vertigo, $3.99
– Paul Mirek
Black Magick #1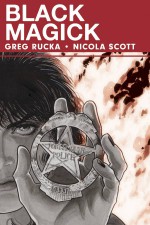 The debut of an all-new ongoing series from Image isn't exactly a surprise; the company has been churning out some amazing creator-owned titles this year. So why is Black Magick #1 special? Not only is the book produced by the all-star team of writer Greg Rucka (Gotham Central, Stumptown, Lazarus) and artist Nicola Scott (Birds of Prey, Earth 2, Secret Six), but they have been working on it since 2010!
And the depth of their commitment to the story will show in each carefully crafted panel: this is a fully realized story, and the creators know exactly where it's going. Rucka has stated that they are set to produce nine issues per year and that the book will last for 30 issues.
Part police procedural and part supernatural mystery, Black Magick centers on robbery/homicide detective Rowan Black. She is the mystery; she doesn't know the truth about herself, who she really is, or who she will become. Fortunately (or not) for Rowan, others in her world have long memories and coveted powers that will ultimately reveal hidden truths.
Labeled gothic-noir and for adult audiences, the first issue will also be presented in a magazine-sized variant format (Rucka admitted to stealing that idea from Ed Brubaker and Sean Phillips' Criminal series) and will also feature a work of original fiction by Rucka.
As if the creative team wasn't enough to bring me onboard for this title (it was), they certainly had me with the combination of "police procedural," "supernatural mystery", and "noir."
Greg Rucka (W), Nicola Scott (A) • Image Comics, $3.99
-Karen O'Brien
Beef with Tomato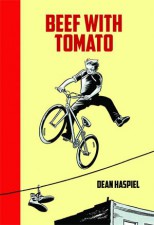 Award-winning artist Dean Haspiel (The Fox) follows up his critically acclaimed Opposable Thumbs with a new semi-autobiographical graphic novel set in the Big Apple. This collection of interconnected short stories explores themes of community, social injustice, and "the difference between prime and primate".
Haspiel's latest work contains all of the passion and exuberance for the medium we've come to expect each month in his mainstream superhero work for Archie, but showcases a more sophisticated use of setting, atmosphere, and character development. As the protagonist moves across NYC, from Alphabet City to Brooklyn, the visual tone of book also changes to suit the new location and circumstances.
An oddly resonate and deeply personal work, Beef with Tomato represents the creator's quirky, humorous, often dark relationship with his home city and showcases another side of his masterful talent.
Dean Haspiel (W, A) • Hang Dai Editions/Alternative Comics, $14.99.
– Jason Wilkins
Class Photo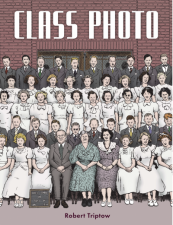 When veteran cartoonist, editor and journalist Robert Triptow stumbled across a real-life class photo from 1937 under a pile of junk, the anonymous pupils of an unknown public school sparked his imagination. Using the photo as a springboard, he created a fictionalised life for each student in one-page installments. Triptow weaves these imagined lives in and out of each other, mixing social satire, occasionally disgusting hilarity and plenty of good, clean fun.
Triptow's elegant cartooning and sharp sense of humour has previously been on display in such Fantagraphics classics as Real Girl and Roberta Gregory's Naughty Bits. Prior to that he succeeded Howard Cruse as editor of Gay Comix, publishing nine issues between 1984 and 1991. In 1990 he won the first Lambda Literary Award for Humour for the anthology Gay Comics, which included excerpts from the comic and was hailed as one of the first surveys of the subject.
Robert Triptow (W/A) • Fantagraphics Books, $14.99
– Tom Murphy
Creepy #22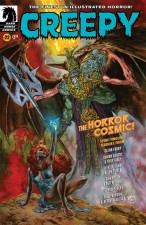 It's Halloween at the weekend, so what better time to check in on Dark Horse's revival of the classic Warren horror title Creepy than when this week's comics ship on Wednesday? Combining a respectful retro vibe that evokes the irreverent spirit of the original with tales from modern terror-mongers that capture a post-millennial sensibility, this second volume of Creepy has successfully brought the anthology into the 21st century.
A Glenn Fabry cover is the wrapping on work this time around from creators of the ilk of Alex Di Campi, Ben Towle, Damon Gentry, Troy Nixey, Dan Braun, Peter Bagge, Joshua Boulet, Bill Pearson and Alfredo Alcala. The perfect accompaniment for an eerie autumnal evening, reacquaint yourselves with Uncle Creepy and company and revisit one of the great iconic genre fiction publications in comics history.
Anthology – Various creators • Dark Horse Comics, $3.99
– Andy Oliver
Walt Disney's Comics and Stories 75th Anniversary Special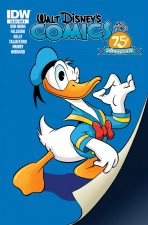 For the last few months IDW have been bringing us an abundance of Disney material that spans both the decades and international borders. Mickey Mouse, Donald Duck and Uncle Scrooge have all returned to regular publication via the Californian publisher, alongside the venerable Walt Disney's Comics and Stories – an anthology that made its debut way back in 1940!
This week that (admittedly sometimes sporadic) three-quarters-of-a-century run is celebrated in style by IDW with a commemorative Walt Disney's Comics and Stories 75th Anniversary Special that brings together old favourites like Mickey, Donald, Scrooge McDuck and Goofy, along with Chip 'n' Dale, the Big Bad Wolf, Magica, Ludwig Von Drake and more. Re-presenting work produced between 1943 and 1993, there's also an added bonus for Disney comics enthusiasts in the form of a first complete reprinting of Paul Murry's Mickey Mouse serial 'Ridin' the Rails'.
Anthology – Various creators • IDW, $5.99
– Andy Oliver
Vertigo Quarterly SFX: KRAK!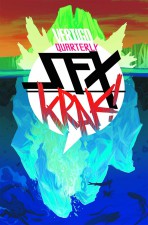 Vertigo continues its quarterly anthology series, in which the stories are all based around a certain sound effect. This issue's theme is KRAK! Whether it's the crack of lightning, the crack of a pair of knuckles, or a crack in time and space, this collection of stories will give you the full gamut of the weird and the wonderful possibilities of this dynamic sound effect.
The nine stories that make up this 80-page comic are brought to you by the likes of Gilbert Hernandez, Nathan Fox, Peter Kuper, Jen Wang, Ming Doyle, Mark Buckingham, Jessica Martin, Corinna Bechko and many more!
Anthology – Various creators • Vertigo, $7.99
– Tyler Chin-Tanner