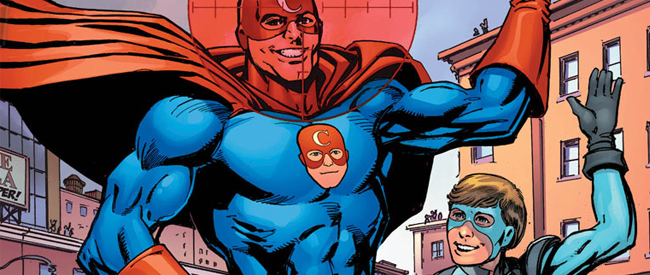 The second title from JMS' reborn Joe's Comics imprint delivers on its promise to kill the concept of the ever-annoying sidekick – but not without a little psychological torture, first…
If you are or ever were a fan of teen heroes such as Robin or Speedy or Aqualad, then Sidekick will make you cringe – in the best possible way, of course.
Shocking, disturbing, depraved… You're going to hear a lot of these adjectives in the coming weeks and months, as fanboys and critics struggle to wrap their heads around JMS' latest examination of the cape-and-spandex set. Although it purports to be nothing more than the creator's personal vendetta against the puerile comic book archetype of the teen sidekick, one could argue this series is also a response to the cookie-cutter mentality infecting mainstream funny book publishing.
Quite simply, Sidekick is a story that could never be told at Marvel or DC. Documenting and exploring the fall from grace of a marginalized superhero sidekick in the wake of his mentor's assassination, this is a series saturated in cynicism and bleak realism. Despite its purposeful traditional comic book visuals, make no mistake, this is a book created by and for adults. Neither JMS nor his partner-in-crime, the legendary Tom Mandrake, pull any punches, here. From the visceral opening pages to the gritty depravity of Flyboy's unfortunate fall from grace, Sidekick truly showcases just how far a forgotten hero can truly plummet.
Integral to the success of JMS' decimation of the sidekick is Mandrake's artwork. A veteran of mainstream and creator-owned comics publishing capable of straddling the border between both markets, Mandrake brings an instant accessibility to the characters and setting of Sidekick, while still being able to truly sink his teeth into the darker aspects of the story. Atmospheric and textured, his visual storytelling is clear and expressive, each panel laden with emotional depth and robust movement. If it weren't for his versatility and artistic maturity, not to mention an unflinching eye for capturing the moment, JMS' cunningly built house of cards might never have gotten off the ground.
Echoing Rick Veitch's cult classic Brat Pack in tone and vision, Sidekick is a more intimate interpretation of the role teen heroes played in our imaginations. In his Author's Note, JMS clearly outlines his intentions of utterly deconstructing the sidekick archetype. Long story short: the man always felt a little cheated by the existence of the pandering little bastards and who could blame him? As far as he was concerned, he was on the outs with Batman or Green Arrow, so long as there was a Speedy or a Robin prancing about. I wonder though… If we didn't have a Robin, there could be no Nightwing, a most fascinating, not to mention popular evolution of the sidekick into a mature and noble hero in his own right.
Whatever your opinion, Sidekick is a smart if vehement exercise in character assassination by two of the greats. Not for the faint of heart, as they say, this is a book that will shock, disturb, and test your threshold for depravity.
J.M. Straczynski (W), Tom Mandrake (A), HiFi (C) • Image Comics, $2.99, August 7, 2013.