It's almost Wednesday, and you know what that means: a fresh load of comics and graphic novels! With so many publications hitting your local comics store or digital storefront, BF is here to lead you through the woods. These are the books that need to be on your pull list this week.
Comic of the Week
POP #1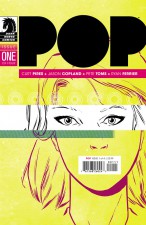 Although the world in POP is technically an "alternate reality" from our own, it may not look all that different from our own. So what's the difference? The celebrities and pop stars aren't just the creations of large media corporations, they're literally grown in a lab and made to be ideal products, packaged and sold to consumers. Elle is one of these creations, but she escapes her programmers and winds up in the arms of Coop, a depressed comic book and record collector. Together they set off on a journey to avoid capture and transcend the programming they each have in their subconscious.
As unique as it is entertaining, POP is a white-knuckled thrill ride through the marketing-mastered, technologically tethered tragicomedy we call life.
Read our interview with Curt Pires for more on the series.
Curt Pires (W), Jason Copland (A) • Dark Horse Comics, $3.99
– Tyler Chin-Tanner

Jaegir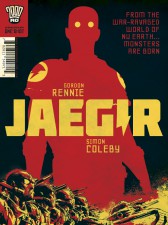 Gordon Rennie (Department of Monsterology) and Simon Coleby (2000 AD) return to Nu Earth, a world they helped revitalize in the pages of 2000 AD, with this Rogue Trooper spin-off, exploring the sinister secrets plaguing the Nordland military.
Tasked with cleaning up the messes her superiors would rather never become public, the titular character Kapiten-Inspector Atalia Jaegir, takes on a new war-monster with distinct ties to her own war-torn past in this repackaging of the original serialized series. An intriguing snapshot of the flip side of the Rogue Trooper coin, this one-shot, like the parent material, examines the atrocities of war perpetrated by the state on its own soldiers.
With the real world conflicts in the Ukraine and the Middle East reminding us just how horrifying war can be, Jaegir is a war comic for the 21st century – dark, beautifully illustrated, and timely.
Gordon Rennie (W), Simon Coleby (A) • 2000 AD, $3.99
– Jason Wilkins
Theseus and the Minotaur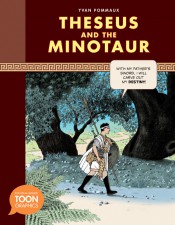 It's about time that Hercules got thrown from his throne because here's a Greek hero in dire need of some recognition: Theseus! This founder-hero was known for slaying monstrous ogres and beasts but none were so colorful as the one with whom he delivered his most famous battle: the minotaur. This half bull, half man monster was particularly known for his inclination towards gulping down attractive young females in his not-so-attractive batchelor dwelling aka the labyrinth. Nonetheless, it was something that Theseus just could not let pass. Well that is the short version of it anyway.
French artist extra-ordinaire Yvan Pommeux is an unknown creator in the States or the UK but pretty big in France. His clean style incorporates classical elements of Greek drawing with a soft charcoal and pencilled approach. Researched to the extreme, he incorporates character cards, maps, mazes etc. in this comic book approach to the classic Greek legend.
There's only one way to respond to this Toon Books publication and that is with the battle cry of another bunch of classic characters (though definitely not classic-al): Jack Kirby's Howling Commandoes: WAHOOOOO!
Yvan Pommeux (W/A) • Toon Books,  $14.40
– Bart Croonenborghs

White Death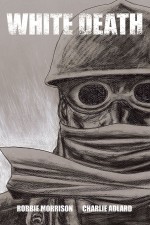 As the world commemorates the centenary of the outbreak of World War I, Image are releasing a new hardback edition of this timely and powerful 104-page graphic novel, originally published in 1998 when Robbie Morrison and Charlie Adlard were among the pioneers of creator-owned publishing, as part of the co-operative Les Cartoonistes Dangereux.
Through the eyes of Italian infantryman Pietro Aquasanta, it tells the little-known story of the "White War", waged high in the mountains that formed the front line between Italy and the Austro-Hungarian Empire. With snow all around, both sides used artillery fire to trigger deadly avalanches behind enemy lines – a method of warfare that's thought to have killed up to 100,000 soldiers.
Completed before Adlard became a comics superstar on The Walking Dead, it showcases a totally different artistic style: a stark mix of black charcoal and white chalk on a grey background that evokes perfectly the bleak environment. Far from the two-fisted chest-thumping that has tended to characterise British war comics down the years, this is a powerful addition to the graphic canon of The Great War.
Robbie Morrison (W), Charlie Adlard (A) • Image Comics, $14.99
– Tom Murphy
Kill My Mother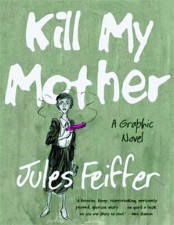 Pulitzer winning cartoonist (and screenwriter, playwright and comics creator) Jules Feiffer is combining the strands of his varied career into his noir graphic novel Kill My Mother. At the ripe old age of 85, Feiffer has returned to his seedy cartoonist and comic strip roots to create this, his first graphic novel, in a flurry of caricature-like cramped and murky strew of morose detectives and city underbelly.
The melodramatic drama begins with the teaming up of a gumshoe detective and his best friend's widow to unravel the story of a missing person that will lead them trough boxing matches, swanky clubs, murder, betrayal and a remote Pacific island. A tangled mess of subplots and ability, this looks a treat for comics and film fans alike.
Jules Feiffer (W/A) • Liveright, $27.95
– Conori Bell-Bhuiyan

Wayward #1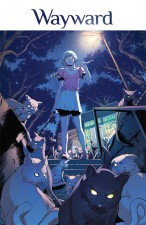 Divorce is often more difficult for children than it is for their parents. Having to split time, loyalties, and affections is emotionally taxing for a teenager, especially when one considers that teenagers already emotionally tax themselves to the extreme.
In Wayward, a new series from Jim Zub and Steven Cummings, a teenage girl moves to Japan from Ireland after her parents split up and is confronted by these issues, as well as the massive cultural differences between the life she knew and her new circumstances. Oh, and there are monsters all over Tokyo that are trying to kill her.
The solicitation boasts that Zub and Cummings have created a Buffy the Vampire Slayer for a new generation. It's a lot to live up to, but if they find even half the balance between the high-action supernatural elements and the emotional core of adolescent angst and growth, then Wayward will definitely be worth the read.
Jim Zub (W), Steven Cummings (A) • Image Comics, $3.50
– Reid Vanier
Brainstorm #1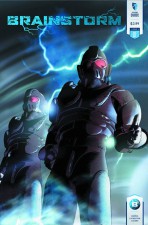 With the release of its first comic, FutureDude Entertainment lives up to its name right away. Basically, it's a publisher headed by a Dude, Jeffrey Morris, who loves to create futuristic stories; hence 'FutureDude'. Brainstorm is numero uno of three comic book series the company has in production and it is set in the not too distant future where climate change has weather patterns worldwide spinning out of control.
The US Military is collaborating with a team of scientists to create a nano-tech weapon that attacks storms, tornadoes and hurricanes at the core and destroys them from the inside out. But while the tech is successful at first, Mother Natures wags its finger back at her assailants with a clear message: she will not be laid down so easily.
This six-issue mini Featuring art by Dennis Calero (X-Factor, X-Men: Noir) and comes backed by a cleanly produced trailer on the FutureDude website.
Jeffrey Morris, Ira Livingston IV (W), Dennis Calero (A) • FutureDude Entertainment, $3.99
– Frederik Hautain