Here at Broken Frontier we pride ourselves on looking that little bit beyond the obvious. However, sometimes you just have to go with the flow, and for the last couple of years, Image Comics have remained the biggest creator-owned game in town (and our Publisher of the Year).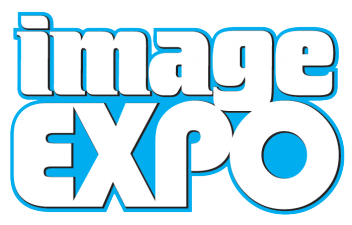 As a result, the Image Expo – at which a wallet-crushing wave of new titles is generally revealed to an eager audience – has become a key date in the comics-watching calendar.
With the Broken Frontier travel coffers empty again, after editor-in-chief Andy Oliver had to go on a "vital fact-finding mission" to the little-publicised TahitiCAF, we were forced to watch from a distance as around 25 books and series were announced.
So here, in no particular order, are the 10 projects that put the most lead in our pencils.
1. Heartless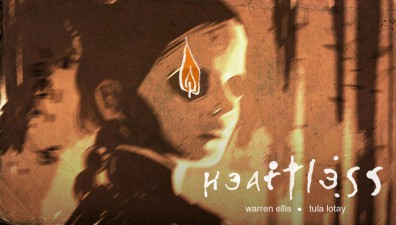 Artist Tula Lotay was our Breakout Talent in last year's Broken Frontier awards, so whatever she got involved with this time round was going to be high on our list.
When that project turns out to be another collaboration with the rejuvenated Warren Ellis (following their dazzling Supreme Blue Rose), we're definitely on board.
A female musician returns to northern England, where her family owned a little cottage in the middle of a forest. She wrote her first album there, and she's "going back to the countryside," as musicians used to, to write her next one. But the forest doesn't want her there. She's returning to face her demons—one in particular—and put herself back together, but the forest remembers what she did, and the devil wants his due.
2. Black Magick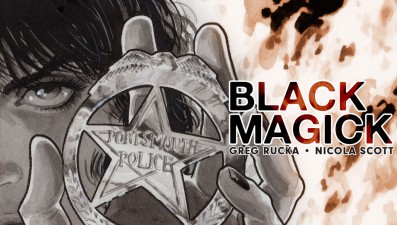 Set to launch just in time for Halloween, this ongoing title by Greg Rucka and Nicola Scott charts a course between supernatural thriller and police procedural, creating a mash-up genre that Rucka labels "witch-noir".
Black Magick follows Rowan Black, robbery/homicide detective in the city of Portsmouth, and the latest in a line of traditional witches who can trace their lineage—and memories—back to before the library of Alexandria burned. Rowan has carefully built a wall between her professional life and her faith, but now that barrier is cracking.
3. Cry Havoc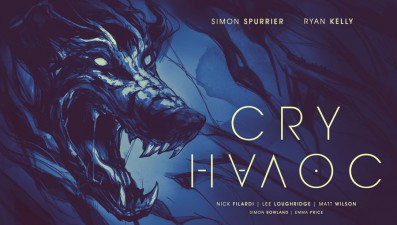 Basking in the afterglow of this week's launch of The Spire over at BOOM! Studios, writer Si Spurrier is striking while the iron is hot to announce a new collaboration with artist Ryan Kelly and – count 'em – three superstar colourists (Nick Filardi, Lee Loughrdige and Matt Wilson), each of whom give their strand of the story a rich identity.
CRY HAVOC is a journey into war-torn Afghanistan in the company of monsters, a London street-musician savaged by a ghostly hound, and a terrified prisoner tangled in a folkloric insurrection… It features three parallel and interwoven story threads in the life of Lou Canton: an extraordinary woman being consumed by chaos, with three different colorists lending their artistic takes in order to define the separate phases of the story.
4. Throwaways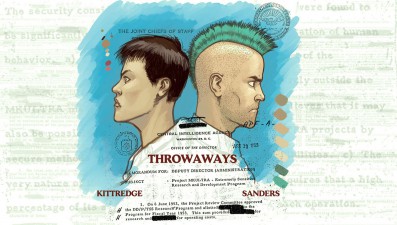 Written by Caitlin Kitteridge with art by Steve Sanders, Throwaways is a high-octane paranoid thriller set against the backdrop of a secret government research programme.
Project MK-ULTRA shuts down for good, its goal of creating brainwashed assassins and psychic spies unrealized. That's the story the world believes for thirty years, until Dean Logan, son of a successful ULTRA test subject, narrowly escapes a team of enhanced operatives sent to kidnap him back into the fold. On the run—not just from the dirtiest secret the CIA ever funded—but his own out of control psychic abilities, Dean is saved by Abby Palmer, a former Army Ranger taken by ULTRA in Afghanistan and reprogrammed to be an unstoppable, disposable killer.

Except Abby survived her expiration date, and now she's turned her deadly skillset toward one goal: destroying the ULTRA program and dragging its masterminds into the light.
5. Snotgirl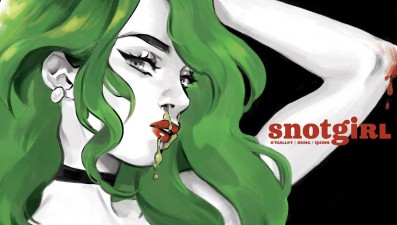 One announcement that you couldn't have seen coming was Snotgirl – a dark comedy set in the world of fashion bloggers, by Bryan Lee O'Malley and emerging artist Leslie Hung, whose work O'Malley described as "lush and beautiful".
Lottie is a huge success—she's blog famous! Her online persona is flawless and fun, but her real life is filled with woes. She has terrible allergies, she just got dumped, and her blogger friends don't understand her. Things turn around when Lottie instantly clicks with Caroline, a new girl on the scene… but can she turn chemistry into friendship, or will she ruin everything?
6. Virgil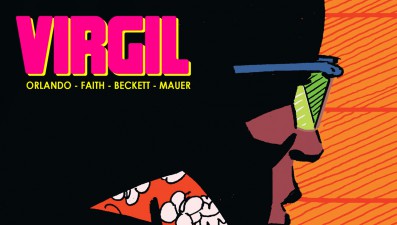 This isn't a new title as such, but it's a welcome boost for Virgil – a "queerspolitation" graphic novel that writer Steve Orlando (Undertow, Midnighter) and artist JD Faith (Murder Book) published through a successful Kickstarter campaign last year.
Betrayed, beaten, and banished by his own, an outed cop fights his way across Jamaica for revenge. This is a Foxy Brown-style revenge action with a new face and new fists. Holding his gun and his badge, Virgil thought he was safe in the police force, hiding who he is. But when his own brothers on the force out him in the papers, it doesn't bring him down. It sets him free!

Now, he's out for revenge. And he's not leaving town without his man, and some blood on his hands.
7. Sunset Park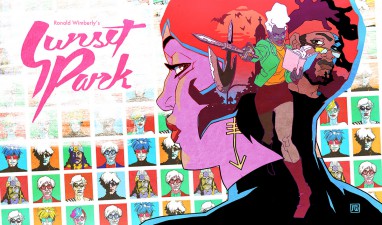 Sunset Park, a limited series by Ron Wimberly (Prince of Cats), takes on the issue of urban gentrification and gives it a supernatural spin.
Something's up in Sunset Park, and it ain't just the rent. Are Brooklyn's gentrifiers more than just economic vampires? A cartoonist draws a macabre story from a collection of notes, journals, movies and other ephemera he finds boxed, abandoned in the studio he's recently rented along the latest frontline in gentrification's relentless march over Brooklyn in SUNSET PARK.

Among the boxed items are what could be a copy of an old Warhol vampire film and what looks to be a journal belonging to Jean Michel Basquiat. SUNSET PARK is an all-new, limited series by Ron Wimberly coming from Image Comics.
8. Huck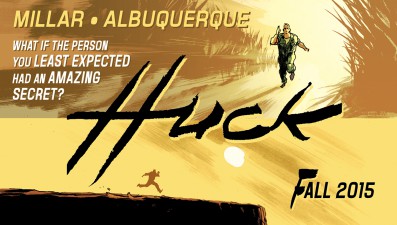 In one of the highest-profile team-ups at the Expo, Mark Millar and Rafael Albuquerque announced Huck – the "Captain America meets Forrest Gump" story of a vulnerable young man with superpowers and the community that wants to protect him.
Millar said of the project: "All the best old comics were about people you didn't expect becoming empowered. So we wanted to do something incredibly sweet about a small-town guy with learning difficulties who could do all these amazing things. He's the purest, most decent character you've ever seen in a comic book. A big guy who just wants to help people and does it in secret so nobody even knows he even exists. It's the ultimate feel good comic. A Frank Capra superhero story I guess about a small town and a close-knit community and an amazing guy they just all want to shelter from the outside world."
9. Crosswind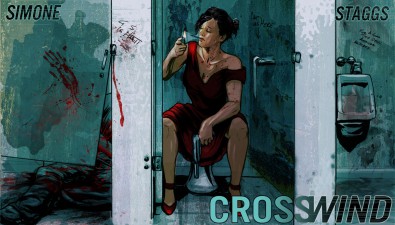 Fan-favourite writer Gail Simone is teaming up with artist Cat Staggs for Crosswind, a darkly humorous and violent take on the familiar "body swap" story.
CROSSWIND is the cutting-edge story of a suave, sharp hitman from Chicago and a seemingly unremarkable housewife from Seattle, and how they accidentally end up switching lives. It's a suspense fantasy full of sex, violence, and the blackest of humor. Written with sardonic wit by Gail Simone and stunningly realized by Cat Staggs, CROSSWIND will be one of the most talked about books of the year.

Simone assured fans: "This is the comic that might make Dr. Wertham come back from the dead to try to ban comics again."
10. The Goddammed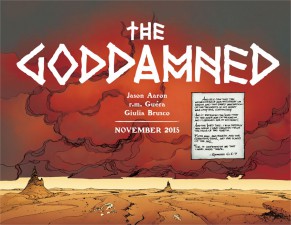 Last but by no means least, Scalped collaborators Jason Aaron and RM Guéra are reuniting for what sounds like a edgy take on Biblical mythology that might raise a few eyebrows and hackles out there…
Before the great flood, the world is filled with violence and wickedness. In just a couple thousand years, humanity has gone from paradise to depravity and ruin. God is beginning to seriously regret having ever created man in the first place.

Welcome to the world of THE GODDAMNED, an all-new, ongoing series to launch from Image Comics in November 2015. Set just before the Biblical flood, in a world so out of control with violence and depravity, God is just about to pull the plug. "It's part caveman adventure story, part stark and brutal western," said Aaron. "And did I mention there are dinosaurs? Imagine if Quentin Tarantino was hired to direct the movie version of the book of Genesis. That's pretty much what we're aiming for."
Of course, there were a lot more announcements than that, including the return of Blue Monday, a print edition of The Private Eye and the small matter of a Walking Dead story by Brian K Vaughn and Marcos Martin!
Which of the titles are you most excited about? What should we have included in our rundown but didn't? Let us know in the comments!