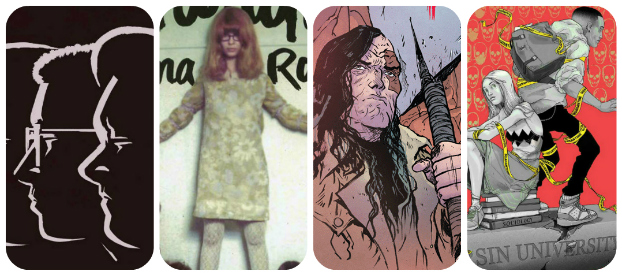 It's nearly Wednesday, and you know what that means: a fresh load of comics and graphic novels! With so many publications hitting your local comics store, comics events or digital storefront, the BF team are here to lead you through the woods with our weekly staff picks. Satisfaction guaranteed!
Comic of the Week
Lazaretto #1
It's an exciting week for all of us here at Broken Frontier as we get to see the work of Jey Levang, one of our 2016 'Six Small Press Creators to Watch' (our annual programme of mentoring and championing exciting new voices on the comics scene), reaching the far wider audience it deserves via the new BOOM! Studios miniseries Lazaretto.
Clay McLeod Chapman's unsettling tale of a pandemic-struck campus and the students who effectively become quarantined there is a masterclass in pacing and characterisation. But this is a book which will, no doubt, be Jey Levang's breakout comic. Their quirky, animated visual style is accessible and appealing but they're also capable of shocking the reader out of their complacency with some moments of true gross-out body horror.
Pick up Lazaretto this week and find out for yourselves exactly why we've been telling you for the last two years what a major new talent-in-the-making Jey Levang is!
Read a Broken Frontier interview with the Lazaretto team here.
Clay McLeod Chapman (W), Jey Levang (A), Aditya Bidikar (L), Ignacio Valicenti (CA) • BOOM! Studios, $3.99
– Andy Oliver
Extremity Vol. 1: Artist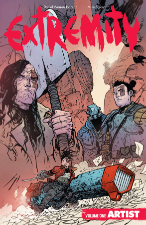 Daniel Warren Johnson made a name for himself in the industry working on projects like his webcomic Space Mullet and collaborating with fellow rising start Donny Cates on Ghost Fleet (not to mention a Broken Frontier Anthology story with Phil Hester). Now, with this first 6-issue arc, he finally gets to break out and show what he can do with his first solo creator-owned series through the Skybound imprint.
Thea dreams. Not of a better life, but of revenge on the clan that ruined her family. With ferocious battles between man, machines, and monsters ahead… who knows where her quest for vengeance will take her?
Daniel Warren Johnson (W/A), Mike Spicer (C) • Image Comics, $16.99
– Tyler Chin-Tanner
What is a Glacier?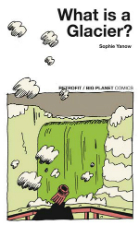 If you don't already back the seasonal Retrofit Kickstarter subscriptions then this week sees Sophie Yanow's What is a Glacier? officially arriving in stores. The Ignatz and Doug Wright Awards-nominated artist's latest comic is ostensibly an autobiographical account of a recent trip to Iceland but in reality it's so much more than that.
The end of a relationship, the environment, coming to terms with loss and coping with anxiety are all explored as the interconnections between seemingly disparate elements slowly reveal themselves. Yanow's latest work is yet another must-own comic from Retrofit and one that again underlines just why they've been such a constant presence on our Broken Frontier Awards shortlist in recent years.
Sophie Yanow (W/A) • Retrofit Comics, $6.00
– Andy Oliver
Last Girl Standing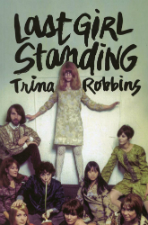 It's very easy as comics fans, enthusiasts and commentators to think of creators in terms only of their comics practice without considering just how many other pathways life has taken them down.
The legendary Trina Robbins has certainly made the most vital of contributions to the medium in her decades in comics. From being a co-founder of the groundbreaking Wimmen's Comix to her work on The Legend of Wonder Woman she's been both a pivotal player in the underground and indie scenes and worked on one of comics' most recognisable pop cultural icons.
Last Girl Standing is her illustrated memoir that takes in not just her sequential art but also a life that has included the early days of SF fandom, owning her own boutique, mingling with "rock royalty" and becoming a comics academic. An unmissable look into a geuninely fascinating life.
Trina Robbins (W/A) • Fantagraphics Books, $19.99
– Andy Oliver
4 Kids Walk into a Bank #5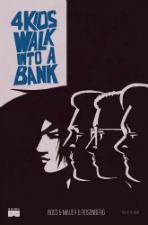 Good things come to those who wait and this week sees Matthew Rosenberg and Tyler Boss's comedy crime-drama mixing a crew of pre-teens and a bank heist reach its long-anticipated finale.
4 Kids Walk into a Bank has proved to be one of the very best books to come out of Black Mask Studios from two of the most exciting new creators in US serial comics. If you want a further recommendation then BF reviewer Jason Wilkins tantalisingly said of it last year "imagine if Tarantino or Robert Rodriguez remade Goonies, then inject a healthy dose of John Hughes and you'll get the idea…"
Undoubtedly one of the most eagerly awaited wrap-ups of 2017.
Matthew Rosenberg (W), Tyler Boss (A), Thomas Mauer (L) • Black Mask Studios, $3.99
– Andy Oliver
Beirut Won't Cry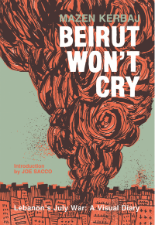 With a foreword by Joe Sacco, Beirut Won't Cry is a first English language introduction to the work of Mazen Kerbaj and details his life in the summer of 2006 as the relentless Israeli aerial bombardment of Beirut continued.
Written and drawn in a daily blog style as it was originally published online, we're promised not simply a historical chronicle but a very personal account of existing through such an ordeal and the debilitating effects of living in a city under siege.
Mazen Kerbaj (W/A) • Fantagraphics Books, $30.00
– Andy Oliver