Angelic – a candy coloured anthro-cyber-post-apocalyptic fun fest with obligatory sinister undertones. Pretty impossible to dislike, unless you don't like the idea of verbose flying dolphins and winged monkeys dressed like roller derby playing nuns.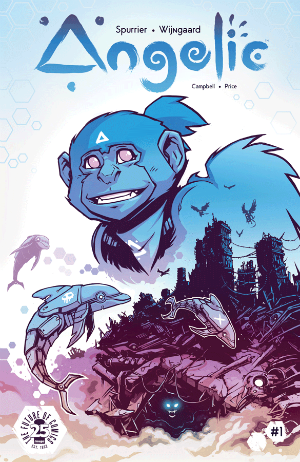 Launching this week, just in time for Thought Bubble, this beautiful, somewhat psychedelic new serial from Image is set in a far flung future where the characters we encounter are, we presume, the descendants of mankind's genetic tinkering and bizarre sense of humour. There's a neon glow in the air and in the familiar insignia on the cybernetic portions of the animals' getup, but where it comes from is not spoken of. Simon Spurrier writes (The Spire, Cry Havoc, X-Men Legacy) and Caspar Wijngaard (Limbo, Dark Souls, Assassin's Creed) provides the instantly exciting visuals creating a world of mystery and ritual, of war that seems more like sport and ever more bizarre creatures emerge every few pages.
The story follows a young female protagonist (flying money) who is introduced instantly at odds with her society (isn't it easy to shortcut diversity when your characters are all animals). She first tries to sneak into a battle and is told "Qora, you know there's no girlmonks in the scrap pack". Not only is she a gender role breaker, we soon learn she's also an incessant questioner of traditions and societal structures. The Highwife chastises her in novel ways, although sadly does not break into a rendition of how do you solve a problem like Qora, indeed far from being sent away from the monkey convent to teach a group of errant rich brats, our plucky heroine seems to become more trapped in the confines of her primate pecking order. Will she escape and explore the rest of this brave new world for us? It seems highly likely.
The visuals are deliciously graphic and vibrant, kid friendly indeed. This series is touted as all-age and aimed at children and adults alike, but the name checking of Watership Down (meets WALL-E) in the promotional bumf suggests there will be further helpings of the not so warm and cuddly in store as the story develops. If you were to ask me for a soundbitey comparative pair I might go for Saga meets Teletubbies.
Other comparisons that abound in the press for Angelic include Mad Max, A Canticle For Liebowitz, or A Clockwork Orange, all for the varied and inventive lexicon used by the different species of far future characters. Spurrier is not shy with the invented vocabulary. When one walks the world builders' tightrope between believably silly language evolution and boringly ridiculous fantasy speak, you have to give your audience enough empathy and enough novelty to buy into the world of words you built. So far he's getting away with it. Such genius portmanteauing as nobedient, proudify and sulkybutts is instantly gratifying, and I'm definitely going to start using the phrase 'pray your sorries'. The colourful cutes and crazies soon carry us into unease though, and the all too believably silly post-apocalyptic societal tropes of intolerance and exploitation. If hermit crabs are scuttling around using skulls as shells it's usually a good sign that there's something rotten in the state of candy mutant cyberpunk. So far so bittersweet, there are layers of meaning here ripe for excavation and definitely adventures for a plucky girlmonk.
Angelic #1 and the next 2 instalments can be pre-ordered here, or buy from your local comic book festival/vendor.
Simon Spurrier (W), Caspar Wijngaard (A), Jim Campbell (L), Emma Price (D) • Image Comics, $3.99