It's nearly Wednesday, and you know what that means: a fresh load of comics and graphic novels! With so many publications hitting your local comics store, comics event or digital storefront, the BF team are here to lead you through the woods with our weekly staff picks. Satisfaction guaranteed!
Comic of the Week
Eve Stranger #1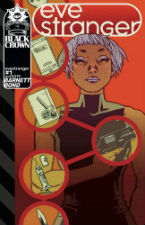 The best way to keep a secret in the high-stakes world of international espionage is to prevent the messenger from remembering it. Such is the life of Eve Stranger, amnesiac-for-hire and gifted with abilities far beyond the norm. At the end of every mission, her mind is wiped of any and all details and she's a blank slate ready to start the next. And just to ensure that she completes every mission—no matter who she's working for—there's an army of nanobombs flowing through her bloodstream.
Sound intriguing? It should. Writer David Barnett (Punks Not Dead, Calling Major Tom) kicks off this five-issue mini-series for IDW's Black Crown imprint with one of this year's most intriguing original characters. And if you're thinking this is just a higher-stakes redux of Johnny Mnemonic, the 1995 sci-fi film that starred Keanu Reeves, think again. Where the film's over-the-top "futuristic" approach was long on adventure and short on character development for Johnny, the comic will introduce an immediate crisis of character for Eve as she questions whether or not she's working for the bad guys.
Philip Bond's (Wired World, Kill Your Boyfriend, Invisibles) art is accessible and welcoming to sci-fi fans and those not normally reading in the genre much the same way that Amy Reeder presented the different time periods in Rocket Girl. So if you have friends that don't read sci-fi and you're looking to change their minds, give them Eve Stranger.
David Barnett (W), Philip Bond (A) • IDW Publishing/Black Crown, $3.99
– Karen O'Brien
Basquiat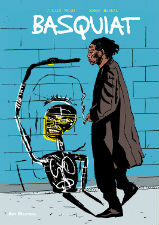 We've covered a number of SelfMadeHero's Art Masters series of biographies over the years, including books on both Magritte and Dali. Giving very distinctive takes on the lives and careers of the featured artists they always invite the reader to think about their subjects in new and insightful ways.
This week sees the latest volume in the series and presents a look at the life of Jean-Michel Basquiat whose early death at just 27 in 1988 robbed the art world of an immense talent. Tracing his emergence on the New York scene and detailing not just his impact but also his descent into the addiction that would kill him, this is another worthy addition to SMH's Art Masters range.
Julian Voloj (W), Søren Mosdal (A) • SelfMadeHero, £14.99
– Andy Oliver
Samurai Jack: Lost Worlds #1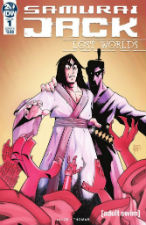 Society has prospered under the benevolent leadership of Samurai Jack. All is aligned according to his philosophies, and through his stoicism (and good looks) he sets the example for all to follow. Unfortunately, this is news to the real Samurai Jack, who is not happy with this imposter using his name to influence the people. But when they face off, will anyone be able to tell which one is the real Jack?
From the comically captivating mind of writer Paul Allor (Clue, Teenage Mutant Ninja Turtles) with animated artwork from Adam Bryce Thomas (Sonic the Hedgehog), Samurai Jack: Lost Worlds #1 arrives on the shelves this week. This is a great time to jump into the world of Samurai Jack as each issue is a self-contained story.
Paul Allor (W), Adam Bryce Thomas (A) • IDW Publishing, $3.99
– Karen O'Brien
Eileen Gray: A House Under the Sun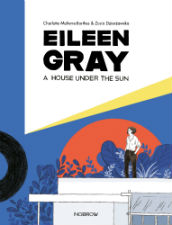 Irish architect, and important figure in the Modern Movement, Eileen Gray has not always been well served by history; her achievements on the modernist villa E-1027 being underplayed as she was overshadowed by male colleagues.
Nobrow's new graphic biography explores the building of this monument to architectural design, which began construction in 1924, and the woman behind it. Carefully researched and dreamily illustrated it's a captivating piece of graphic biography. Look for a review later this month at Broken Frontier as part of our ELCAF Fortnight.
Charlotte Malterre-Barthes (W), Zosia Dzierawska (A) • Nobrow Press, £15.99
– Andy Oliver
Blackbird Book 1: The Great Beast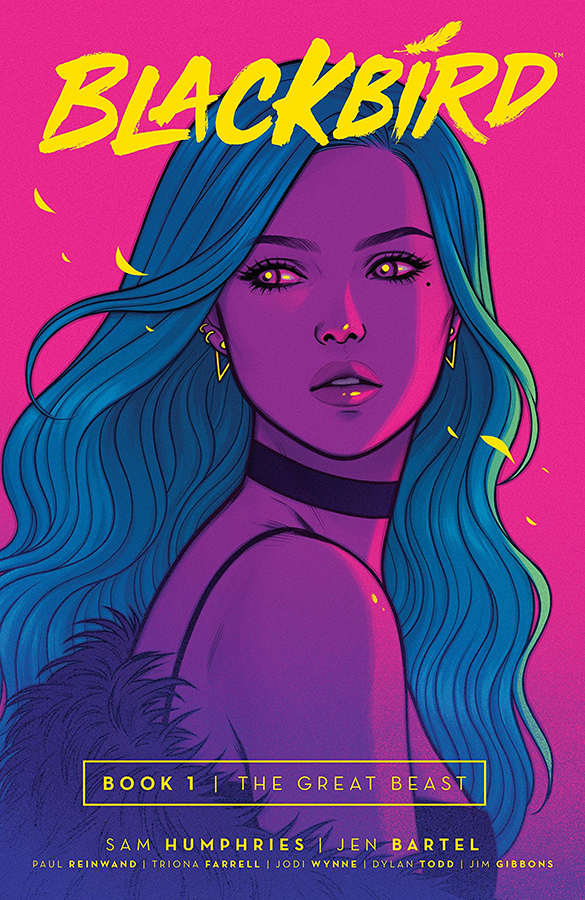 2019 Eisner-nominee for best cover artist, Jen Bartel has been wowing us for years with her pinups and cover images. Now with this new series from Image Comics, fans finally have the chance to see her work in long form story telling.
After the death of her mother, Nina Rodriguez's life is a mess. But she knows there's a better life out there for her, one filled with magic. When her older sister is kidnapped by a mythical beast, she realizes it's time to take this childhood fascination of hers more seriously in order to come to terms with the past and reclaim her future.
Sam Humphries (W), Jen Bartel & Paul Reinwand (A), Triona Farrell (C), Jodi Wynne (L) • Image Comics, $16.99
– Tyler Chin-Tanner