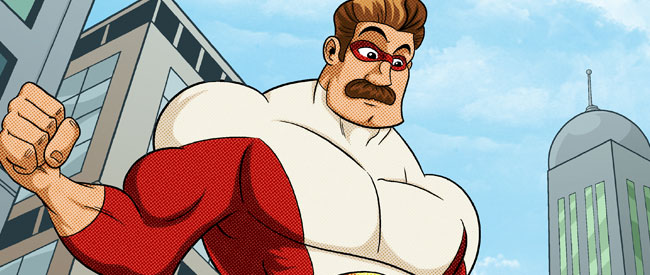 A superhero story that is both traditional and current, and it works.
The debut issue of Monkeybrain Comics' Captain Ultimate is here. From the writing duo of Benjamin Bailey and Joey Esposito, this comic features the art of Boy "Boykoesh" Akkerman, and follows the story of a hero who just can't help being good. Now, Captain Ultimate is back and a young boy named Milo just might be on his way to becoming our hero's sidekick.
This issue's story is titled "The Day the Giant Robot Octopus Alien Monster Attacked the City," and that tells you close to everything you need to know. When said alien monster threatens the city, our title character returns to superhero duty, having fallen off the radar without explanation decades earlier. In the years that followed, his place was taken by a new generation of darker, more lethal heroes, among them a team known as the Super Revenging Society. And so Captain Ultimate faded into the world's collective memory, considered only a legend by many.
The tone of the story is a key component of what makes this book unique. In the style of Golden and Silver Age protagonists, our eponymous hero is earnest, noble, and dedicated in his pursuit of justice. Milo, the first character we meet, has known Captain Ultimate only through the pages of old comic books, now derided as passé relics of a naïve morality. Grim and gritty is the rule for vigilantes now, and Cap doesn't fit that mold. When he makes his return, though, no one could be happier than Milo.

Bailey, Esposito and company have set out to tell a superhero story that is both traditional and current, and it works. Through the eyes of Milo, we are introduced to a hero who isn't afraid to be both altruistic and more than a little idealistic, and when that attitude clashes with the modern sensibilities of the other vigilantes, the writing manages to avoid any feeling of condescension or tedious moralization.
Boykoesh's appropriately cartoony art is bolstered Ed Ryzowski's vivid colors, lending a very Silver Age feel to the comic. While the creative team of Captain Ultimate are clearly sending the message that superheroes can be both good and fun, there's nothing preachy about this book, and the story never loses itself in the by-now overdone juxtaposition of old-fashioned and modern heroes. All in all, Captain Ultimate is a great comic, and anyone who prefers their superheroes on the lighter side is sure to appreciate it.
Benjamin Bailey, Joey Esposito (W), Boykoesh (A) • Monkeybrain Comics, $0.99, July 17, 2013. Digital edition available at comiXology.