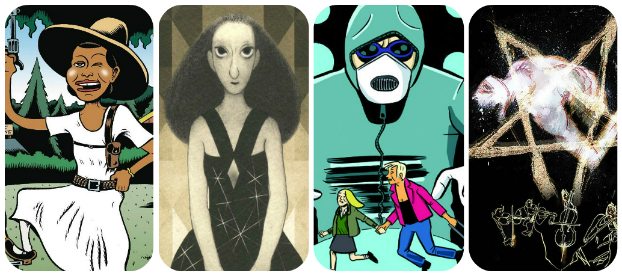 It's nearly Wednesday, and you know what that means: a fresh load of comics and graphic novels! With so many publications hitting your local comics store or digital storefront, the BF team are here to lead you through the woods with our weekly staff picks. Satisfaction guaranteed!
Comic of the Week
Cosmos & Other Stories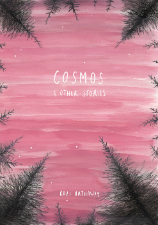 It's always a delight to see our Broken Frontier 'Six Small Press Creators to Watch' artists going on to bigger and better things. In the case of Cosmos &  Other Stories it's also a creator that the BF readership and staff deemed so promising that she won the 2016 Broken Frontier Breakout Talent Award.
I'm talking, of course, about Rozi Hathaway whose new collection of short tales on loneliness, loss, solitude and grief is launched this weekend at Leam Comic Con by rising UK micropublishers Good Comics. I've had the benefit of a preview copy and can assure our audience that, without a doubt, it's some of Hathaway's strongest work to date. Simultaneously subtle yet potent, fragile but resonant, it's a compilation that speaks to the reader with the profoundest empathetic connection.
If you're an established fan of Hathaway's comics you'll be suitably impressed at how her storytelling continues to evolve. If you're new to her work get on board with this book because Rozi is now one of the established new stars of the UK indie scene. Look for a full review later this week at BF. You can pre-order the book online here.
Rozi Hathaway (W/A) • Good Comics, £6.00
– Andy Oliver
Fire!!: The Zora Neale Hurston Story

Indie cartoonist Peter Bagge (Hate, Neat Stuff) follows up his New York Times bestselling graphic biography Woman Rebel: The Margaret Sanger Story with this highly anticipated look into the life of folklorist and novelist Zola Neale Hurston best know for her provocative work Their Eyes Were Watching God.
Hurston challenged the norms of what was expected of an African-American woman in early 20th century society. What unfolds is a story about a vibrant, outspoken, and dazzling person, illustrated with an equally bold cartooning hand.
Peter Bagge (W/A) • Drawn & Quarterly, $21.95
– Tyler Chin-Tanner
The Interview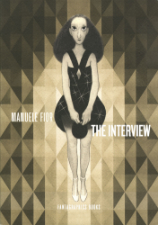 When English-speaking audiences finally got to see Manuele Fior's 2010 Angoulême Fauve d'or-winning 5,000 km Per Second last year it was met with resounding critical acclaim. Our own Tom Murphy said of that book here at Broken Frontier that "amid a sea of comics dealing with quarter-life crises, 5,000 km Per Second stands out with its mature perspective on what the decades can do to us, our hopes and our relationships."
Fantagraphics bring us more of Fior's work this week with his second graphic novel The Interview, a science fiction drama set in the near future of 2048. The tale of a middle-aged psychologist, his young patient and an extraterrestrial visitation, we're promised "a moving story about the passage of time, the commonalities and differences between generations, and on our changing society."
There's still a wealth of amazing European comics that goes untranslated. Do your bit this week to ensure we continue to see work as important as Fior's by supporting this book.
Manuele Fior (W/A) • Fantagraphics, $24.99
– Andy Oliver
Underwinter #1

If you're fortunate enough or smart enough to follow Ray Fawkes' social media feeds, you've likely seen details of some of the images featured in his latest creator-owned series from Image Comics. In Underwinter, Fawkes (Gotham by Midnight, Intersect) fuses horror and music, player and instrument when a group of musicians stumbles upon a world of deceit and cruelty, after landing the most important gig of their lives.
Fawkes revels in subverting acceptable or established norms, uncovering the horror lurking beneath the veneer of the everyday. In Intersect, he twisted our perceptions of body and gender identity, so I'm amped to see how he treats with music, one of our most fundamental modes of artistic expression. I've been a fan of Fawkes for a while now, so I'm confident that however this latest terrifying journey through the dark heart of the human condition plays out, it'll be well worth the price of admission.
Ray Fawkes (W/A) • Image Comics, $3.99
– Jason Wilkins
Judge Dredd: Deviations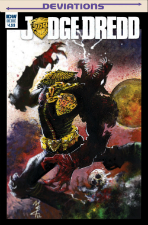 Some Judge Dredd classics stick in the mind forever. John Wagner, Alan Grant and Steve Dillon's 'Cry of the Werewolf' is one such story. A tale of lycanthropic horror in Mega City One, it first appeared in the pages of 2000 AD back in Progs #322-328 in 1983.
As part of IDW's ongoing Deviations series of one-shots – books adopting a kind of What If…? alternative reality premise – Hitman artist John McCrea returns to that storyline this week examining a world where Judge Dredd remained a werewolf. These specials are always a lot of fun, giving readers an opportunity to see pivotal points in the histories of their favourite characters take an entirely different course and McCrea's spin on this fondly remembered serial will be well worth checking out.
John McCrea (W/A) • IDW Publishing, $4.99
– Andy Oliver
Superman: The Golden Age Newspaper Dailies 1942-44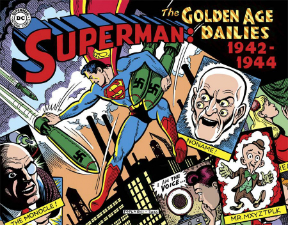 The Superman comic strip debuted in newspapers on January 16, 1939. The Sunday strip was added on November 5 of that year. The strip was syndicated in more than 300 daily newspapers and 90 Sunday papers, achieving a readership of more than 20 million readers. It ran continuously until 1966.
Produced by the Jerry Siegel/Joe Shuster studio, the strip was primarily drawn by Wayne Boring, who became Superman's primary artist in the 1940s and 1950s for the newspaper strip and the comic books. His groundbreaking work established Superman as the premiere superhero of the Golden Age of comics.
Whitney Ellsworth made his mark on the Superman newspaper strip as a sometime writer and editor for National Allied Publications (later known as DC Comics), but cemented his place in Superman's history when he became the producer and story editor for the Superman movie serials starring Kirk Alyn and the TV series, The Adventures of Superman starring George Reeves.
IDW Publishing is collecting more than 800 Superman strips published between February 16, 1942, and October 28, 1944, in this massive collection. You'll find familiar villains like the first appearance of Mr. Mxyzptlk, and others you've never seen take on the Man of Steel like No Name, Miss Dreamface, and The Monocle. These strips have never been collected before, and this volume will be a treat for Superman fans young and old.
Jerry Siegel, Whitney Ellsworth (W), Joe Shuster, Wayne Boring (A) • IDW Publishing, $49.99
– Karen O'Brien
Night Raven: From the Marvel UK Vaults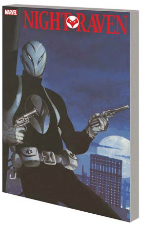 Night Raven is one of a number of Marvel UK-created characters to have gone on to achieve true cult status. This pulp-inspired vigilante first appeared in the pages of Marvel's British wing's Hulk weekly comic in the late 1970s in stories written by Steve Parkhouse and illustrated by David Lloyd.
A mysterious, shadowy crime fighter, Night Raven would constantly remind the criminal element of 1930s America that "Where brooding darkness spreads its evil wings, the Night Raven stings!". Though his publishing history was sporadic and later appearances were, to say the least, contradictory in terms of established continuity, the character has always maintained a fan-favourite following.
This week Marvel collect his adventures in a trade paperback volume similar to their Hulk: From the Marvel UK Vaults edition of a few years back. Brooding and atmospheric, this is a Marvel character quite unlike any of his contemporaries.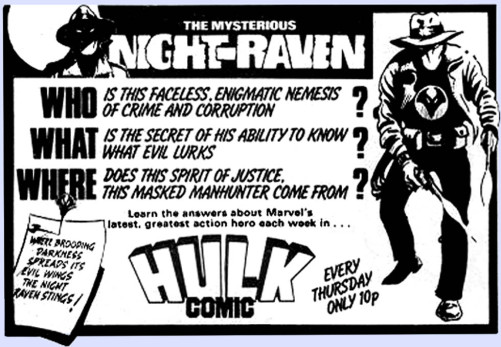 Steve Parkhouse (W), David Lloyd (A) et al. • Marvel Comics, $34.99
– Andy Oliver
Iron Fist #1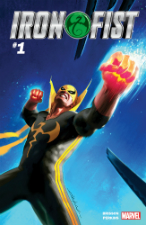 Joining an illustrious list of names that include Roy Thomas, Doug Moench, Ed Brubaker, Matt Fraction, and Kaare Andrews, Canadian writer Ed Brisson gets to put his stamp on Marvel's Iron Fist this week as he and artist Mike Perkins launch their new series that will once again delve into the world of martial arts master Danny Rand.
Picking up where Andrews left off in The Living Weapon story cycle, Brisson and Perkins will send Rand on a journey of self-discovery in the wake of the destruction of K'un Lun, the city central to his powers. He'll learn about the ancient history of The Iron Fist and have to decide whether he's worthy to bear the mantle of responsibility.
Ed Brisson is one of my favorite creators working right now – last year's all-too-brief Image series The Violent was one of the best things I've read in a good while. Having written, drawn, and/or lettered many titles over the years, Brisson knows the ins-and-outs of creating an engaging read. And, he's demonstrated that he can not only write well in any genre, but that he can also bring out very human dimensions in his characters. Both of these talents will surely serve to give us a fresh new look at Danny Rand. While I don't normally get overly excited about a new superhero book, I've got my Fists pumping the air for this one!
Ed Brisson (W), Mike Perkins (A) • Marvel Comics, $3.99
– Matthew Box
Thunder Brother Special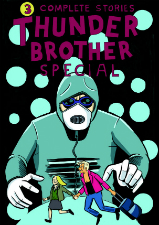 We're big fans of Paul B. Rainey's work here at Broken Frontier from his self-published humour strips in compilations like Tales to Diminish through to the Escape Books collection of his epic series There's No Time Like the Present. Rainey has been a vital mainstay of the self-publishing scene in the UK since the 1990s and his role in the small press world in that time cannot be underestimated.
At this weekend's Leam Comic Con Rainey has a new one-shot out, as he returns to his Thunder Brother: Soap Division characters after a break of a few years. I reviewed the whole run of that book here back in 2014 and this one-shot is a welcome revisitation to that series where all your favourite soap operas are real and Soap Division records them on their parallel worlds for your entertainment. Also included in this issue is a complete story 'Connected' by Rainey and Myriad First Graphic Novel Competition finalist Robert Wells (whose debut graphic novel Back, Sack & Crack (& Brain) is published this year).
Look for an exclusive preview of the comic later this week at BF.
Paul B. Rainey (W/A) Robert Wells (A) • Self-Published
– Andy Oliver