For all the superficial veneer of its big guns, fast cars and uber violence, Coffin Bound is a profoundly philosophical comic series. Dan Watters and Dani's initial story arc was recently collected in a first volume from Image Comics, underlining that this exercise in existential grindhouse was undoubtedly one of last year's more intriguing serial comics debuts. Coffin Bound sweeps the reader away on a tide of bizarre character concepts, fatalistic interplay and eerie horror elements. But at its heart the questions it poses are familiar to the point of universality.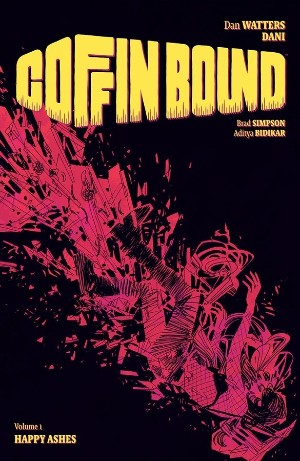 Protagonist Izzy Tyburn awakens in a ramshackle and remote abode to discover a strange visitor awaiting her. This odd entity, with a caged vulture skull for a head, informs her that she has been marked for death. Pursued by her assassin-in-waiting, the mysterious leatherclad EarthEater, Izzy decides that rather than attempt to fight off the inevitable she will take a different path. If she can't be a part of the world she'll completely expunge it of any record of her existence.
So begins a riotous road trip of self-erasure that will see Izzy revisiting her past and the lives that have intersected with her own, including nightclub-owning poet Paulie Starlight (responsible for setting these events in motion), confidante Cassandra who has already made huge sacrifices for her, and the abandoned Taqa whose plight becomes a distorted reflection of Izzy's own.
In its pre-publication publicity Watters described Coffin Bound as "a book all about the inevitability of death, and the choice each of us faces between coming to terms with it, or trying to deny it." Indeed our relationship with our ultimate predestination is broodingly dissected throughout these pages, either in the considered monologues or dialogue of the characters or in the visual symbolism and recurring motifs that permeate each page. The irony of our need to cling to and embrace our own gradual decay over the alternative is mirrored in the grim and forbidding atmosphere of Dani's uncomfortably entrancing pages and Brad Simpson's stark colour choices.
The notion of discarding one's own actuality has apparent parallels throughout Coffin Bound. including the strippers at Paulie's club who not only peel away their clothing but also their bodies (before being supernaturally regenerated for their next performances). Coffin Bound is replete with this kind of almost flippant body horror with Simpson ramping up the tension through those vibrant but oppressive hues, and letterer Aditya Bidikar's contributions being so vital in adding extra character definition. Bidikar enhances mood with careful style choices to accentuate the tone and tempo of scenes (the portentous dialogue of the EarthEater being a fine example).
It's Dani's art, though, that will be the immediate draw to the casual reader given the manner in which she infuses Coffin Bound's thematic core into the bleak and despairing ambience of every page composition and the cast's visual characterisation. One of the indisputable rising stars of the serial comics world, Dani and Watters' creative synergy in these pages will surely provide her with the springboard to wider appreciation she so richly deserves.
Admittedly those who like their serial comics to spoon feed them the answers will find the more oblique elements of Coffin Bound a challenge. But Watters and Dani are unafraid to make their audience work a little harder in their interactions with the page, building up a far more intimate relationship between reader and creators as a result. Where they take Izzy next in a quest that explores existence, identity, relationships and the intersection between them remains to be seen. One thing is certain… the nightmarish, nihilistic reality of Coffin Bound sucks the reader in with a dizzying and desolate allure. One of the strongest, and certainly the most unapologetically bleak, debut volumes from Image Comics in some years.
Dan Watters (W), Dani (A), Brad Simpson (C), Aditya Bidikar (L), Emma Price (D) • Image Comics, $3.99
Review by Andy Oliver