Another eerily entrancing horror series from Dark Horse Comics has been announced for April. Details of Steve Foxe and Piotr Kowalski's All Eight Eyes below.
EISNER-NOMINATED AUTHOR STEVE FOXE AND ILLUSTRATOR PIOTR KOWALSKI BRING A NEW TERRIFYING CREATURE-FEATURE TO LIFE IN "ALL EIGHT EYES"
"Jaws" meets "Arachnophobia" in the dark corners of NYC
Steve Foxe (Creepshow, Party & Prey, X-MEN '92) and Piotr Kowalski (Where Monsters Lie, Bloodborne) present a new vision of creature-feature terror in their new horror series, All Eight Eyes!
This brand-new series reunites the team of Foxe, Kowalski, colorist Brad Simpson, and letterer Hassan Otsmane-Elhaou following their collaboration in Razorblades: The Horror Magazine, a taboo-busting anthology of terror co-created by Foxe and multiple Eisner-winner James Tynion IV. All Eight Eyes takes readers back to the forgotten corners of post-9/11 New York City, where college dropout Vin Spencer floats through life in a drug-and-party-fueled haze until one terrible night sweeps him into a drifter's reckless war against the giant eight-legged horrors stalking the city's most vulnerable residents.
"I've been obsessed with giant-animal horror stories ever since seeing Them! and Gila! as a kid," Foxe says. "All Eight Eyes is both an ode to the thrills of watching oversized predators chow down on humans and a reckoning with how much NYC has changed—not always for good—since the turn of the century, drawing on my own time in the East Village and Alphabet City. I'm so thrilled to be making this arachnid gross-out alongside Piotr, Brad, and Hass. The detail Piotr brings to not just the creepy-crawly aspects of the book, but to every chipped brick and sticky sidewalk of NYC, is unmatched, and Brad and Hass match his skill page for page."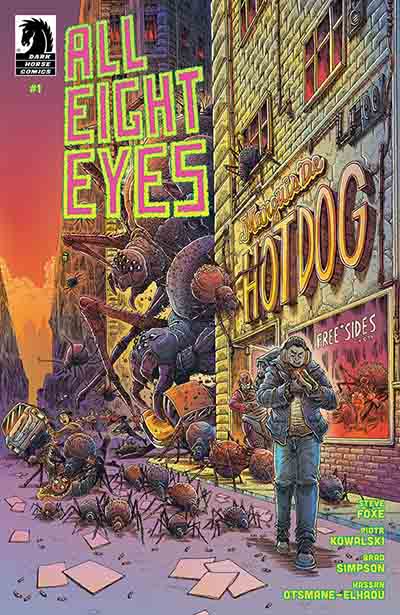 All Eight Eyes issue #1 (of 4) skitters into comic shops April 19, 2023 along with a variant cover by James Stokoe.
All Eight Eyes will be collected in a paperback edition, including all four issues, a pinup section with art from James Stokoe, Martin Simmonds, David Romero, and Trevor Henderson alongside a bonus sketchbook section. The All Eight Eyes TPB will be available November 8, 2023 and is now available to pre-order at Amazon, Barnes & Noble, and your local comic shop and indie bookstore.