It's almost Wednesday, and you know what that means: a fresh load of comics and graphic novels! With so many publications hitting your local comics store or digital storefront, the BF staff is here to lead you through the woods with our weekly staff picks. Satisfaction guaranteed.
Comic of the Week
Little Nemo: Dream Another Dream
It's been another fantastic year for the comic book anthology. With offerings from large and small companies alike, covering a wide variety of genres and themes, many publishers look towards crowdfunding sites such as Kickstarter and Indiegogo to secure funding and build a solid fanbase for their out-of-the-box projects.
At Locust Moon Comics, a boutique press with an affinity for funny book history, one of the most ambitious anthologies of the year arrives just in time for the holidays. Dedicated to one of comics' most influential storytellers and technicians, Little Nemo: Dream Another Dream is a loving tribute to the massive broadsheet strips of Winsor McCay.
And when we say massive, we mean MASSIVE. Featuring a veritable horde of over 100 of today's master creators, such as Mike Allred, Paul Pope, Yuko Shimizu, Charles Vess, John Cassaday, P. Craig Russell, and Bill Sienkiewicz, this mammoth, broadsheet-sized hardcover collection is well worth the hefty price tag.
Perfect for kids and adults alike, this gorgeous coffee-table book dedicated to one of comics' most innovative pioneers is a must-have edition for any serious collector of graphic storytelling.
Various (W/A) • Locust Moon Comics, $124.99
– Jason Wilkins
The Late Child and Other Animals OGN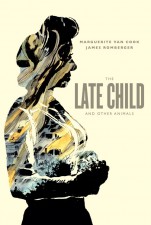 Marguerite Van Cook and James Romberger are reponsible for one of my personal top ten graphic novels of all time Seven Miles a Second about the late multimedia artist and AIDS activist, David Wojnarowicz. For their latest collaboration they're tackling a very different subject, but the topic once more concerns individual rights and the right to lead your own life, unencumbered by societal norms and values.
The Late Child and Other Animals tells the story of lead character's Hetty post-WWII struggles of having an illegitimate child from a fallen soldier in a rural town with classical values. We then switch to little Marguerite's childhood in the recovering British naval port and the rural beauty of the Isle of Wight and in Normandy, France.
Marguerite Van Cook is a legendary punk diva and award-winning poet whose knack for characters and prose will hit you straight in the heart. James Romberger's art comes straight from the gut with wavering brushwork, emotive coloring and a deeply personal line. The combination of these two should prove once more to be an explosive combo.
Marguerite Van Cook (W), James Romberger (A) • Fantagraphics, $29.99
– Bart Croonenborghs

Ody-C #1
­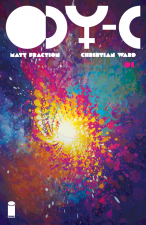 This gender-bending revamp of Homer's Odyssey has certainly had time to build up a bit of anticipation: writer Matt Fraction and artist Christian Ward originally announced it at the Image Expo in July 2013. Joining the publisher's growing roster of sci-fi titles, it depicts the journey of female warrior Odyssia as she makes her way home across the galaxy after a hundred-year war for the planet Troia.
Fraction's byline promises the smart, sexadelic sci-fi vibe we've come to expect from books like Casanova, but the most exciting aspect of the book for me is what should be breakout work by Christian Ward. In his most recent Image series, Infinite Vacation (with writer Nick Spencer), he showed eye-popping work with a design sensibility that goes far beyond comics; across the whole 200-page series (unfortunately disrupted by scheduling glitches), he seemed incapable of producing a boring page.
With two creators in their pomp tackling a wild new take on a classic, eternal narrative, this looks set to be another work that could push the medium into some unexpected places.
Matt Fraction (W), Christian Ward (A) • Image Comics, $3.99
– Tom Murphy
The Dream-Quest of Unknown Kadath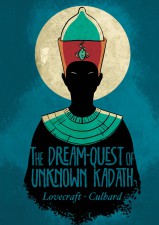 While SelfMadeHero have firmly established themselves as a publisher with an eclectic and experimental line of original graphic novels it's their continuing line of excellent literary adaptations that initially cemented the company's reputation in the minds of many comics aficionados. Unlike those well-intentioned but pedestrian retellings of decades past in the Classics Illustrated vein, SelfMadeHero's relocation of classic literature from the prose page to the comics page has fully embraced the latter medium's unique storytelling opportunities.
Over the last few years a number of creators have worked on bringing H.P. Lovecraft's tales to the comic strip form for SelfMadeHero. But if there's one artist who has become almost synonymous with the Cthulhu Mythos in that time then it's I.N.J. Culbard. His work on adaptations of parts of the key Lovecraftian canon like At the Mountains of Madness and The Shadow Out of Time has an eerie majesty to it that perfectly encapsulates the juxtaposition of the mundane and the malevolent that is so central to the author's oeuvre.
With The Dream-Quest of Unknown Kadath, Culbard takes on one of Lovecraft's most divisive stories for comics. An epic journey through the worlds of the sleeping mind and the civilisations of the dreamscape, it has a reputation for being one of the writer's most difficult to read offerings. It's replete with fantastic imagery, though, just ripe for the shift between forms, and if there's one name with a proven track record in successfully achieving that transition then it's most assuredly that of I.N.J. Culbard.
I.N.J. Culbard (W/A) • SelfMadeHero, £14.99/$19.95
– Andy Oliver 
Madman: In Your Face 3D Special
­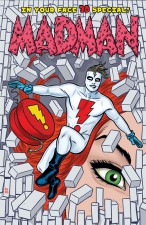 This super-sized, special effects spectacular features 80 pages of Madman adventures and pinups brought to you entirely in eye-popping 3D. This special edition re-presents 2 classic Madman tales newly converted into 3D, including the acclaimed "Madman in Slumberland" where Allred switches his style up from panel to panel to match the look of classic cartoonists, as well as "The World's Biggest Comic Book Panel." There's also a brand new Madman adventure from Mike and Laura Allred.
If that's not enough of a feast for your eyes, then you can check out the collection of pinups in the 3D gallery of superstar talent including Paolo Rivera, Marcos Martin, Eduardo Risso, Sean Murphy, Nick Dragotta, Emma Rios, Andrew Robinson, Jenny Frison, Declan Shalvey, Becky Cloonan, Ming Doyle, and more!
Custom Madman 3D glasses are included.
Mike Allred (W), Mike and Laura Allred (A) • Image Comics, $9.99
– Tyler Chin-Tanner
The Borgias HC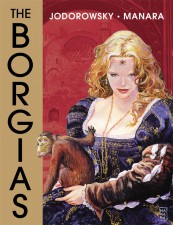 Before there was the infamous television show starring Jeremy Irons, the saga of the twisted Borgia family was told in comic book form by luminaries Alejandro Jodorowsky and Milo Manara. Ten years after its initial release in Europe, Dark Horse is collecting the four-part story in its entirety for the first time in English.
Rodrigo Borgia is known as one of the most brutal and scandalous men to ever wear the papal tiara, but his son Cesare may have been even worse. Neither of them was averse to bribery, treason or murder to establish and maintain their power. Plus, they liked to sleep around. A lot.
This mix of violence and eroticism proved to be potent material for Jodorowsky and Manara to portray 15th-century Italy at its most vile. Definitely for mature readers, The Borgias is a book that will give you a good idea of what Manara is all about, much more than that Spider-Woman cover everyone loves to hate ever will.
Alejandro Jodorowsky (W), Milo Manara • Dark Horse, $59.99
– Frederik Hautain
Gotham by Midnight #1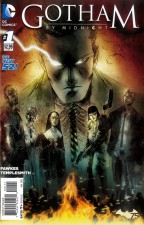 If the creative team of writer Ray Fawkes (Constantine, Batman Eternal) and Ben Templesmith (Ten Grand, 30 Days of Night, Wasteland) isn't enough to pique your interest in reading DC's newest series, Gotham by Midnight, then stop reading this staff pick. Teaming up these two guarantees that this will be a supernatural thriller probably less leaning toward horror than some would like, but offering up more than enough strange and sensational oddities in Gotham's gothic urban jungle to find a loyal readership.
No need for Batman here.
Detective Jim Corrigan (the Spectre) and his "Midnight Shift" team are tasked with handling everything that conventional law enforcement can't touch. Ghosts, shape-shifters, walking corpses, and a city tainted by legacies of cruelty force the team to overcome the impossible and question whether or not the city is worth saving.
Ben Templesmith's captivating art on 30 Days Of Night, Fell, Ten Grand made me a fan. I can't wait to see his interpretation of Gotham.
Ray Fawkes (W), Ben Templesmith (A) • DC Comics, $2.99
– Karen O'Brien
White Suits TPB
­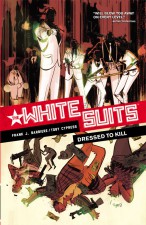 One of the most stylish and intense miniseries of the year is collected into one volume.
Who are the White Suits? They savaged the Cold War Russian underworld—then disappeared. When they finally resurface more than a decade later, they rip through the criminal underworld leaving a trail of dead mobsters in their wake.  FBI agent Sarah Parker is convinced they are somehow linked to her missing father, and for her amnesiac partner, they may be the only link to his mysterious and violent past.
In addition to the four-issue miniseries illustrated by Toby Cypress, this collection includes the three opening chapters first appearing in Dark Horse Presents and features the artwork of upcoming talents Luke Radl and Giovanni Valletta.
Frank Barbiere (W), Toby Cypress (A) • Dark Horse Comics, $17.99
– Tyler Chin-Tanner