It's almost Wednesday, and you know what that means: a fresh load of comics and graphic novels! With so many publications hitting your local comics store or digital storefront, BF is here to lead you through the woods. These are the books that need to be on your pull list this week.
Comic of the Week
Tomboy: A Graphic Memoir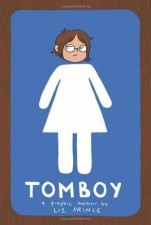 It's been only a few months since Eisner-winning cartoonist Liz Prince charmed us and made us think with Alone Forever, a print collection of her acerbic autobiographical webcomic about living the single life, and now she's back with her debut book-length work, Tomboy.
Looking back at her early life, this is Liz's memoir of a childhood spent swimming against the tide of gender conventions. Despising the prevailing "girly girl" identity society wanted to impose on her, Liz had to navigate her way through the choppy waters of family, school, friendship and romance until finding, in the punk community, somewhere she could at last be the person she wanted to be.
As ever, Liz's work combines irony and insight, humour and honesty, all delivered in a clear and appealing cartooning style. Her work is relatable and enjoyable, while asking serious questions about what society seems to expect from its young women. And if you want to know more, we had a chat with Liz about the book a few weeks ago.
Liz Prince (W/A) • Zest Books, $15.99
– Tom Murphy
Meka HC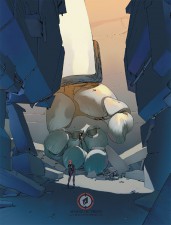 Writer Jean-David Morvan is best known for his Spirou and Fantasio stories where he infused a modern and manga-like sensibility in this then rather outdated series. This even led to an issue where Spirou had to face two children with strange telekinetic powers, forced to build a Japanese Edo-period theme park, a dash of Akira anyone?
He has since written quite a few manga-inspired graphic novels drawn by oriental artists or manga-inspired artists.
Published by newcomer Magnetic Press with above-par production standards and with spectacular art by Bengal, Meka combines the far future, giant walking war-machines, alien threats and urban war zones in the best tradition of Appleseed and Gunham and is infused with a healthy dose of politics and emotion. Now that's my kind of manga!
JD Morvan (W), Bengal (A) • Magnetic Press, $19.99

– Bart Croonenborghs

Scene & Heard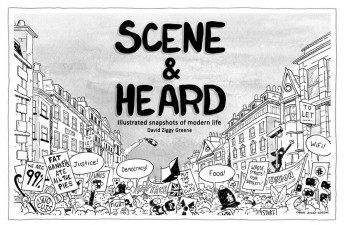 David Ziggy Greene's Scene & Heard is a comprehensive collection of his graphic journalism strips from satirical UK publication Private Eye. Covering topical subjects that have reached the headlines in the last two years from the likes of dangerous dogs to the Olympics, the protest movement to gay marriage, fracking to the Bitcoin phenomenon, Greene's wittily cartooned "illustrated snapshots of modern life" comprise the often random, sometimes insightful and occasionally utterly bizarre thoughts of the British public itself on each featured subject.
Private Eye editor Ian Hislop describes the book as "a bold attempt to reintroduce cartoon reportage into Britain" and it's hard to argue with his assessment of the work as "cleverly observed and executed". Fans of the UK small press scene will be well aware of Greene's distinctive visual approach as both caricaturist and storyteller but for those coming to his work for the first time Scene & Heard is the perfect introduction to one of our most under-rated comics talents.
David Ziggy Greene (W/A) • Self-published, £10.00
– Andy Oliver
Avengers #35
With the kick-off of Jonathan Hickman's 'Time Runs Out' crossover, this is where you get your first glimpse at what the Marvel Universe will look like in May 2015.
Avengers (and companion title New Avengers along with it) jumps ahead in time – 8 months to be exact – and sees the Avengers and Illuminati face an increased pace of incursions across the planet. Over the next 8 months, the rest of the Marvel line will catch up to the events in these two books until everything converges in a big way.
Will it lead to a big bang for the Marvel Universe? A rumored but vehemently denied reboot? Your best bet at finding out starts here.
Jonathan Hickman (W), Jim Cheung, Dustin Weaver, Nick Bradshaw & Paco Medina (A) • Marvel Comics $3.99
– Frederik Hautain
Deadly Class #7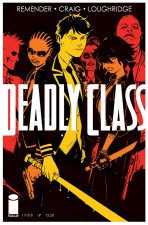 Back in January we enjoyed the first issue of this series, which took a fairly humdrum premise – a Hogwarts-type school for trainee teen assassins – and transmuted it into a thrilling high-octane opener. Now, after a brief hiatus in the wake of the group's disastrous, bloody road trip to Vegas, it's back for its second arc.
There's a bit more to this book than meets the eye. Behind the genre trappings, this looks like quite a personal project for writer Rick Remender, who uses the book's backmatter to draw the connections between the characters' travails and those he faced himself as a kid growing up in the Reagan years.
And it's all brought to life by the dynamic artwork of Wes Craig and stylish colouring of Lee Loughridge. There are some great, individual-looking monthlies on the market at the moment, and Deadly Class is up there with the best of them as an example of how thrilling comics storytelling can be.
Rick Remender (W), Wes Craig & Lee Loughridge (A) • Image Comics, $3.50
– Tom Murphy
š! #18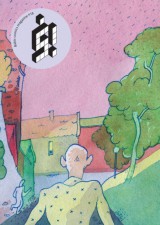 The comics of Latvian publisher kuš are firm favourites of Broken Frontier's 'Small Pressganged' coverage with both their digest-sized š! and their series of individual mini kuš comics getting positive reviews in the past here at Broken Frontier. Anthology š! both promotes the medium in a country where the form does not have the long traditions found elsewhere and also acts as a showcase for an amazingly multi-faceted array of international creators. The last edition featured short stories from over twenty creators from four different continents!
Each issue is themed around one subject matter with #18 taking "Poetry" as its topic of choice with a mix of adaptations of known work, collaborations between poets and comic creators, and poems as comics all at the heart of the book. With work from the likes of Anna Vaivare, Theo Ellsworth, Julie Doucet, and many, many more, this is your perfect opportunity to enjoy a celebration of a diversity of approaches to the medium from across the globe.
Anthology – various creators • kuš, $14.00
– Andy Oliver
George Perez's Sirens #1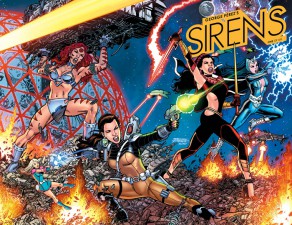 There are few artists working today who command more respect and pure fanboy adoration than George Perez.
One of the most influential creators ever to put pencil to page, Perez inspired countless artists, writers, and fans with his iconic character designs, hyper-detailed panels, and fluid rendering. He is one of a handful of artists who truly revolutionized the way we read comics and set the gold standard in his depiction of its most popular heroic archetypes.
After a brief hiatus from the biz, Perez returns this week, courtesy of BOOM! Studios, with his first creator-owned work in years. Sirens is a vast, sweeping epic that lays the foundations for a new cosmic mythology that literally crosses time and space within its pages.
Densely packed with Perez's signature textured backgrounds, expressive characters, and heady concepts drawn from classical mythology, Sirens heralds the return of a true master to a craft he helped redefine.
George Perez (W/A) • BOOM! Studios, $3.99

– Jason Wilkins
Shutter #6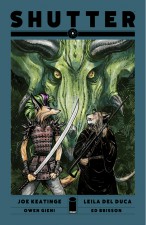 The first story arc of this bold new adventure series reaches its bloody finale as Kate Kristopher makes a stand against the sins of her family's past.
Meanwhile, the General, who raised Kate ever since her father's untimely demise, makes a deal to deliver Kate to a mysterious figure who may also have ties to the family. But Kate and her brother, who she only just learned about, make their escape and head off on their own. Kate reveals more about the role she played in her father's death as she attempts to understand why so much of her family has been kept a secret from her for so long.
The break between story arcs won't be long as Shutter will return with new issues in December.
Joe Keatinge (W), Leila Del Duca & Owen Gieni (A) • Image Comics, $3.50
– Tyler Chin-Tanner

Michael Moorcock's Elric Vol 1: The Ruby Throne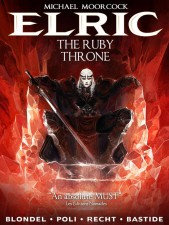 It's a great week for translated European books, I must say! Fully endorsed by legendary fantasy writer and the creator of the Albino Warrior, Michael Moorcock certainly is enthusiastic about this interpretation of his classic Eternal Warrior saga.
And for sure, there is a lot to like as this review of the European edition proves in our very own Crossing Borders column.
Artist Didier Poli's majestic visuals bring to life the violent dictatorship of the Albino Emperor Elric of Melniboné and while Julien Blondel crafts a fast paced script chronicling Elric's downfall. If there's any complaint about the first volume is that it is over too soon but then you can go back and gaze at the splendour of Poli's imaginative pencil work and Jean Bastide's colouring of nature gone wild, decadent ruby throne halls the size of cathedrals, warships navigating berserk seas and human decorations not out of place in a Hellraiser movie.
If you enjoy fantasy that's epic and world-building, this new incarnation of Michael Moorcock's Elric is certainly worth your hard earned bucks.
Julien Blondel (W), Didier Poli (A) • Titan Comics, $9.87

– Bart Croonenborghs
The Complete Silencers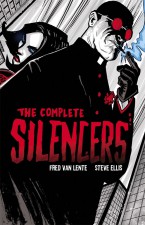 Flashback to 2003, just a handful of months after I launched Broken Frontier. Opened my mailbox to find a copy of the first issue of The Silencers by Fred Van Lente and Steve Ellis from upstart publisher Moonstone Books. I was still feeling out where to position BF, and this was one of the books that helped me decide on the direction we had to go in.
The Silencers was a bold, dynamic, original title from two voices looking to make their mark. And that's exactly the kind of work I wanted to support. Here we are, over a decade later, with FVL now writing books for a wide range of publishers and in a wide range of genres and Steve Ellis having worked on memorable titles like High Moon.
Collected by Dark Horse, this TPB collects the original four-issue Moonstone series, the 2005 Image one-shot and some bonus material.

Fred Van Lente (W), Steve Ellis (A) Dark Horse Comics, $19.99
– Frederik Hautain