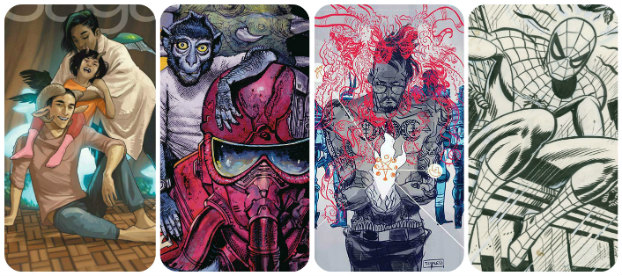 It's nearly Wednesday, and you know what that means: a fresh load of comics and graphic novels! With so many publications hitting your local comics store, comics events or digital storefront, the BF team are here to lead you through the woods with our weekly staff picks. Satisfaction guaranteed!
Comic of the Week
The Inking Woman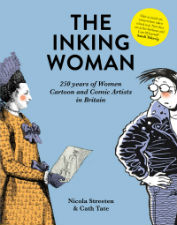 Officially published the day after New Comic Book Day, it's still close enough to include Myriad's The Inking Woman in this week's round-up of new releases. This book tracing the influence and importance of 250 years of UK women cartoonists and comic creators has, of course, had significant coverage already at Broken Frontier with a full review and preview pages here and a report from its first launch night here.
From the 18th century to the modern vibrant small press scene – taking in everything from suffragette cartoonists, the feminist publishing movement and the rise of the graphic novel in between – Nicola Streeten and Cath Tate's celebratory tome is already one of 2018's standout releases, and certainly one of its most important.
Broken Frontier readers will find a whole host of artists regularly championed on the site represented within, as well as a number of pages from our Small Press Yearbooks. Pick up the book this week and see why I said of it "Indispensable and obligatory, The Inking Woman is an absolute triumph on every level."
Nicola Streeten and Cath Tate (Editors) • Myriad Editions, £19.99/$24.95
– Andy Oliver
Flayed Corpse and Other Stories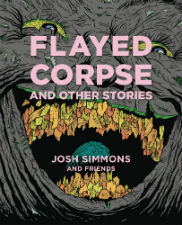 The stories in Josh Simmons's second collection have the pacing of a classic EC Comics chiller, albeit without the ironic twist endings, and with a looser alt-comics feel to the cartooning. Simmons's work is reminiscent of contemporaries like Charles Forsman, who published some of the zines and anthologies these stories first appeared in, dabbling with familiar tropes alternately with good humour and, equally, authentically disturbing seriousness.
Included in The Flayed Corpse and Other Stories is his Eisner-nominated 'Seaside Town', a bleak story about a family slowly succumbing to a natural disaster, rendered in thick-lined and shaded black-and-white which at times resembles woodcut illustration. It's a perfect introduction to Simmons's style, but also included here are his collaborations with other artists. Highlights include a cautionary tale about extending a helping hand to the wrong person, drawn by James Romberger, and another about a single mother enduring a terrifying (and all too plausible) encounter with a man at a beach, illustrated by Eroyn Franklin.
Josh Simmons (W/A), Various (A), Fantagraphics, $24.99
– Tom Baker
Factory #1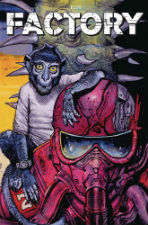 This week Titan Comics dips into the past to bring you an exciting story from the future. Titan's Statix Press imprint will make available a new English translation of Factory, a three-issue series originally published in France more than a decade ago. Written and drawn by French illustrator and Moebius protege Yacine "Elgo" Elghorri, issue #1 looks magnifique!
The story is set on a dystopian planet where a band of mutated humanoids roam the desolate wastes looking for "The Factory", the final remnants of civilization. Billed by Titan as "Mad Max-meets-Fallout", it's certain that this journey will be no mere walk in the park for the protagonists.
While his past efforts include collaborations with international legends like Alejandro Jodorowsky and Phillippe Druillet, Elgo's work shouldn't be totally unfamiliar to English-speaking audiences – he's been published in Heavy Metal magazine and has served as a storyboard artist and concept designer for Futurama and Titan AE. One thing is clear, however:  Elgo's artistic style owes a large debt to Jean Giraud, so anyone who can't get enough of Moebius (like myself) would do well to go in search of Factory!
Yacine "Elgo" Elghorri (W/A) • Titan Comics, $3.99
– Matthew Box
Seven Stories #2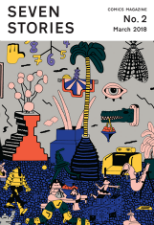 João Sobral's micropublishing venture O Panda Gordo is doing some fine work in both publishing and distributing experimental comics practice. Earlier this month we looked at their anthology Seven Stories #1 which explored literary critic Arthur Quiller-Couch's contention that all stories are based around seven core concepts: (in his gender-specific terminology) man versus man, man versus nature, man versus himself, man versus god, man versus society, man caught in the middle, and man and woman. I reviewed that first issue, which included work by Amanda Baeza and Ed Cheverton, here at BF.
This week sees the second issue available for pre-order on the O Panda Gordo store here with another seven tales, this time by Bruno Borges, Elliot Snowman, Émilie Gleason, Giada Ganassin, Lasse Wandschneider, Marie Weber, Mike S Redmond & Faye Coral Johnson, and Nick Norman. A must-buy alt comics offering this week!
Anthology – Various creators • O Panda Gordo, £7.00
– Andy Oliver
Saga #50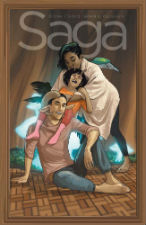 Fiona Staples and Brian K. Vaughan's familial space epic reaches its half century this month. In traditional terms, that's the golden anniversary. In the Staples-Vaughan tradition, however, it's Death Christmas. Long-time readers page through each new issue of Saga with bated breath, terrified of a cliffhanger reveal where their favourite character meets a sudden, often cruel and violent, demise. That's how near enough every arc so far has ended, and you have to imagine with a milestone like this, they're gonna pull out all the stops, in terms of breaking as many hearts as possible.
The solicit for this issue tries to sugar that pill with news winners of "the latest SAGA COSTUME CONTEST" will be revealed in the letters page, but that's scant help when you've just warned us that "To help their friends, Hazel and her parents risk everything to visit a dangerous new world." The extended alien family's jaunt through the cosmos could be nearing an end, but just know this: if anything happens to Ghus, the adorable anthropomorphic seal, I have no compunction over dropping this fantastic book after eight years.
Brian K Vaughan (W), Fiona Staples (A) • Image Comics, $2.99
– Tom Baker
Retcon Vol. 1: Reverse Engineering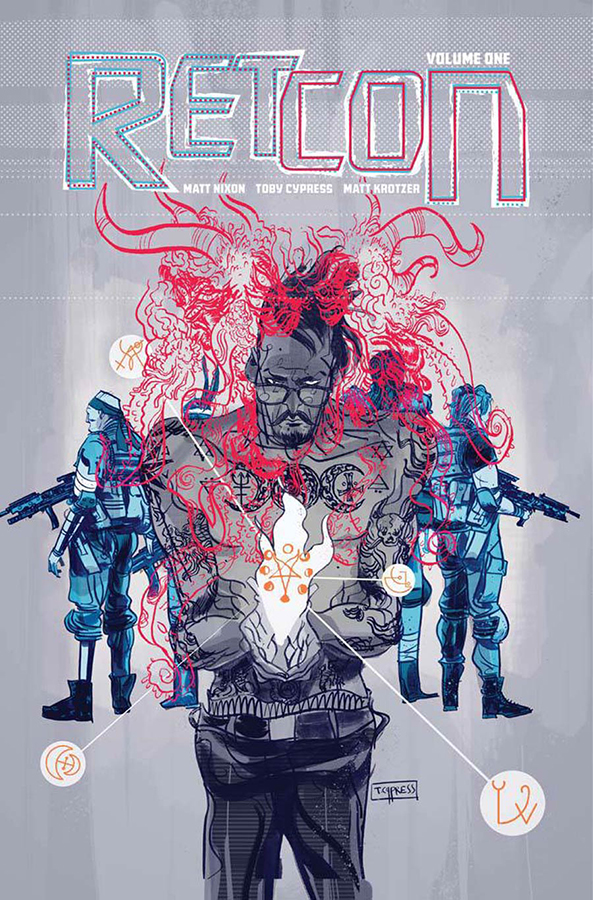 At first glance, this premise may seem familiar. A top-secret task force comprised of freaks and weirdos with special abilities is formed by the U.S. government to deal with paranormal threats.
But when this unit comes face to face with an interplanetary danger that's beyond even their power to deal with, they realize the only solution is to go back in time and rewrite their origin story.
Now that's retroactive continuity!
Matt Nixon (W), Toby Cypress (A) • Image Comics $9.99
– Tyler Chin-Tanner
Ross Andru's Amazing Spider-Man Artist's Edition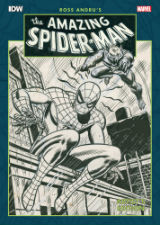 IDW's latest deluxe edition showcasing the classic work of pivotal serial comics artists hits stores this week with a focus on one of the greatest and, quite frankly, one of the most criminally under-rated artists in Spider-Man history. Every super-hero reader has their own golden age of Spider-Man reading and Andru's expressive and distinctive art (paired with Gerry Conway's often game-changing and unpredictable writing) embodies mine.
An opportunity to pore over some stunning re-presentations of Amazing Spider-Man #125-#127, #153 and #167, this giant hardcover may not be the cheapest offering on the shelves this week but it's a chance to immerse yourself in the glorious pages of some of the best super-hero comics the '70s produced.
Ross Andru (A) • IDW Publishing, $125.00
– Andy Oliver
Black Magick #11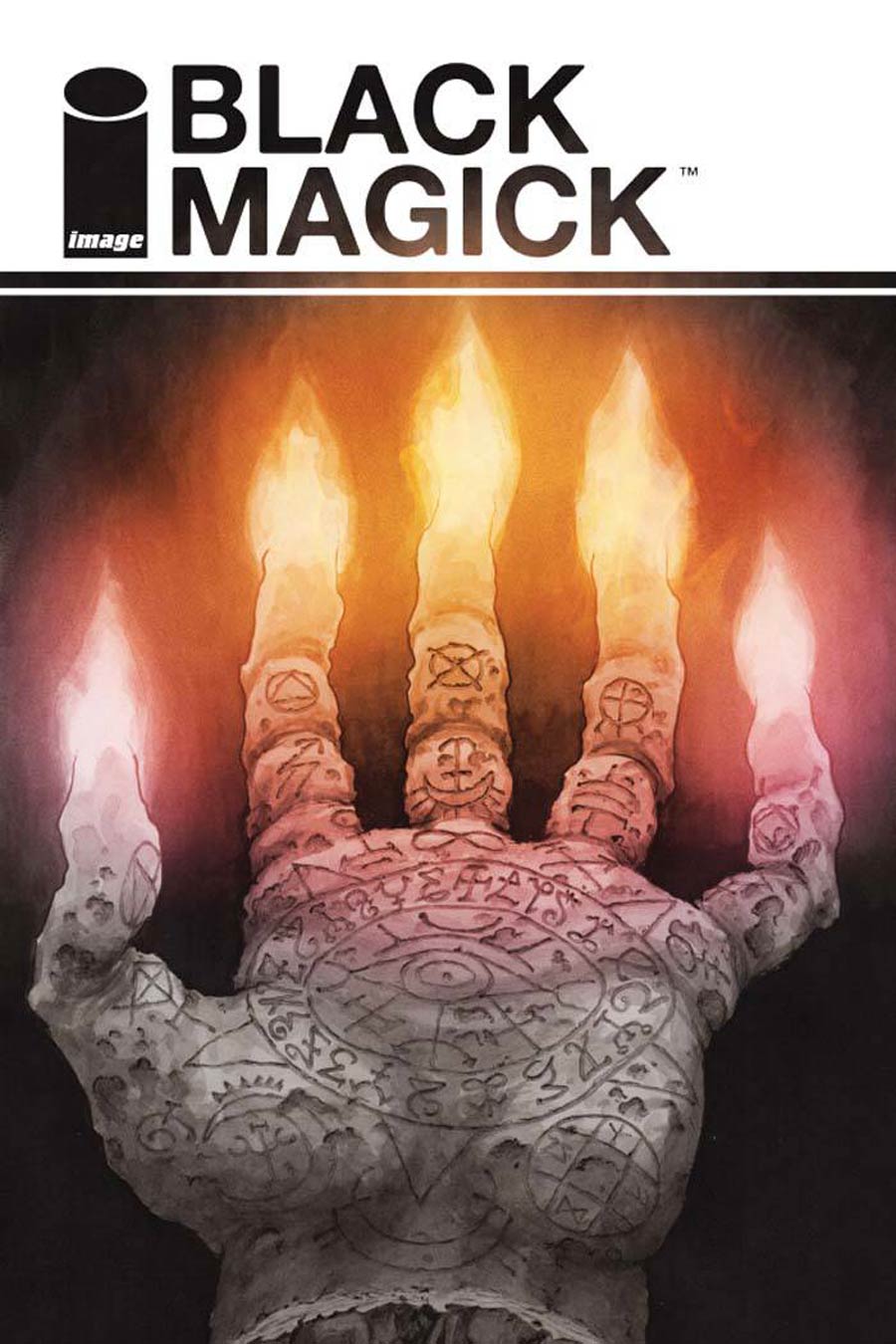 The six-part Awakenings II story arc comes to a chilling conclusion as the carefully woven threads that have been directing Rowan's path converge with damning consequences. Alex has called a truce and made a deal with the witch hunters, the Hand of Glory has been lit, and the face of Rowan's enemy is revealed.
If you haven't already jumped on this indie thriller from Rucka and Scott, I highly recommend it.
Greg Rucka (W), Nicola Scott (A) • Image Comics, $3.99
– Karen O'Brien