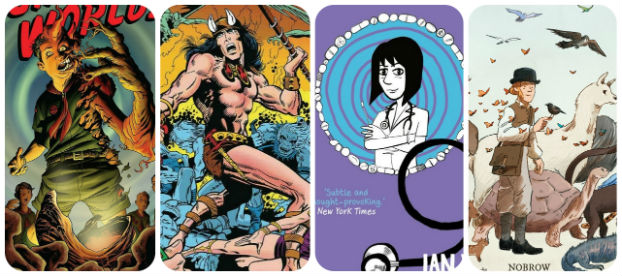 It's nearly Wednesday, and you know what that means: a fresh load of comics and graphic novels! With so many publications hitting your local comics store, comics event or digital storefront, the BF team are here to lead you through the woods with our weekly staff picks. Satisfaction guaranteed!
Comic of the Week
The Lady Doctor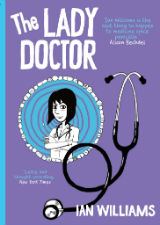 Back in 2014 I said of Ian Williams's first graphic novel "Graphic medicine with true heart, The Bad Doctor is a testament to the value of the Myriad First Graphic Novel Competition in nurturing exciting new creative voices." The bleak humour of that debut centring on self-doubting rural GP Dr. Iwan James, its incisive social commentary and its autobiographical elements combined to give us a book that was a triumph of subtle and very human characterisation.
This sequel brings another partner of Llangandida Health Centre to the fore as we follow the story of Dr. Lois Pritchard who is forced to make some difficult choices when her estranged mother makes a reappearance in her life. Expect another character-led and socially relevant drama replete with a rogues gallery of patients with the unlikeliest but all-too real complaints; one that gives an uncompromising insight into the rawer realities of the medical profession. A full review is coming soon!
Ian Williams (W/A) • Myriad Editions, £14.99
– Andy Oliver
Darwin: An Exceptional Voyage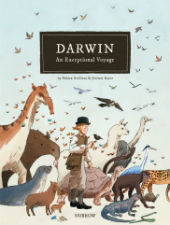 This graphic biography from Fabien Grolleau and Jérémie Royer – the team behind the massive critical hit Audobon: On the Wings of the World – follows the life of English naturalist Charles Darwin from his early days aboard the ship The Beagle and the journey of discovery that would follow and lead to his world-changing theory of evolution. 
This being a Nobrow Press release, of course, you can be assured that it's also going to be a thing of true beauty in terms of both craft and presentation. A gorgeously illustrated account in a handsomely packaged hardcover, Darwin: An Exceptional Voyage has a truly crossover appeal. Look for a full review in the near future at Broken Frontier.
Fabien Grolleau, Jérémie Royer • Nobrow Press, £16.99
– Andy Oliver
Deep Roots Vol. 1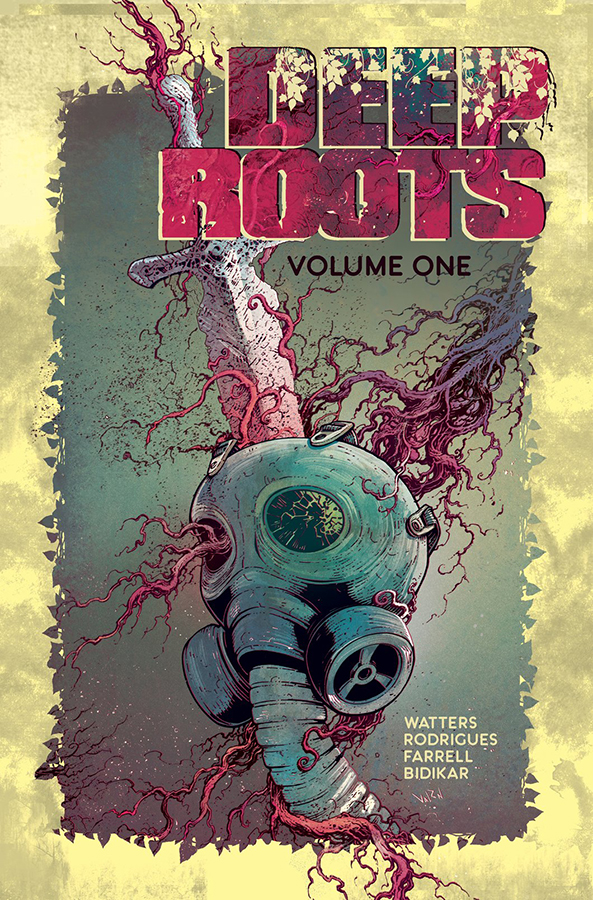 This environmentally-themed, dark fantasy provides a unique take on the concept of vegetation rising up against its human overlords. Tired of being mistreated, roots drive through their prisons of concrete to overtake the city while humanoid plants go on a crime spree.
Mix in ancient warriors, clandestine organizations and other dimensions and this tale offers more than enough allegorical themes and stunning visuals to make the complete collection of this five issue series worth picking up.
Dan Watters (W), Val Rodrigues (A), Triona Farrell (C), Jim Campbell (L) • Vault Comics, $19.99
– Tyler Chin-Tanner
Journey into Unknown Worlds #1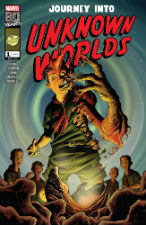 Another of Marvel's self-contained one-shots celebrating their 80th anniversary that revisit comics titles of yesteryear, Journey into Unknown Worlds takes its name from the Atlas-era science fiction anthology series of the 1950s.
Among the contributors credited in the advance solicitations are Cullen Bunn whose eerie Harrow County was a true fan-favourite over the last few years and Clay McLeod Chapman who collaborated with Jey Levang on the tense horror thriller Lazaretto at IDW. 
Behind that immediately attention-grabbing cover by Mike McKone, artists Francesco Manna and Guillermo Sanna Bauza provide visuals for sci-fi stories that we're promised will range from the extra-terrestrial to one that could take place in your own back yard. Another one-off hit of pure escapism for Marvel nostalgists and newer readers alike.
Cullen Bunn, Clay McLeod Chapman (W) Francesco Manna, Guillermo Sanna Bauza (A) • Marvel Comics, $3.99
– Andy Oliver
Conan the Barbarian: The Original Marvel Years Omnibus Vol.1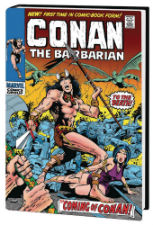 For old school Marvel fans the announcement a year ago that Robert E. Howard's fantasy creation Conan was to return to the publisher after a near 20-year absence was met with a frisson of nostalgic excitement. Marvel's Conan remains the definitive comics incarnation with classic fan favourite 1970s work from the likes of Roy Thomas, Barry Windsor-Smith and John Buscema after all, and was even an (admittedly rather isolated) part of the Marvel Universe. You can see some of those tangential crossovers here.
With Marvel regaining those rights to producing new material the inevitable reprint editions also begin this year with Omnibuses reproducing the colour Conan the Barbarian comics and the black and Savage Sword of Conan (with covers and letters pages included) coming in rapid succession in 2019. With its broader appeal outside the super-hero comics community, and the breakout visuals of Barry Windsor-Smith, Conan the Barbarian was a smash-hit phenomenon in its day. See just why in this deluxe collection packed full with supplementary material.
Roy Thomas (W), Barry Windsor-Smith (A) et al • Marvel Comics, $125.00
– Andy Oliver
James Brown: Black and Proud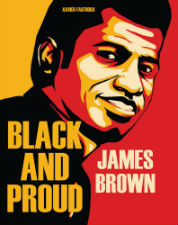 Despite being neither black nor particularly proud, I've always felt a bit of a connection with The Hardest-Working Man in Showbusiness. Maybe not so much the drug addiction and the horrific domestic abuse, but there have been occasions when I've had to be led away exhausted from my desk by a colleague, a cape draped over my hunched shoulders, only to fling them aside and go back to finish editing that story about Bhutan's current-account deficit. My knee-dropping days are probably behind me now, though.
OK, I'm being a bit facetious. If you can look past the problematic aspects of his life, James Brown was a force of nature – an explosive performer who took a racially divided America by storm while spreading the energetic and sexy sound of funk and soul. In this hardback biocomic by French film-maker Xavier Fathoux, we trace Mr Dynamite's memorable life and times, from his birth in the South during the nadir of segregation to his engagement with the Civil Rights movement during the tumultuous social upheaval of the 1960s.
Xavier Fauthoux (W/A) • IDW Publishing, $24.99
– Tom Murphy
Powers in Action #1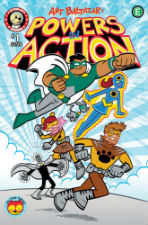 Cartoonist extraordinaire Art Baltazar introduces a fun-filled super hero dimension of the Aw Yeah universe with Powers in Action #1. Lynx and his sister, Ocelot, are excited to join The Hero Squadron, but they are late to their very first meeting! These budding heroes have work to do before they even join the team as villains cross their path. Now they're really going to be late. Will these cat-based heroes fit in with the elite Hero Squadron? The siblings sure hope so.
Based on the characters 17-year-old high school student Baltazar created in 1986, Powers in Action reflects more than 25 years of Baltazar's growth as a storyteller as these updated and redesigned super heroes are reimagined for today's all-ages audience.
Art Baltazar (W/A), Action Lab Entertainment, $3.99
– Karen O'Brien