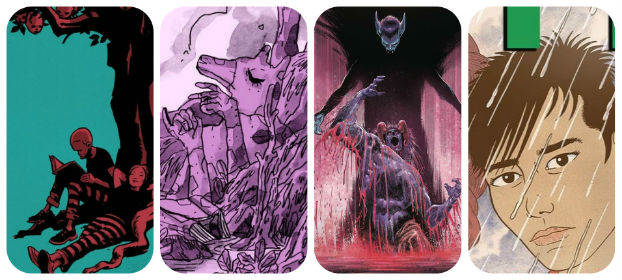 It's Wednesday, and you know what that means: a fresh load of comics and graphic novels! With so many publications hitting your local comics store, comics event or digital storefront, the BF team are here to lead you through the woods with our weekly staff picks. Satisfaction guaranteed!
Comic of the Week
The Tower in the Sea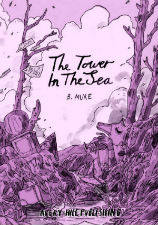 We recently reviewed the third entry in B. Mure's Ismyre fantasy series at Broken Frontier and it's becoming very apparent that this series of self-contained graphic novels with an overarching, unfolding storyline is developing into something very special indeed.
On a remote island a group of magic-users practice the long neglected art of divination, keeping the practice alive for a hinted-at greater good. Among the inhabitants of this isolated school is student Miriam who is haunted by visions of the future that she believes are showing her the end of the world. But, cut off from the rest of civilisation on this offshore outpost, how can she take the chilling message of her premonitions to the people across the water and avert disaster?
Mure's very human stories have nonetheless very recognisable, contemporary themes at their heart. With three books now available from Avery Hill you can read a sizeable chunk of this timeframe-jumping saga in one sitting and start putting together the pieces of its narrative puzzle for yourself. Read our full review here at BF.
B. Mure (W/A) • Avery Hill Publishing, £8.99
– Andy Oliver
Rain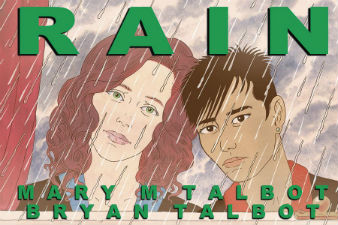 Mary Talbot and her husband, the fabulous Bryan, have often taken it upon themselves to shine a light on people, places or events that the world appears to gloss over. This time around though, their obsession coincides with a topic that occupies centre stage.
Climate change, extreme weather, and the devastation caused by human error lies at the heart of Rain, a beautiful graphic novel set in a part of England that the Brontë sisters called home. How can anything so gorgeous be simultaneously sinister? Read it to find out.
There's also a signing with the Talbots on October 26th at London's Gosh! Comics.
Mary M. Talbot & Bryan Talbot (W/A) • Dark Horse Comics/Jonathan Cape, $24.99/£16.99
– Lindsay Pereira
These Savage Shores #5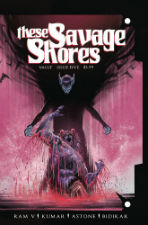 It seems perhaps churlish to speak about the ever growing profile of writer Ram V when it comes to this team effort that is full of rising stars but his meteoric rise over the last few years is indicative of his talent not simply as a storyteller but as a narrative craftsman.
These Savage Shores comes to a conclusion this week and it's an epic finale to this historical supernatural saga. If you haven't been following the series then make sure you're on board for the collection. From Ram V's script to Sumit Kumar's gorgeous art through to Vittorio Astone's intuitive colouring and the lettering skills of two-time BF Award winner Aditya Bidikar this is a creative team in perfect clockwork harmony. One of the miniseries of the year for sure!
Ram V (W), Sumit Kumar (A), Vittorio Astone (C), Aditya Bidikar (L) • Vault Comics, $3.99
– Andy Oliver
Frogcatchers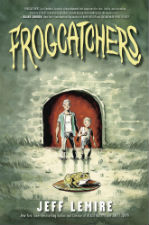 A young boy spending a hazy summer's day collecting frogs in a tin sets the scene for Frogcatchers, Jeff Lemire's new graphic novella from Simon and Schuster imprint Gallery 13. It's a seemingly ephemeral sequence but it's one that will hold great significance as it merges into the wider mystery of this haunting journey into one man's psyche.
Lemire's looser visuals and limited use of colour makes this eerie existential saga all the more affecting in a book that will reward multiple revisitations. Look forward to a full review later this week at Broken Frontier.
Jeff Lemire (W/A) • Gallery 13, $19.99
– Andy Oliver
The Book of Forks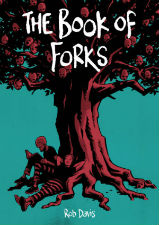 Rob Davis's SelfMadeHero trilogy comes to its conclusion this week with the publication of The Book of Forks – the follow-up to The Motherless Oven and The Can-Opener's Daughter – and we're promised that answers will finally be forthcoming in this final instalment of the graphic novel series.
Not that we really need them because simply immersing ourselves in this unique world where children make their own parents, the sky rains knives and everyone knows their deathdays has been bizarre pleasure enough. Time to say goodbye to Scarper, Vera, Castro and company, perhaps, but also an opportunity to remind ourselves of the strikingly singular creative vision of Rob Davis.
Rob Davis (W/A) • SelfMadeHero, £12.99
– Andy Oliver
Thought Bubble Anthology 2019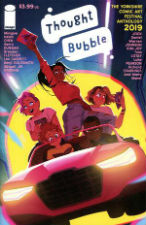 It's coming up to that time of year again as the UK's autumn festival season hits its stride and in anticipation of the new incarnation of Thought Bubble (which moves from Leeds to Harrogate this year) we have the ever popular Thought Bubble Anthology to enjoy via Image Comics.
We've been huge fans of this particular collection over the years simply because in the past it's meant some of our hugely talented Broken Frontier 'Six to Watch' creators like Peony Gent and Emily Rose Lambert have been published in its pages by Image. But it's always a great mix of short stories from very different creators. This year it includes Jock, Tula Lotay, Luke Pearson, Daniel Warren Johnson and many more.
Buy it now in preparation for November or do what our Andy does and save it to read it on the train journey up to Thought Bubble!
Anthology – Various creators • Image Comics, $3.99
– Andy Oliver